This article represents our fourth installment of writings dedicated to providing income investors with new ideas. In our last three articles we provided readers with a listing of names that were well diversified and crossed a wide variety of sectors. This fourth installment will continue in the same style. Before getting into the names, it should be known that not all will be appropriate for every portfolio. The hope is that this series of articles expands investor's horizons, and provides ideas for further investigation.
Seadrill (SDRL)
Seadrill is a leading offshore deep-water drilling company. The company operates a versatile fleet of 66 units that comprises drill ships, jack-up rigs, semi-submersible rigs, and tender rigs. These assets can be used in operations involved in shallow and ultra-deep-water areas. They also can operate in harsh and benign environments.
At the time of this writing, SDRL shares trade for $36 which calculates to a 6.9% yield. While many investors fail to do any further analysis, it does pay to look deeper into SDRL's financials and projected future business. For the first quarter of 2012, Seadrill reported net income of US$439 million and earnings per share of US$0.89. On top of this, SDRL increased the ordinary quarterly cash dividend by 2 cents to US$0.82.
The consolidated revenues for the first quarter of 2012 were US$1,050 million, as compared to US$1,059 million in the fourth quarter 2011. The operating profit for the quarter was US$456 million, compared to US$436 million in the preceding quarter. So far the revenue and net income numbers seem solid, but for most SDRL investors the real issue revolves around their liabilities. The first quarter total current liabilities increased from US$2,771 million to US$2,819 million. This was largely due to an increase in the current portion of the long-term debt. Turning our attention to the long term debt, we see the long-term interest bearing debt increased from US$8,574 million to US$8,675 million over the course of the quarter. The net interest bearing debt increased from $9,463 million to US$9,735 million. Needless to say, this much debt can make an income investor pause for further investigation.
To see if this company might be a good income investment, it is vital to review the cash flows and projected future of the business. As of March 31, 2012, the cash and cash equivalents amounted to US$445 million. Net cash from operating activities for the period was US$454 million. For the second quarter of 2012 SDRL is expecting earnings to be strong as they have two ultra-deep water semi-submersible rigs commencing operations in April and June. The company has also stated that demand for their services is outpacing their supply,, and very few rigs will be available until 2013. For the deep water assets the daily rates continue higher and have exceeded US$600,000. Clients also seem willing to commit to available rigs all the way into 2014 and beyond. With significant energy discoveries in harsh environments like Norway, there has been an increase in demand for modern equipment. Needless to say, SDRL's assets are some of the most modern in the sector.
Obviously there is much more to the story for SDRL, but for income investors it is easy to see that SDRL is a good candidate for a portfolio. The debt burden in itself could be troubling, but the demand for their services and assets are strong. SDRL is definitely one to keep on the radar.
Black Rock Energy and Resources Trust (BGR)
The Black Rock Energy and Resources Trust is a perpetual closed-end equity fund [CEF]. BGR's investment objective is to provide total return through a combination of current income and capital appreciation. The Trust will invest at least 80% of its total assets in the equity securities of energy and natural resources companies. BGR will also invest in equity derivatives with exposure to the energy and natural resources industry. These companies include those entities involved in the exploration, production, and distribution of such commodities as gas, oil, metals and minerals. Also the fund will invest in companies involved in the transportation of natural resources, as well as equipment manufacturers.
Basically the fund holds a large variety of stocks related to the energy sector. To make income for the investors, the fund will sell covered calls on the holdings and collect any dividends that are distributed. In the latest figures provided by the fund, the trust intends to write options with respects to approximately 30% to 40% of its assets. As of 3/30/12 the percentage written is 29.6%.
A quick scan of the funds historical pricing shows that this CEF has had a hard time with the downward pressure in energy prices. The chart below gives a good illustration of how the fund has performed to date.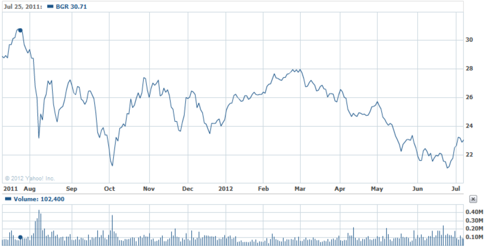 This being the case, now could be an interesting time to start a position. The fund is currently distributing a quarterly dividend of $0.405 per share. That makes for 7% yield on an investment made today. Income investors will also be pleased that none of the distribution is made up of return of capital. The shares currently run at a 5% discount to the net asset value of the fund.
As of 3/30/12 BGR's top sectors were made up of 81% in oil and gas, 16% in energy equipment, and 3% in metals and mining. When looking at the countries where these equities are located, we find that the United States and Canada make up 94% of the total. The remaining 6% is spread out among other countries like France, Brazil, and Netherlands.
BGR might be an interesting option for those looking to invest in a CEF related to the energy sector. The fund has been beaten down, but overall the sector it operates in should be fine in the long run.
Sand Ridge Mississippian Trust I (SDT)
Our next name comes in the form of a relatively new trust called Sand Ridge Mississippian Trust I. This trust was formed by Sand Ridge Energy (SD) in December 2010. Its purpose is to own royalty interests in oil and natural gas properties in the Mississippian formation in Alfalfa, Garfield, Grant, Major and Woods counties in Oklahoma. The royalty interests were conveyed by SD to the trust concurrent with the initial public offering of the trust's common units in April 2011. In the final deal, SDT and its unit holders are entitled to a percentage of the proceeds from the production of currently producing wells and development wells to be drilled. The whole operation is to be run on approximately 42,600 net acres in northern Oklahoma.
A closer looks showed that SD gave the trust the net revenue interest in 36 producing wells as of December 31, 2010, and one additional well undergoing completion operations at that time. As time goes by more wells will be added, and 50% of their proceeds will be attributable to the trust. Basically SD is obligated to drill, or cause to be drilled, the equivalent of 123 horizontal oil and natural gas development wells. This is to take place from January 1, 2011 and December 31, 2014. Here is the latest breakdown as of March 2012 on well development.

What will be of interest to income investors is the agreement between SDT and Sand Ridge dealing with hedging. In the agreement production and revenues attributable to the business have been hedged with a combination of fixed price swaps and collars. The time frame ranges from April 1, 2011 to December 31, 2015. The hope here is that the hedging will level out some of the effects of price volatility in the energy markets. The trust will make quarterly cash distributions of its receipts after deducting administrative expenses.
As we continue our look back into the past we find another interesting bit of information. SDT's plan is to have a target of $12.82 for their cash distribution between August 2011 and December 2015. With their shares selling for $26.50 at the time of this writing, this means a good portion of an investor's entry price can be recouped within a short time. The trust will dissolve and begin to liquidate on December 31, 2030, so this gives unit holders a specific end date to work with. For unit holders that stay with SDT until that time, 50% of the royalty interests will revert automatically to SD. The remaining 50% of the interests will be retained by the Trust and sold. The net proceeds of the sale, as well as any remaining cash reserves, will be distributed to the unit holders.
SDT could be an interesting play in the energy sector for those wanting to enter into the trust scene. There are some unique tax issues that should be researched, but that can be done while one determines if the trust avenue is right for them.
Windstream Corporation (WIN)
Our first three names were diversified in their structure, with one a drilling company, one a closed end fund, and one a trust. Readers will be quick to point out that they all revolve around the energy sector. Since this series of articles promises diversity, let's change the beat and focus on Windstream. WIN is a company that provides communications services and is headquartered in Little Rock, Ark. WIN is an S&P 500 company and has more than $6 billion in annual revenues.
To narrow the focus a bit more, Windstream is a provider of advanced communications and technology solutions. The company offers broadband, phone, and digital TV services to consumers primarily in rural areas. The company has operations in 48 states and the District of Columbia. WIN also operates a local and long-haul fiber network spanning approximately 115,000 miles, a business sales division, and 22 data centers offering managed services and cloud computing.
Windstream, like several other communications companies, is in a state of flux. A sluggish economy, cutthroat competition, and limited funding have become all too familiar issues. To thrive and ensure survival, WIN has enacted a strategy to grow their business and consumer broadband revenues. This is being done so the WIN may attempt to offset continuing pressure on the consumer voice, long-distance, and inter carrier compensation side of the house. This seems to be the right strategy as shown by the revenues from the businesses and consumer broadband were 68.1% of total revenues for the three month period ended March 31, 2012. In 2011 the corresponding amount was 59.6%. Below is a graph which better represents WIN and the transformation of its revenue stream.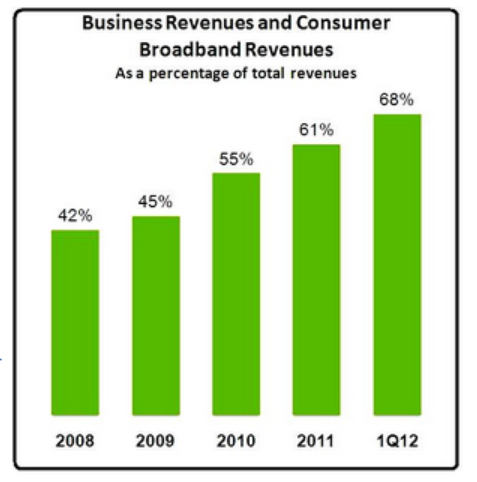 Transforming a company from a consumer-focused voice and broadband provider into a national provider of advanced communications is not an easy process. Technology and infrastructure are not cheap, nor easy to come by. One way that WIN has addressed these issues is by acquiring other entities that will help them achieve their goals. For example, WIN completed three acquisitions of telephone companies between 2006 and 2009. In 2010 the company stepped up its pace and completed three additional acquisitions to add more infrastructure and advanced data services.
The question is if this strategy is working? A look at the first quarter financials might give us a brief glimpse into how successful WIN is performing. For the first quarter the business service revenues were $897 million, up 3.2 percent from the same period a year ago. The consumer broadband service revenues were $113 million, up 5.9% from the same period in 2011. The overall consumer service revenues were $338 million, down 2.6% from the same period a year ago. These numbers validate what WIN's management believes. Broadband and business service revenues are the key to success, and that is where the focus should be.
In the first quarter of 2012 Windstream reported total revenues and sales of $1.55 billion, operating income of $253 million, and net income of $65 million. During the first quarter of 2011 the company reported net income of $29 million on total revenues numbers of $1 billion. For the first quarter WIN generated $352 million in adjusted free cash flow, and paid $147 million in dividends.
What this boils down to is a quarterly dividend of $0.25, or $1 per year. The stock trades just below the $10 mark at the time of this article. This makes for a 10.2% yield on a very dynamic company. WIN still has some risks and is by no means an easy pick. There is much more to consider before buying WIN, but for an income investor willing to do some research this stock might just fit the bill.
In conclusion, here are four more names to consider for the income investor. Not all will be right for every portfolio. The basic idea is to keep the information flowing so that investors might be prepared to make educated selections.