Hewlett Packard (NYSE:HPQ) is the world's largest provider of software, information technology infrastructure, services, and solutions to individuals and organizations. The company earns 70% of revenues from its infrastructure products. Hewlett Packard is one of the market leaders in PCs, imaging and printing, industry standard servers, and across key enterprise infrastructure segments.
All over the world, Hewlett Packard offers a variety of comparable and quality products with affordable prices. I believe that its customers are loyal and like the variety of its new models.
Economic Analysis
From my point of view, economic growth will accelerate to the great extent in 2012. The potential growth of California is under pressure, and productivity gains are necessary in order to raise potential growth of United States. Further, real estate debts continue to weigh on bank balance sheets. The global economy slowed at the end of 2011, but various emerging economies will lead the rebound in the second half of 2012. Sustained financial tensions have been pushed toward Europe into recession. I believe that growth gap with United States will widen in coming two years while the employment position has been improved gradually.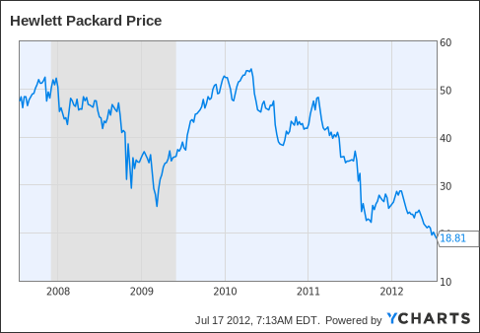 Financial Analysis
I believe that the company has strong financial position in the market. According to April 2012, total assets of Hewlett Packard are amounted to $127.6 million as compared to $129.5 million of October 2011. Total current assets and current liabilities are amounted to $49.6 billion and $42.7 billion, respectively. The company has increased shareholder's equity in April 2012 amounted to $41.2 million, compared to October 2011 amounted to $38.6 million.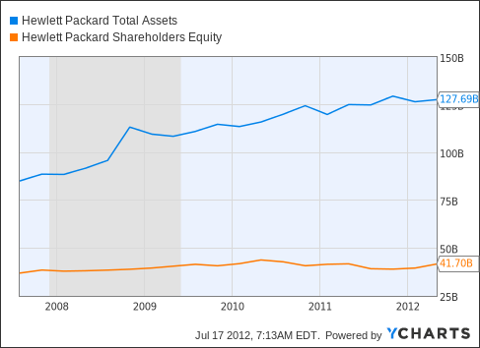 Further, net earnings amounted to $3.06 billion as compared to $4.9 billion figure of April 2011. Basic earnings per share decreased in April 2012 to $1.55 from $2.27 of 2011. Diluted earning per share is also decreased from $2.23 to $1.53.
Moreover, net earnings reached $1.59 billion in April 2012. The negative balance of cash flow from investing and financial activities in April 2012 reached $1.26 billion and $1.0 billion, respectively. The positive balance of cash flow from operating activities is amounted to $2.4 billion. The cash and cash equivalent at the end of April 2012 reached $8.3 billion.
Trading at a P/E ratio of 7.3 and a forward P/E ratio of 4.1, Hewlett Packard is quite cheap for its size. Both price-to book (0.9) and price-to sales (0.3) ratios crush their industry averages. Based on its indicators, the tech company has a B Grade O-Metrix score of 7.34. (For more information on O-Metrix calculations, please click here.)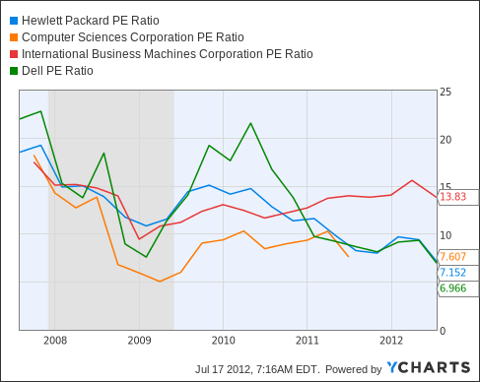 Sector analysis
I believe that the IT & computer hardware is growing field. There are a lot of business opportunities are available in this sector, but competition has also been increased to the great extent. U.S is an excellent future market for computers due to increased and available resources. The company is a leading provider of computer hardware in all over the world. As the American economy is begins to stabilize in 2012, I believe that the future of Hewlett Packard and computers in general is also growing.
Competitor analysis
Hewlett Packard encounters aggressive competition in all areas of its business activity. It competes on the basis of performance, technology, quality, price, brand, reliability, distribution, reputation, account relationships, range of products and services, support and services, and security. HPQ's competitors comprise of Computer Science Corporation (CSC), International Business Machines (NYSE:IBM), and Dell (NASDAQ:DELL). Dell is a growing provider of services which support its products. Several competitors are able to provide a wide range of global services while other enjoys significant brand recognition. The comparison of Hewlett Packard's financial ratios with Dell, IBM, and Computer Science Corporation is as follows:
Company

HP

Dell

IBM

CSC

Earnings Per Share Basic

Earnings Per Share Diluted

$ 3.38

$ 3.32

$1.36

$1.35

$ 13.25

$13.44

$4.57

$0.22

Current Ratio

1.01

1.02

1.20

1.07

Gross profit ratio

18.5%

12.34%

49.9%

14.12%

Net income ratio

5.56%

4.09%

18.6%

4.73%
Note: These figures are based on the results of 2011 annual reports of companies.
Summary
In summary, the future of Hewlett Packard is growing as it has in the past. The company is providing more comparable and quality products to its current and potential customers in order to keep up with global competition. The financial position of the company is also going to the right direction according to the figures of previous years. It is concluded from various years' financial analysis that Hewlett Packard has sustained its financial as well as recognizable market position. Therefore, in my point of view, it will not harmful to invest in this company because of its strong current ratio or asset's position. In addition, I believe that Hewlett Packard has good financial position as compared to Dell and Computer Sciences.
Disclosure: I have no positions in any stocks mentioned, and no plans to initiate any positions within the next 72 hours.