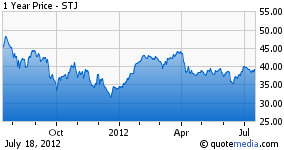 At the risk of being accused of trying to spin straw into gold, I can't bring myself to get all that worked up about St. Jude Medical's (STJ) modest shortfall in Q2 and lower guidance for 2012. Yes, in the momentum-driven "what have you done for me lately" world of Wall Street, that's a bad thing. But my bullish thesis on St. Jude wasn't really about what the company would do in 2012, and the company's long-term opportunities still look attractive.
FX Headwinds, And Some Pricing Pressure To Boot
While the businesses are admittedly quite different, St. Jude's second quarter revenue growth doesn't stack too well against the operating growth seen in the device businesses at Johnson & Johnson (JNJ) or Abbott (ABT).
Revenue at St. Jude declined 3% on a reported basis and rose just 1% in constant currency. CRM revenue fell about 3%, with ICD revenue down 1%. Other units were stronger, as a-fib saw 8% growth, neuro rose 5%, and cardiology rose 3%.
While top-line performance was soft, margins were relatively better. Gross margin improved a half-point, and though operating income declined 3% as reported, that was slightly better than expected.
Is St. Jude Playing The Role Of Canary?
In modestly lowering guidance for the balance of the year, St. Jude management cited ongoing forex headwinds, macro concerns driven by Europe, and more widespread pressure on price. Time will tell to what extent there are truly "macro issues" in St. Jude's outlook and whether or not the company is playing it conservative. In comparison to J&J, for instance, St. Jude does not have any leverage to the orthopedic market and will not participate if that second-half rebound materializes as expected.
There's little incremental data out there to suggest that St. Jude is losing any real share in ICDs, even with the issue over its leads. Now that St. Jude believes it has discovered the problem with the Durata leads (external abrasion, which if true is not really a company-specific issue), that's a significant potential headwind off the table. So while St. Jude can get back to the business of taking share from Boston Scientific (BSX), further pricing pressures are going to make life difficult for everybody, including market leader Medtronic (MDT).
Data And Product Intros Should Be Coming
The second half of this year should be a relatively active one for St. Jude, with the Portico launch in Europe - the company's entrant into the transcatheter valve market currently dominated by Medtronic and Edwards Lifesciences (EW). There should also be incremental developments in the renal denervation program, as well as with the company's PFO device and LAA closure product.
Not only are the still questions about how these products stack up in terms of efficacy and safety, but also in the real market potential. Renal denervation is widely expected to be a $1 billion-plus market, but there's substantially more skepticism about PFO and LAA. Should these products continue to produce good data, though, investors may want to consider the fact that not a lot of revenue is currently assumed here and that could represent incremental upside for the stock.
The Bottom Line
St. Jude is clearly lacking in momentum, but it does seem to offer some value right now. If St. Jude can grow its free cash flow at a compound rate of about 7% over the next decade (versus almost 12% over the past 10 years), these shares ought to trade near $50. While post-earnings summer doldrums will likely lead to the stock drifting in the meantime (absent a thesis-shifting earnings report from Boston Scientific or Medtronic), these shares are worth a look for investors who can look past unimpressive short-term growth and on to a more interesting pipeline of future revenue opportunities.
Disclosure: I have no positions in any stocks mentioned, and no plans to initiate any positions within the next 72 hours.