When Tempur-Pedic (NYSE:TPX) announced last month that its earnings would be below expectations, I noted that the company generated $130 million in free cash flow to the firm last year. Tempur-Pedic's enterprise value was $1.4 billion, including $600 million in debt. I said "April $10.00 put options are trading for $0.60, offering a 6% six-week premium and/or a $9.40 entry price to anyone daring enough to write the options ahead of the new financial guidance."
Too bad I didn't have the capacity to take that dare. Shares traded much higher on the announcement, so I would have been able to pocket that premium.
The Company reported net income of $13.5 million for the first quarter of 2008 as compared to $29.8 million in the first quarter of 2007 and revised full year 2008 guidance for net sales and earnings per share. It currently expects net sales for 2008 to range from $1.01 billion to $1.07 billion, a decrease of 9% to 3% as compared to 2007. It currently expects EPS for 2008 to range from $1.20 to $1.45 per diluted share. This guidance reflects a decrease of 31% to 17% compared to 2007 EPS of $1.74 per diluted share.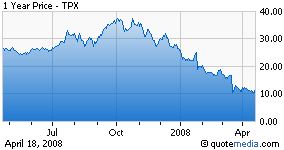 four thousand dollar mattresses aren't likely to be high on cash strapped consumer's shopping lists.
That said, however, the valuation could still look cheap even after further cuts. I'll be interested to see whether the support it was getting at $10 stays firm.
Disclosure: At time of publication, William Trent has no financial position in the stocks mentioned.