I think any article supporting a long position in Alcatel-Lucent (ALU) needs to start off with a heavy dose of pessimism. Alcatel-Lucent's turnaround will not be fast, it will not be easy, and it is far from a sure thing. This is not a stock for widows and orphans, and it is not a stock to own if your ego cannot take ridicule or failure. Also, the closer you are to retirement the less you should put into Alcatel-Lucent, if anything. Most of the first half of this article will be the negatives, because everyone needs to be aware of the risk involved when investing with Alcatel-Lucent. Then I will focus on why I am long on Alcatel-Lucent, because I have some confidence management can put their house in order and in lightRadio being a great product. Let us start by looking at the financial statements.
The Numbers
There is a lot to be worried about here, but the scariest to me is the -23.25% revenue growth. The last quarter was very difficult for Alcatel-Lucent, and the Q1 2012 earnings call said calendar issues caused the sharp decline in revenue. Revenue expected from China was pushed into Q2. That is very worrisome, because if those revenues do not materialize then there is a revenue as well as credibility problem.
Alcatel-Lucent is almost completely hated by its shareholders, and if management's word cannot be trusted then this stock will be hated more if such a thing were possible. We need to see those revenues come in for Q2. This issue is so critical that I would hold off on buying until after the Q2 earnings call, because even if you believe the long case, a Q2 miss could send this tumbling even lower. If you're slightly more risk tolerant you could take 10% to 25% of your normal position size, and I normally take 50% of my desired position size while I wait for a picture to emerge. I will discuss entry strategies at the end, but the Q2 revenue expectation is so important I had to make mention of it here.
The other number that concerns me is the high debt-to-equity ratio of 0.893. I do not like borrowing for operations, only for expansion or research. I also do not like it when the returns from debt-financed endeavors are too far out. I cannot find any evidence that Alcatel-Lucent incurred this debt for extremely productive endeavors. This bothers me, since they cannot rely on debt in a pinch to cover operational costs for a new product or fast track a project to market. Solvency is not currently an issue, but the debt is likely to be a drain into the future.
The positive numbers to focus on are the profits, cash and ST investments, and earnings. Be aware though that the sale of Genesys provided much of the balance sheet strength. It would be preferable if the strength came from operations, but then this would be a "turned around" company instead of a potential turnaround. Genesys was also quite profitable so Alcatel-Lucent needs to leverage the gain from this sale to generate profits without too much delay. Also look at these basic statistics:
· Price-to-Earnings Ratio (P/E): 2.014
· Price-to-Book Ratio (P/B): 0.5027
· Current Ratio: 1.401
The P/E is low, and the P/B is below 1. These are both indicators of a value play, but be aware they are also the indicators for a distressed company. At least the Current Ratio indicates that the company is not in immediate distress. All the statistics point to a great entry level if you believe in the turnaround. If you think Alcatel-Lucent will only improve going forward then the current price is a steal.
The Macroeconomic Picture and the Case to Leave France
No company is immune from the ills of the economy. Doom and gloom is running quite high globally. This makes people scared to hold shares in a company like Alcatel-Lucent, which is in a precarious position. Revenues from Europe are drying up, which is why they are pushing their Chinese operations. That is also why the delay in Chinese revenue hurt them after Q1. Hopefully we can get that in Q2. Alcatel-Lucent has agreements with Telefónica and they teamed up during the 2012 Mobile World Congress. I am sure Telefónica would spend more money on Alcatel-Lucent products if the economy was not in such a slump. Alcatel-Lucent has an uphill climb in front of it and a significant part of that hardship is the global economy.
The global economy will also make it harder for a turnaround to lead to a higher share price for Alcatel-Lucent. We could see great numbers and still see the stock underperform. Patience will pay off in that scenario, because as long as the business gets stronger the stock will follow one day. I want to see an improvement in fundamentals. The share price will follow.
I do not want to make this into a political debate, but Europe's woes and France's regulations create a bad environment for any company, let alone one in as fragile a position as Alcatel-Lucent. They have been focusing on cutting costs, but labor is a serious issue in France. Changes can trigger riots or strikes, which is the reason labor reform is so slow in France. This makes it harder for Alcatel-Lucent to shed weight in France. You can control that in the long term by freezing hiring, but then you might be left with older workers less familiar with the newest technologies. Alcatel-Lucent tries very hard to be on the leading edge with its products, and it has to be considering the state it is in. I do not mean to pick on France, and we have serious issues stateside too. However, I doubt many could argue that France is more nurturing of businesses than the United States, and fewer would make a convincing argument. I would even accept a move to London.
Patent Financing
A few years ago, I read a legal note from a venture capital group at a law firm talking about selling off patents as a way to get cash without going through another round of financing. This route is extremely rare. Even patent licensing is rare outside of companies that develop technology for this very purpose, rather than for use in their own products. Companies with large patent portfolios might license them out to bring in cash, but rarely will a company sell the patents. I guess no one likes to sell off their brilliance. Alcatel-Lucent will not be selling off their patents; thankfully they have decided to unlock the value of their patents by offering them for licensing. The proceeds from these might be substantial, but I will hold off on getting too excited until we see actual numbers. Until then I will remain cautiously optimistic that this is a step in the right direction.
The Fallacy of Focusing on Declines in Old Technologies
One of the biggest warnings I have seen about Alcatel-Lucent is the decline in the high margin CDMA business. I have seen people on forums decrying Alcatel-Lucent as essentially dead because their high margin business is in decline. For me, this is a bit short-sighted. The concern I have is that any new business developed by Alcatel-Lucent such as lightRadio, discussed below, will not match the margins of the CDMA business. This can be overcome by sheer volume of revenue, but obviously we would all prefer fat margins with fat revenue. I do not expect margins to be equal from the outset. Finding savings comes with time and scale. Roll-outs of new products should not be rushed. You do not produce a bunch of inventory on the basis of forthcoming but unrealized demand. Excess inventory should be kept at a minimum. Cost savings will occur as the company moves forward.
Manufactured products can get cheaper as they get long in the tooth. Televisions are a great example of this. Prices fell as the cost to produce them fell. If the company discounts its products at a lower rate than the falling costs you increase your margin. You do this till you get the margin you want then you pass on all discounts to the customer to increase your volume. This is not an article about how to run a business. The point is that if Alcatel-Lucent did not try to develop new products as technology evolves they would get left in the dust. Alcatel-Lucent in my opinion is in better shape than Nokia (NOK) because they innovated with the times. Alcatel-Lucent needs to innovate or they will have a high margin business with no volume in revenue. So the CDMA business just needs to supply profit while other business gets off the ground, then they need to focus on increasing margins.
No one should be surprised that 3G technology is higher margin than the new 4G technology. Alcatel-Lucent also has other businesses that they are developing, but I am focusing on the mobile communication side to justify my being long.
LightRadio at the end of the Tunnel
This is the primary reason I am long on Alcatel-Lucent. There are many other products, but I am choosing this one to get excited about. To clarify, lightRadio is a range of products. The lightRadio cube is elegant. The tiny cube replaces a whole cell tower.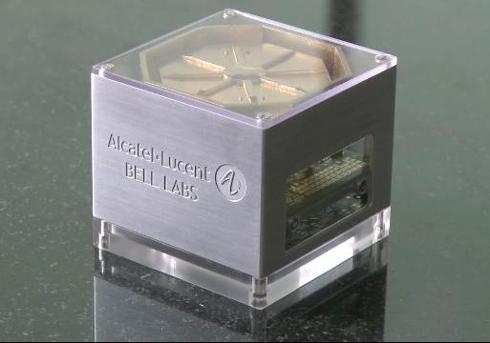 The first unveiling was the Metro Cell Express. The cube is designed for dense urban areas. Cell towers with their superior coverage area are better for rural locations or on isolated highways. The cube delivers superior service to a smaller area. They are cheap, small, and energy efficient. Those are key benefits because they are designed to be deployed en masse. They can also be configured remotely once installed, something lacking in the large cell towers.
Cell towers serve two purposes. The first is coverage area, and the second is capacity. Capacity includes number of users simultaneously while still keeping fast speeds. Large cell towers run into limitations, because they interfere with each other. Carriers have to buy more spectrum to increase the capacity of the cell towers. LightRadio's limited coverage allows the same spectrum to be reused in different areas without interfering with one another. For those of you familiar with the industry, you know that spectrum can be fantastically expensive. Stretching the existing spectrum to carry more weight would be a boon to carriers.
Large cell towers are eyesores and companies have to lease space to deploy them. I am sure some of you have seen The Simpsons episode where Homer leased out the house for a cell tower in order to pay off a debt. LightRadio is tiny and elegant. They can stick it to a streetlamp on the corner if they wanted. There are also many other benefits that they have installed. I find lightRadio amazing, and my favorite trait is that it is modular. LightRadio is a true example of Bell Labs innovation. I highly recommend going to the Metro Cell link above, especially the collateral tab that has publications and videos.
As good as all that is, I actually turned positive about Alcatel-Lucent, because of lightRadio Wi-Fi. This is an extension of lightRadio that allows carriers to use their own Wi-Fi network. This solves the biggest issue with Wi-Fi monetization for the carriers. This opens that revenue source, while using unlicensed spectrum. It also enables seamless transition from cellular to Wi-Fi. This is gateway-less Wi-Fi. I hate logging into Wi-Fi, and this allows me to be lazier. This product amplifies the benefits of the first lightRadio product. The most important to their potential customers are further reducing the need for licensed spectrum, and allowing monetization of the Wi-Fi network. I highly recommend looking at the Benefits and Collateral tab in the first link of this paragraph.
LightRadio is not a current play. I do not think this is incorporated into the price at all. According to the last earnings call, they expect lightRadio revenues to start flowing in 2013; late 2012 at the earliest.
The Technical Picture
I decided against posting a chart for this one. The current price is scraping the bottom of the chart. Alcatel-Lucent is very cheap, and for good reason. It is so cheap that I would not mind buying it at a higher price if a turnaround seems viable. That is why I would wait till the Q2 2012 earnings so that I can see if the picture has improved, and if they are on a steady path to profitability. I do not expect this to rocket to dizzying heights on Q2 earnings. Even if this goes to $2 on good news I would not mind buying.
Conclusion
This is not an investment for impatient or risk averse individuals. My risk tolerance is higher than most, and I will probably take a tiny position in Alcatel-Lucent soon, but the majority will be taken after I see the Q2 earnings report and call. This is a bit different now, read below. Since my risk tolerance is high, if I see that the turnaround is going well I will be taking 25%-50% above my desired position size. I will determine how much I would want to hold into the long-term, the definition of which I discuss in the next paragraph, and add on 25% to 50%. This I will sell if and when we hit $3-$4 from these prices. This is all conditional on my having faith that Alcatel-Lucent is on a good path. Also, the amount I would want to hold long-term is smaller than if this were AAPL. Evaluate your situation and decide for yourself. Alcatel-Lucent is high risk so the position size will be more conservative.
You should not enter this stock without an overall time frame of at least 5 years. If things look really good, and the macroeconomic picture improves then we might be lucky to see good things in 2-3 years. However, I would commit to a 5 year mindset in order to build patience into the foundation of your investment. If Q2 does not yield good news, Alcatel-Lucent is not done, but I would move my timescale into the 5 to 10 year range. That is a bit too long, and I would hold off on taking a larger investment, though I might still take just 25% of my desired position. Then I would monitor Alcatel-Lucent and wait till there is a better entry.
Latest Developments
After I wrote and submitted this article, Alcatel-Lucent announced the expected weakness of their Q2 earnings and an operating loss of 40 million euros. I am not going to go back and edit my article, since I think most of the analysis still applies. Just realize that everything below supersedes anything above.
I wouldn't say it changes much of my analysis, though I had hoped Q2 would yield a profit. I am still waiting for the Q2 call. Some of the revenues must still be from China as per the Q1 call. That is an issue of trust. I would move any plan to buy into the next half of the year. I think waiting for FY 2012 to finish might be the most prudent course of action. If the economy is creating major headwinds we might as well wait to see a clearer picture. Still if the larger picture convinces you, then at near $1 a share it is a great opportunity to buy, but keep your exposure low.
Disclosure: I have no positions in any stocks mentioned, but may initiate a long position in ALU over the next 72 hours.
Additional disclosure: Still considering going very small on ALU, despite my revision that buying should be done much later.