With its headquarters in France, Alcatel-Lucent (ALU) is one of the largest networking companies in the world. It was officially formed in 2006, but the company has a history that dates back to 1896. Alcatel-Lucent is one of the leading European communications equipment companies with operations all over the world. The company's worldwide expansion is evident through a total of more than 25 wholly owned subsidiaries. It provides a wide range of telecommunications applications and services that propose complete solutions for service providers, enterprises and governments. The company is organized into separate business segments: Networks and Software, Services & Solutions. It maintains a portfolio of more than 27,900 active patents. Alcatel-Lucent also owns Bell Labs, which is globally recognized as one of the largest innovation and R&D facilities.
Competition
Alcatel-Lucent has a market cap of $3.12 billion and an enterprise value of $4.67 billion. It ranks amongst the top mid-cap corporations within its industry in terms of cash reserves. It held $6.38 billion in total cash and $5.50 billion in total liabilities. In terms of profitability, gross margin stands at 41.00%, and 5-year average gross margin at 40.70%. Those margins are slightly higher than the industry average.
The company's profitability allows constant investments on research and technology, which is a key component to its future growth. It has already spent €2.5 billion on innovations that contribute to the transformation of the industry. Moreover, Bell Labs serves as an innovation engine that sets Alcatel-Lucent at the core of the market's interest. Recently, Alcatel-Lucent announced an evolved internet router. This router can transfer about 2.5 million HD video streams every second. In other words, it is about five times faster than Cisco's (NASDAQ:CSCO) latest router. This recent development has certainly given a push up to the already strong reputation of the company. For the short-term future, it is expected to shake up the status in the core router market taking Alcatel at the forefront. It is suggested that, by 2014, the company will control a 10% market share above Cisco, and 4% above Juniper (NYSE:JNPR).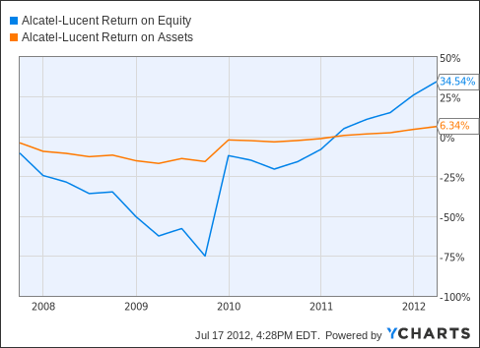 ALU Return on Equity data by YCharts
Profitability and performance
Taking a closer look to financial performance ratios for Q1 2012 quick ratio is 1.00 and current ratio 1.40. Compared with the industry's quick and current ratio levels, there is no doubt that the company can meet its obligations in the short term. Total assets reach $31.15 billion and total liabilities $24.54 billion, suggesting of an overall clean balance sheet. However, net cash flow from total operating activities in Q1 2012 shows a negative pace compared with Q1 2011. This slowdown was generated mainly by the Services segment. Cash flow is a bit of a concern for the future financial health of the company. The price-to-cash-flow ratio stands for 1.10 while the industry's, as a whole, stands at 12.10. However, it is expected that the company will benefit from the realignment in the core router market. I expect the positive results to show by the end of the year. Furthermore, over the past three years Alcatel-Lucent has achieved a reduction of $1.25 billion in operational costs. Gross profit is $7.958 billion. EBITDA margin reaches 7.90%, while for the industry is 11.10%. Return on equity accounts for 34.54% and return on assets accounts for 6.34%. There is still room for improvement in generating earnings.
Stock Evaluation
The stock has been going down for a while. In fact, it is trading near 52-week lows. The Trailing P/E Ratio is 2.10, while the industry's stands at 20.60. It has a relatively high Beta of 2.35, which implies a high degree of volatility. P/S is 0.23, and P/B is 0.56. Investor sentiment reveals a complete lack of trust in the stock's performance. Someone would assume that this lack of trust is entirely justified by the unreliability of mixed revenue and uncertain cash flows. However, the stock is as low as it gets. I do not think ALU can get any lower. The most recent earnings report was not welcome by the market, but I expect to stock to bounce back by the end of this week.
The China Deal
One reason for investors' aversion to Alcatel is the company's exposure to the vulnerable European markets. However, only 30% of the company's income generates from the EU. The rest comes from all the 130 countries, mainly from developing economies. The emerging markets consist of a much larger income resource. I think the market is completely ignoring Alcatel-Lucent's deep collaboration with China Telecom (NYSE:CHA). The Chinese government recently launched a new initiative called "Broadband China." Alcatel-Lucent is collaborating with China Telecom to provide high-speed broadband connections to 250 million Chinese households. Even more encouraging for the company's cash flow statement is the number of new contracts signed. Alcatel-Lucent has signed up more than 20 new contracts for providing LTE/4G network infrastructure in Latin America and France. Also, the company signed more than 15 new broadband access contracts, among others, with Mexico. Above all, it holds an up-to-date portfolio of competitive patents, which keeps further enhancing it. In the last Mobile World Congress the company presented the expansion of its light radio portfolio. In general, the innovation initiatives of this year undertaken by Alcatel-Lucent will certainly alter the situation by the end of 2012.
Summary
In general, now might not be the right time to invest in European stocks. However, it will be a big mistake to consider Alcatel-Lucent as a European stock. The company has a well-diversified portfolio that puts particular emphasis on emerging markets. The deal with China Telecom requires a substantial capital infrastructure investment. That is another reason Alcatel reported lower-than-expected earnings in the most recent quarter.
As very wisely expressed by the investment professional, Robert Arnott:
In investing, what is comfortable is rarely profitable. Know the boundaries of your comfort zone and practice stepping out of it in small doses.
I totally agree with the statement above. Sometimes, stepping out of the comfort zone gives us the opportunity to realize significant gains. There are times when it pays to be contrarian. I think the market has over-reacted to the earnings miss, making Alcatel a dirt-cheap company. The China deal is completely ignored, but I think it could reverse the faith in Alcatel-Lucent in the long-term.
Disclosure: I have no positions in any stocks mentioned, and no plans to initiate any positions within the next 72 hours.