Codorus Valley Bancorp Inc. (NASDAQ:CVLY) is a full service bank that provides all types of loans, insurance, trust and non-deposit investment products. It offers these products and services through its 17 offices in York County, PA.,Hunt Valley and Bel Air, MD. The company has just raised it quarterly dividend from $.09 to $.11 per share. Its payout ratio is 24.49%, which leaves room for future growth. This represents a 3% yield based on its present price. The company's dividend history is shown below:
)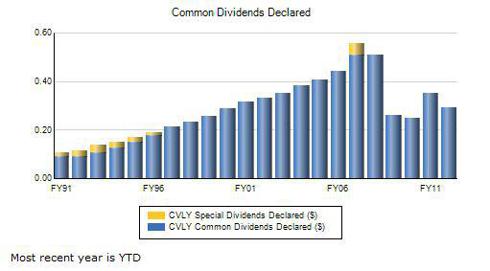 It has a dividend reinvestment plan for those who desire to use it.
CVLY was named by the Central Penn Business Journal as one of the top 50 fastest growing companies in Central Pennsylvania for 2010 and 2011.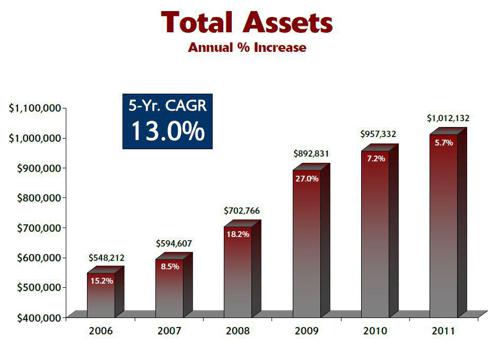 Earnings are on the rebound from the recession period of 2008 - 2009. Earnings per share were $1.12 for 2008, $.61 for 2009, $1.28 for 2010, $1.27 for 2011 and $.50 for the first quarter of 2012. (S&P) With lower loan charge-offs, a larger volume of earning assets and a decrease in funding costs, earnings per share could hit $2.00 per share this year.
Book value per share is $16.68, which is a 13% discount from the current selling price of $14.50 per share. The trailing P/E ratio is 9.85, which is far below most other profitable regional banks. Insiders hold about 10% of the outstanding shares and have been net buyers recently.
S&P has a positive outlook on regional banks for the next 12 months. I have also written that regional banks should show positive earnings momentum over the next few years. There are no analysts following this small bank which probably accounts for its low current valuation. If you decide to buy, be sure to use a limit order since this issue is thinly traded.
Let's sum up the reasons to buy this regional bank stock:
Offers a reasonably safe 3% dividend
Dividend using less than 1/3 of company earnings
Selling at a 13% discount to book value
Selling at a discounted 9.85 P/E ratio
Insider buying
Upside outlook for the industry
Positive outlook for this individual bank
There you have it. Seven good reasons to buy this bank.
Disclosure: I am long CVLY.