There may be 36 different reasons why riskier assets won't survive in 2012. Some of the more popular possibilities? "Taxmageddon" could send the U.S. into recession. Reining in the budget deficit would cost millions of jobs in the private and public sectors. China's plans to stimulate its economy might be limited by food price inflation. And, of course, the European Union will fracture into pieces.
If one or more of the above-mentioned calamities smacks down stocks and commodities, should investors assume that U.S. treasury bonds will provide shelter? Is it possible that hedge funds, traders and institutional money managers might dump "risk-free" U.S. Treasury bonds as well?
At the moment, the big boys believe that U.S. Treasury Bond ETFs still have room for more capital gains. Why? Because mom-n-pop investors can't get enough of "safe" investments. Why else? Because the Fed is likely to shoot yet another quantitative easing bullet (QE3) some time in the next 6 months.
Of course, safety is in the eye of the beholder. There have been times when gold has held the title… and times when it has been lumped in with overall commodity weakness. There have been times when the Swiss franc has reigned supreme… and times when interventions have caused rapid depreciation in the fiat currency. The yen and the dollar have also had respective periods in the sun. It follows that U.S. Treasuries could be liquidated during extreme economic distress, rather than continue serving as a safe haven superstar.
In general, however, those that see danger for the iShares 7-10 Year Treasury Bond Fund (NYSEARCA:IEF) or for the iShares 20+ Year Treasury Bond Fund (NYSEARCA:TLT) expect severe increases in core inflation to bring about a selloff. Others may talk about China and Japan diversifying away from U.S. bonds. Still others hypothesize that a markedly stronger economy would precede a bear market for treasuries.
Is it possible, though, that 30%-40% bond market losses might arise from the potential catastrophes that the world faces in 2012 (e.g., fiscal cliff, eurozone collapse, severe unemployment, food inflation, etc.)? Could hedge funds, traders and institutional money managers make a mad dash for cash, locking in gains and waiting out system-wide trauma?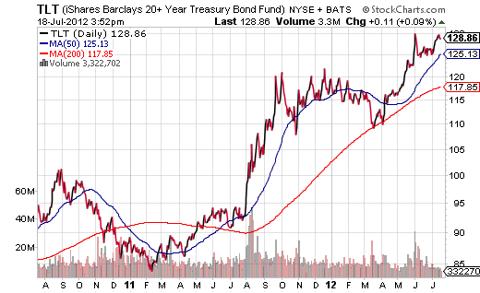 There was a day when sovereign Italian and Spanish treasuries were deemed supremely safe. And while some might argue that they were safe when these countries had the ability to print their own money, another might argue that scores of sovereignties eventually defaulted after having done so.
The bottom line? Bond funds infrequently trade more than 10% above a 200-day trendline. And when they do, they tend to pull back to the mean shortly thereafter. If you own TLT, make sure to use a stop-limit loss order to protect your gains.
Disclosure: Gary Gordon, MS, CFP is the president of Pacific Park Financial, Inc., a Registered Investment Adviser with the SEC. Gary Gordon, Pacific Park Financial, Inc, and/or its clients may hold positions in the ETFs, mutual funds, and/or any investment asset mentioned above. The commentary does not constitute individualized investment advice. The opinions offered herein are not personalized recommendations to buy, sell or hold securities. At times, issuers of exchange-traded products compensate Pacific Park Financial, Inc. or its subsidiaries for advertising at the ETF Expert web site. ETF Expert content is created independently of any advertising relationships.