Individual MLP selection may offer the best overall return potential, but MLP investment funds offer the greatest convenience, diversification, and least tax filing complexity.
Here is a list of 24 funds that have either a high or exclusive focus on MLPs. The list includes, ETNs, ETFs, CEFs and mutual funds.
None of these are presented as recommendations, but instead are a response to requests by readers of our other MLP articles for some information about the scope of investment fund alternatives for MLPs.
Our two most recent articles about MLPs are: active vs passive, and pipelines vs equity REITs.
| | |
| --- | --- |
| JPMorgan Alerian MLP Index ETN | AMJ |
| ALPS Alerian MLP ETF | AMLP |
| Nuveen Energy MLP Total Return Fund | JMF |
| First Trust Energy Infrastructure | FIF |
| First Trust Energy Income and Growth | FEN |
| Center Coast MLP Focus A | CCCAX |
| SteelPath MLP Income A | MLPDX |
| MLP & Strategic Equity Fund | MTP |
| UBS E-TRACS Alerian MLP Infrastructure ETN | MLPI |
| Cushing MLP Total Return Fund | SRV |
| Cushing MLP Premier A | CSHAX |
| Credit Suisse Cushing 30 MLP Index ETN | MLPN |
| SteelPath MLP Select 40 A | MLPFX |
| SteelPath MLP Alpha A | MLPAX |
| MainGate MLP I | IMLPX |
| Yorkville High Income MLP ETF | YMLP |
| Tortoise MLP & Pipeline Investor | TORTX |
| UBS E-TRACS MLP Wells Fargo ETN | MLPW |
| Morgan Stanley Cushing MLP Hi Income ETN | MLPY |
| UBS E-TRACS Alerian Natural Gas MLP ETN | MLPG |
| FAMCO MLP & Energy Income A | INFRX |
| First Trust North American Energy Infrastructure | EMLP |
| Global X MLP ETF | MLPA |
| SteelPath MLP Alpha Plus A | MLPLX |
These funds have some quite different attributes, not just the structural difference between ETNs, ETFs, CEFs and mutual funds.
Some have high front loads (we would never buy a load mutual fund), but we are always interested to know what they own. They could have nice portfolios, even though we simply will not pay front or deferred loads on mutual funds -- no need -- why do it.
Some have low expenses and some have high expenses. Some use leverage and some do not. Some trade basically at NAV, and others trade at premiums or discounts from NAV.
A few have 5 years of history. Some have 3 year histories, but most are fairly new.
One concerning aspect of the substantial number of funds for this relatively small asset category, is the possibility that it is or may become overvalued in the reach for yield. On the other hand, the total assets of these funds is still a small percentage of the total market-cap of the MLP category.
We really like the category, however. Strategic infrastructure is comforting in difficult periods. The real asset attribute is appealing in a future that somehow must be inflationary, even though the present is flattish with near-term deflationary risk.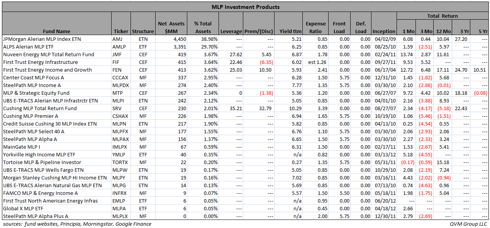 AMJ and AMLP account for about 2/3 of the market-cap of the fund assets for the general category. The next 3 largest funds are CEFs, which account for about 11% of fund category assets. Together, the five funds hold about 78% of all the assets held by them and their peers.
The CEFs have better total return records, presumably due to active versus passive management, and the effective leverage, and in two of the cases also the effect of trading to a premium.
The new ETF from First Trust is run by the same folks at Energy Income Partners that run FIF and FEN, which are better performers than AMJ and AMLP. That is a positive sign for that new ETF.
Disclosure: QVM has positions in AMJ as of the creation date of this article (July 18, 2012).
General Disclaimer: This article provides opinions and information, but does not contain recommendations or personal investment advice to any specific person for any particular purpose. Do your own research or obtain suitable personal advice. You are responsible for your own investment decisions. This article is presented subject to our full disclaimer found on the QVM site available here.