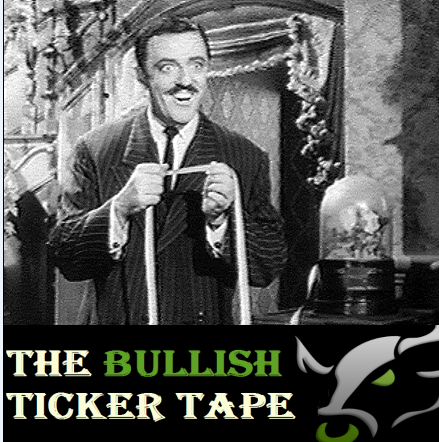 Search as one might for bullish news, there was little to be found from a normal perspective. Intel (NASDAQ:INTC) delivers a poor report and outlook but the market rallies sharply. In fact, Intel is one of the largest gaining stocks in the DJIA Wednesday. It's not a good idea to argue with the tape but the rationale for the rally is amusing naturally.
Bank of America (NYSE:BAC) reported earnings that beat while tech (NYSEARCA:XLK) continued to dominate with positive reports from VMWare (NYSE:VMW) and EMC Corp (EMC).
Bernanke's last day of testimony offered few hints of more QE stating frankly the Fed's balance sheet is limited but has "some" room. Most striking to me were his comments regarding the eurozone which were quite bearish to me: "The eurozone has not come close to a solution to its problems." So, it remains "unfixed" but this item didn't bother bulls either on Wednesday.
We have long equity positions overall so are pleased by a rally but that won't stop me from challenging conditions. Frankly, the elephant in the room remains the fiscal cliff and eurozone.
Economic data from Housing Starts which beat estimates (.760M vs .745M expected & prior .711M); however New Housing Permits missed (.755M vs.775M expected & prior .784M) making the number a wash. But the trading algos liked the first number. Meanwhile the Fed's Beige Book showed what we already knew-a slowdown is at hand even as some spun it positively. But, Bernanke testified Wednesday that he didn't expect a recession but some might remember back in 2007 he stated assuredly "subprime was contained".
Stocks in the U.S. rallied because the momentum players have seized the tape. It's reported that some are buying the S&P (NYSEARCA:SPY) for example paired with VIX call options as a hedge. That's an interesting strategy.
The dollar (NYSEARCA:UUP) was flat while commodities (NYSEARCA:DBC), (NYSEARCA:USO), (OTC:JJG) and (OTC:JJC) were stronger particularly abetted by the ongoing drought. Gold (NYSEARCA:GLD) remains weak as investors find it tiresome and seek greater returns. There's plenty of rotation going on within sectors as we move abruptly between "risk on/off" sentiment. Wednesday financials (NYSEARCA:XLF) & (NYSEARCA:KBE) and REITs (NYSEARCA:IYR) were weaker while investors rotated to tech. Bonds (NYSEARCA:IEF) were slightly higher.
Volume (not shown on your brokerage statement) remains pathetically light on rallies. Breadth per the WSJ was positive.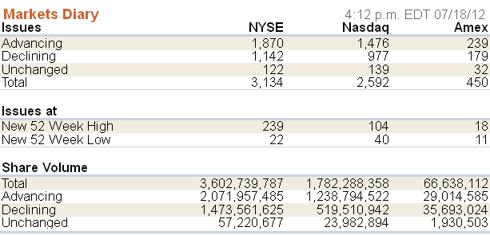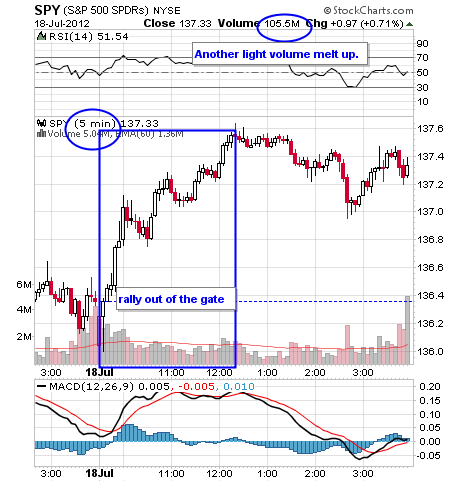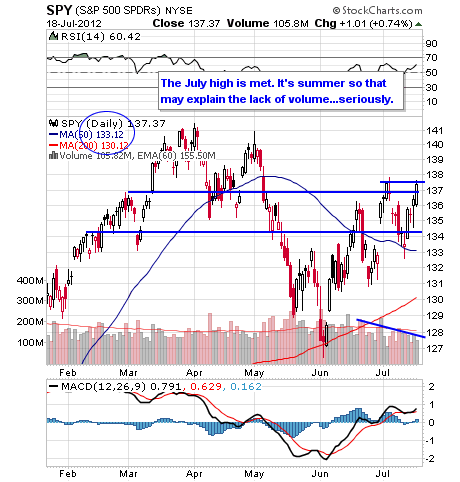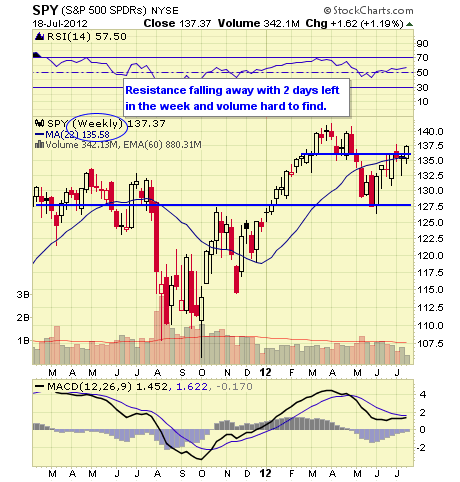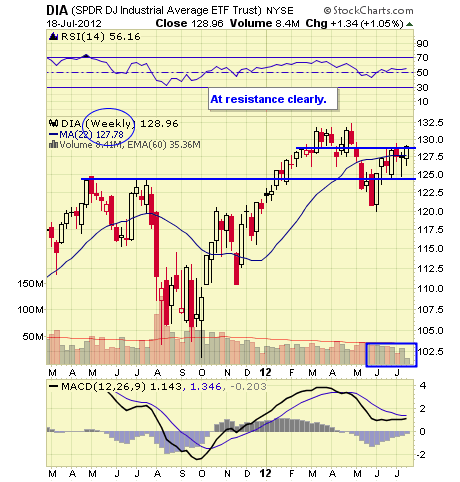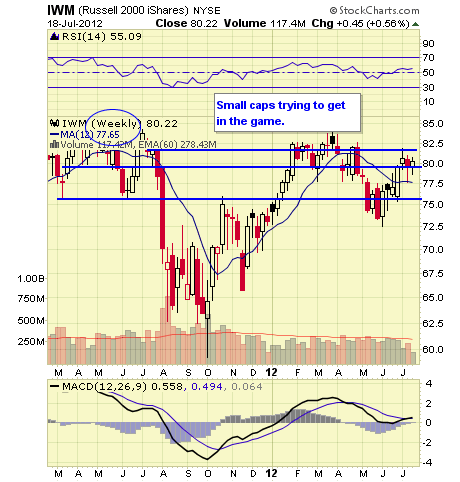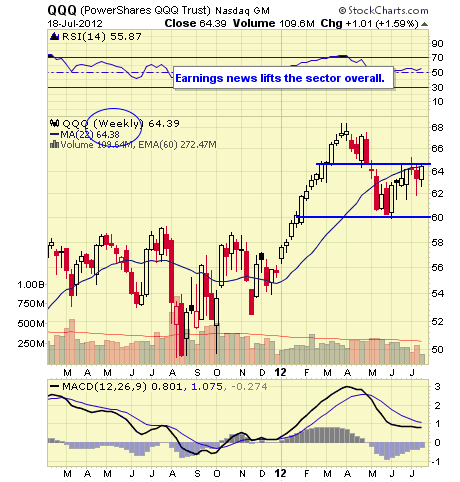 Continue to U.S. Sector, Stocks & Bond ETFs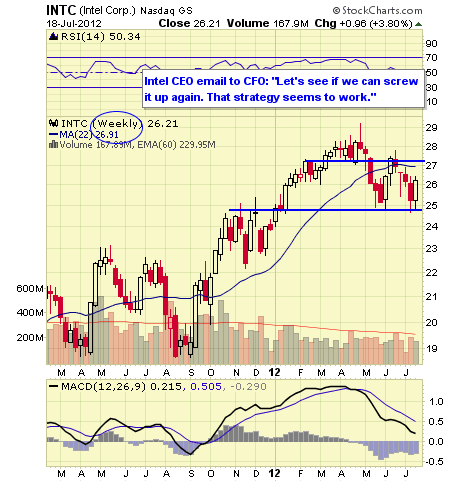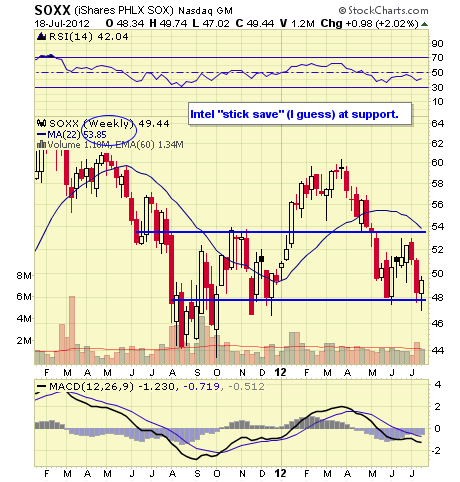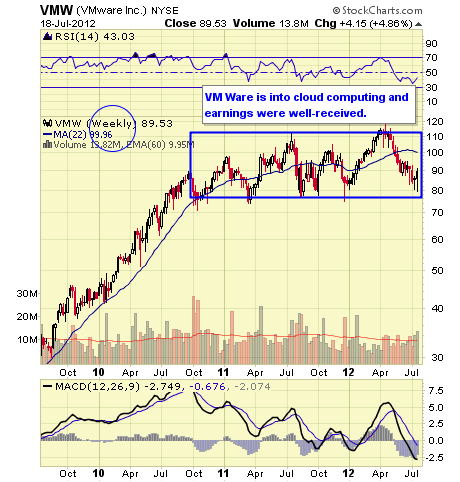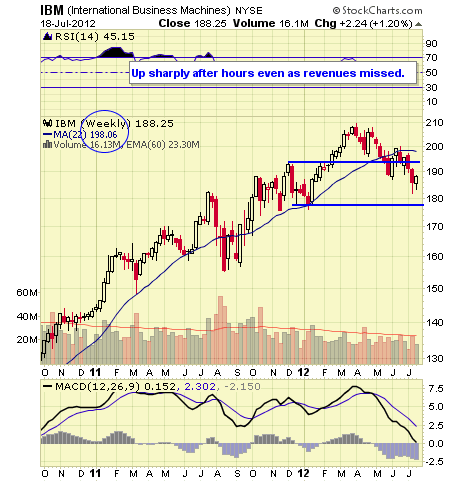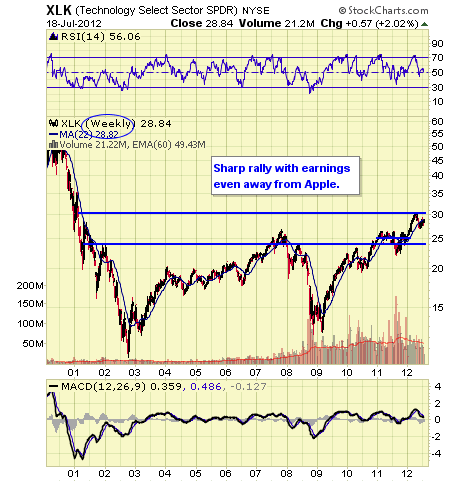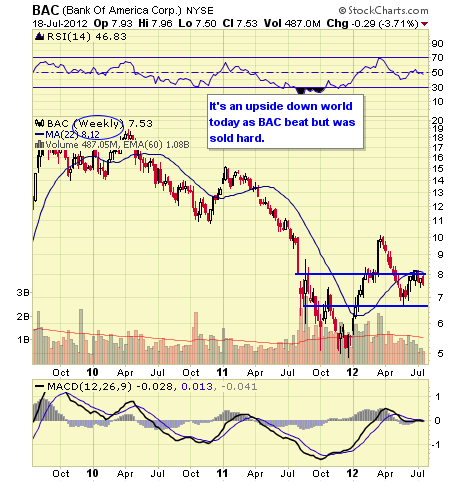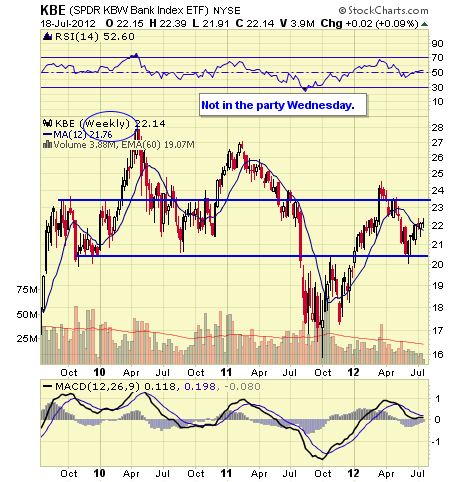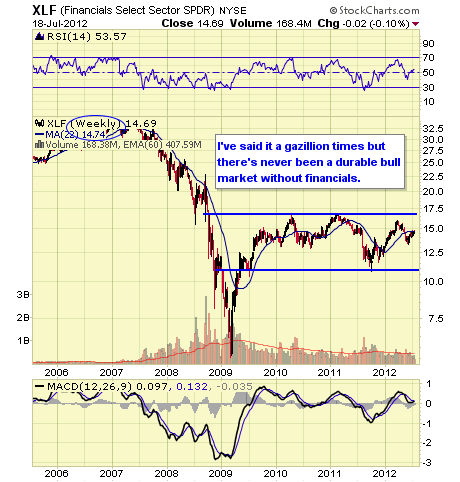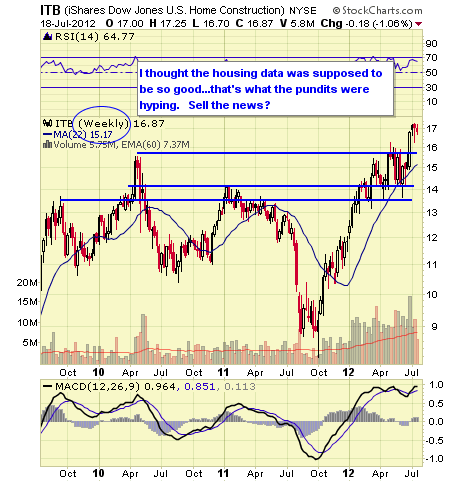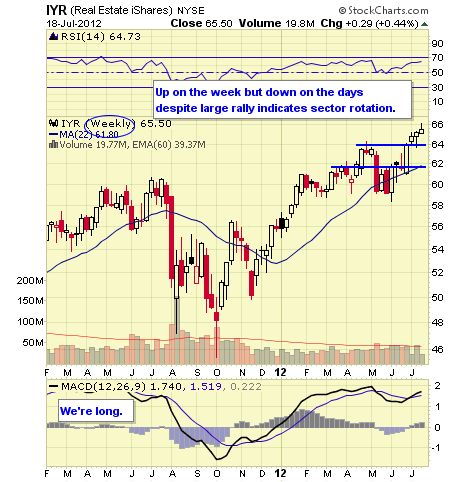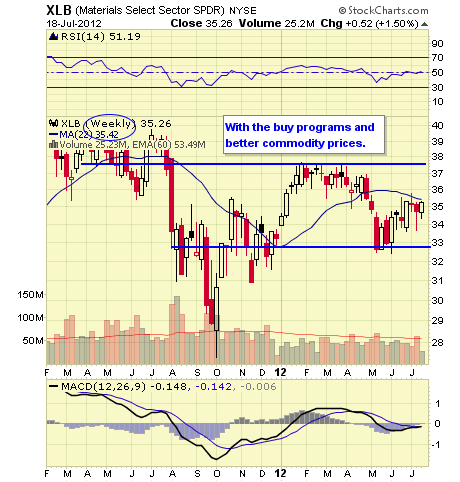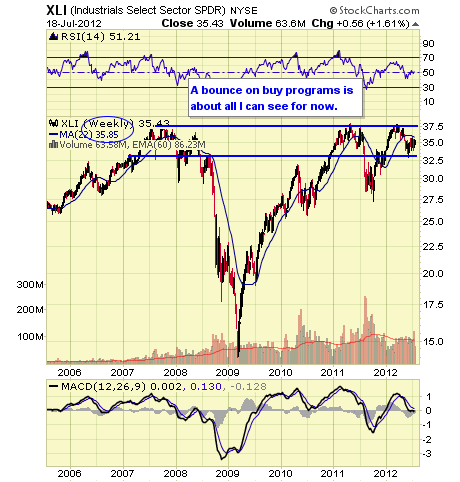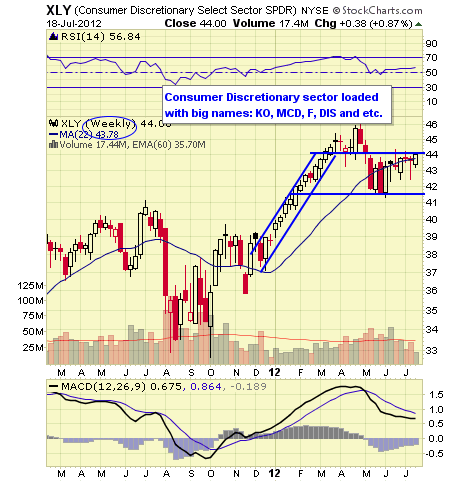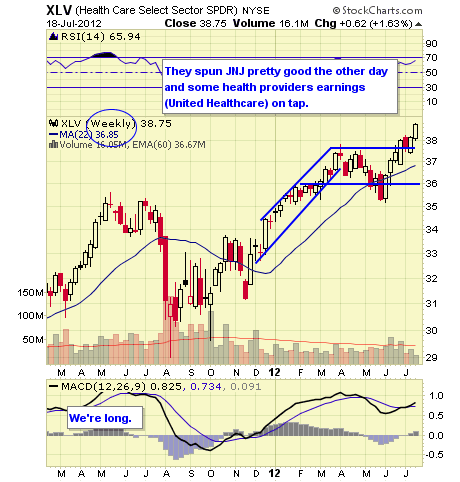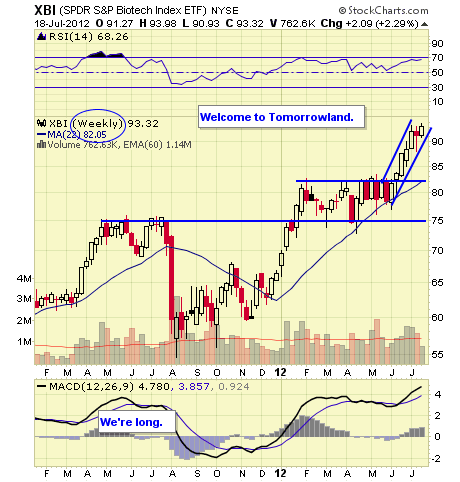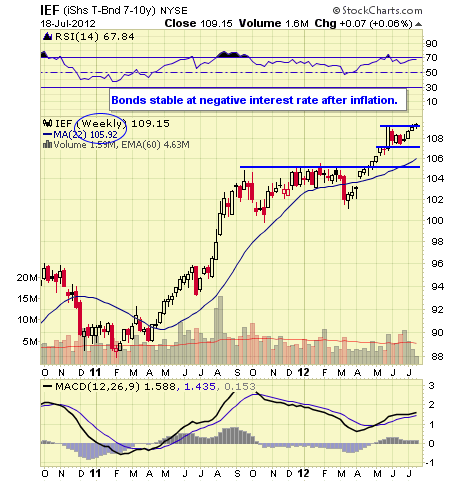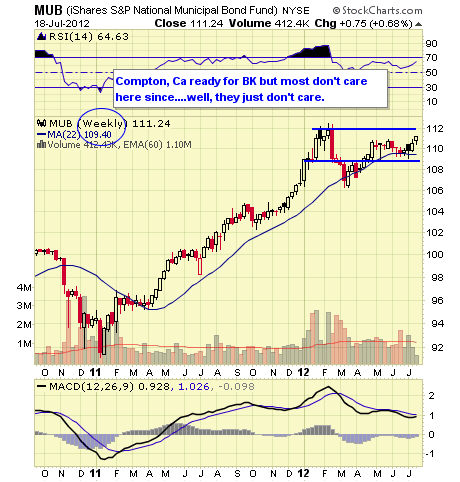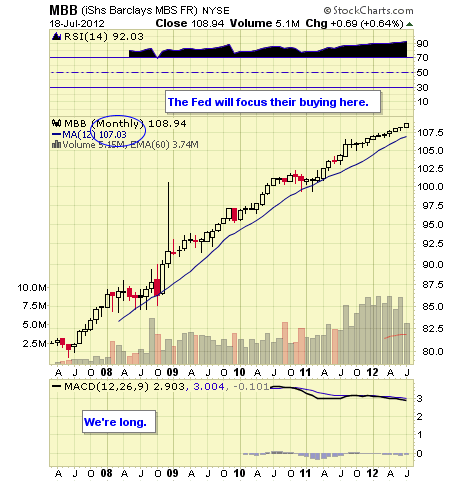 Continue to Currency & Commodity Market ETFs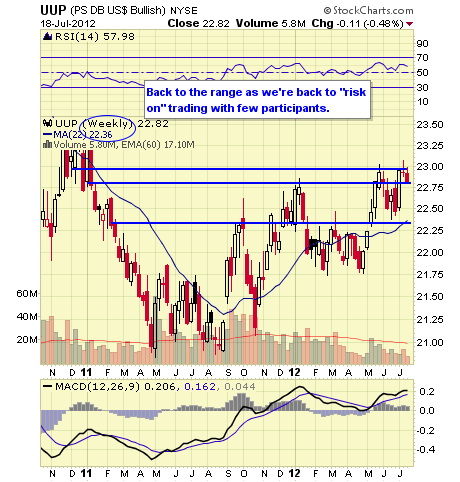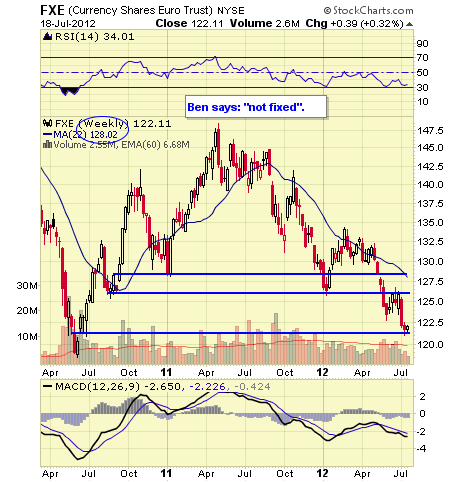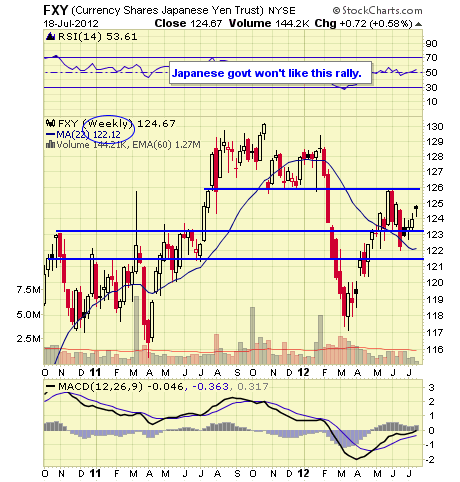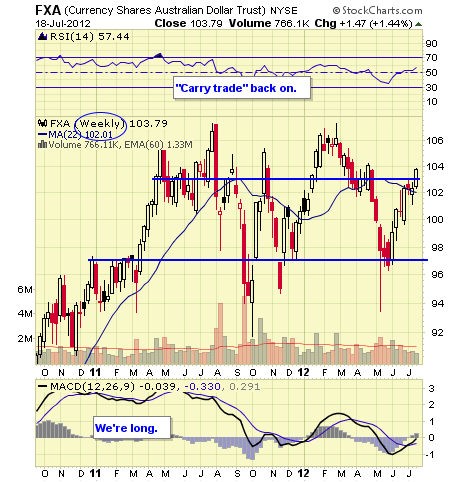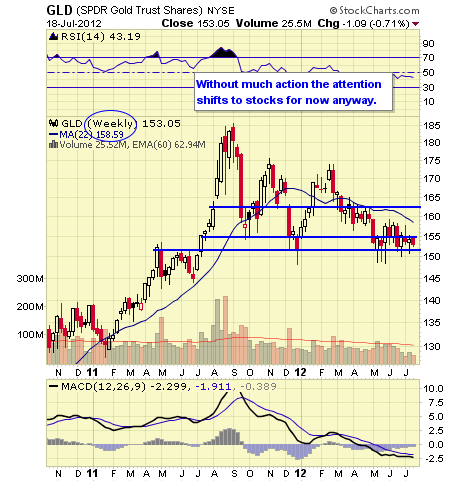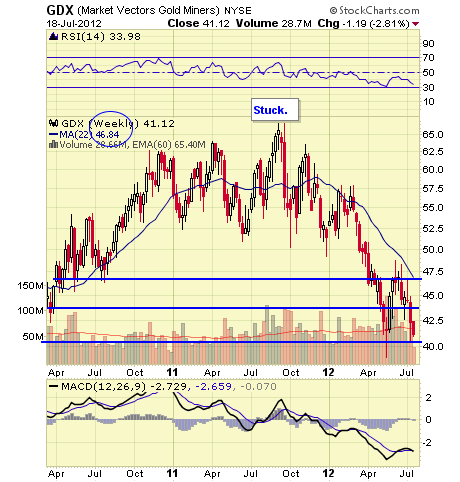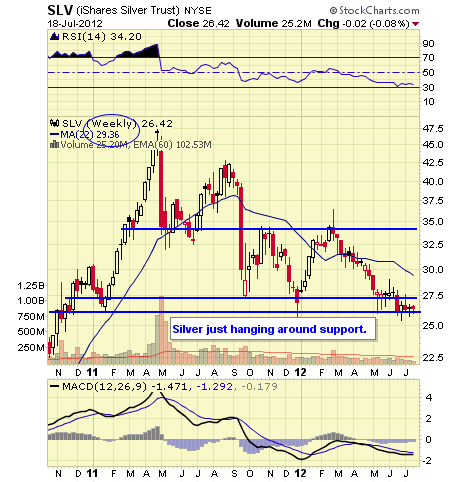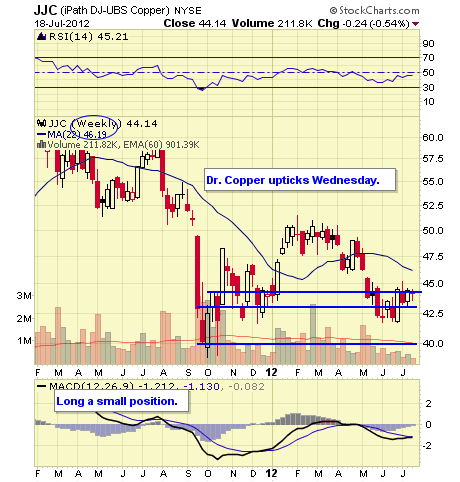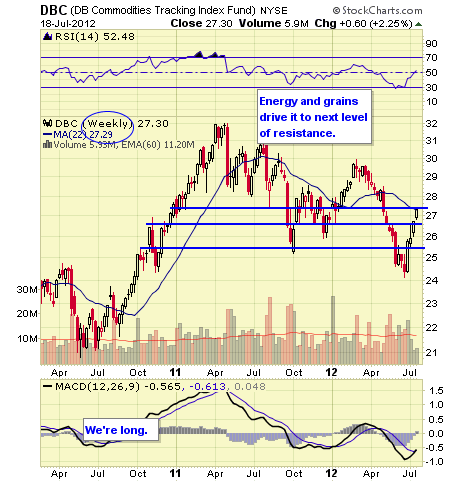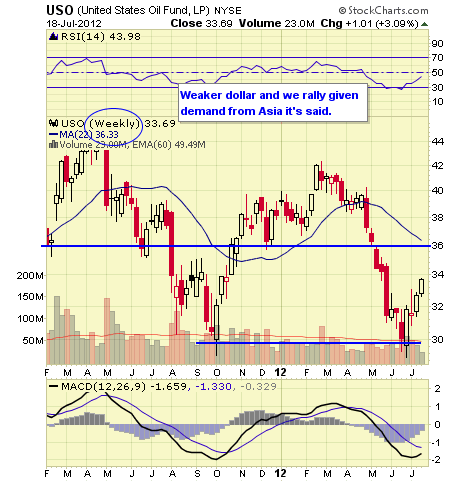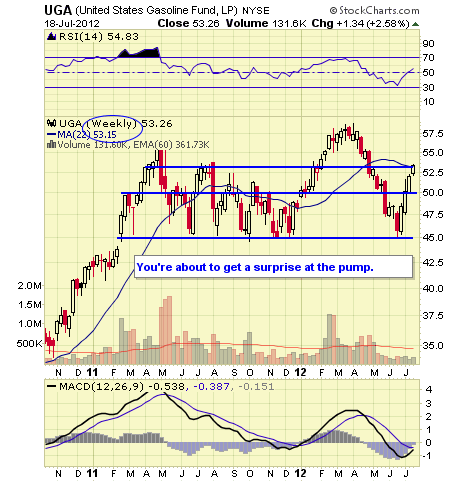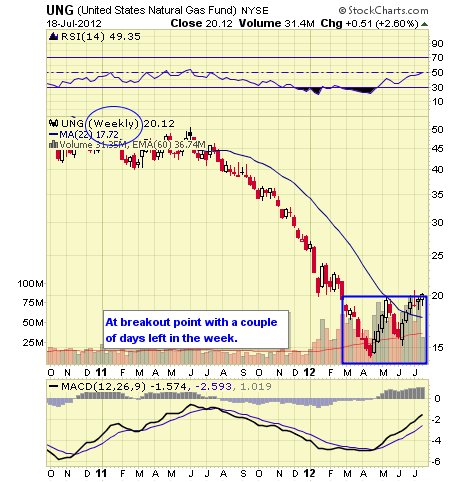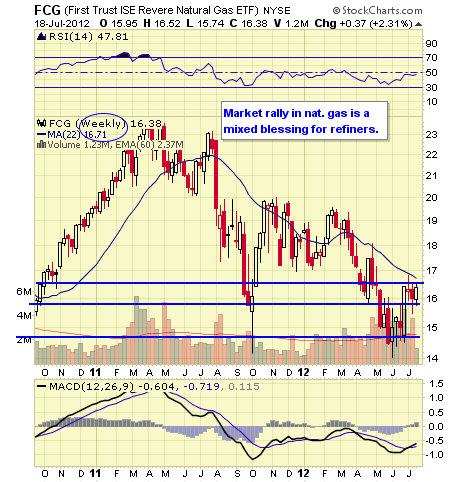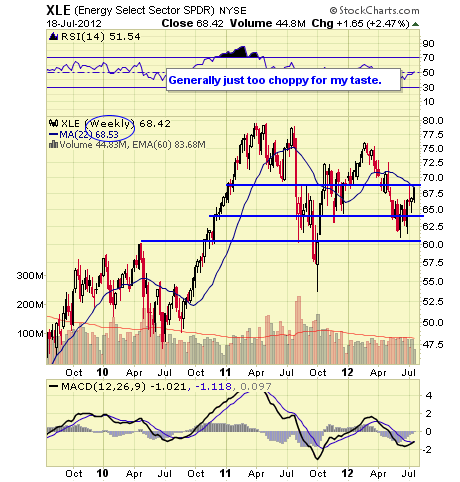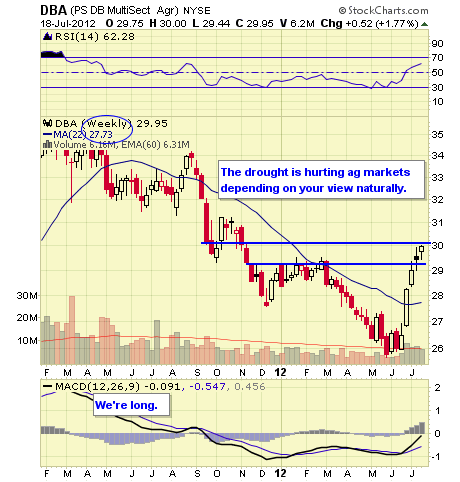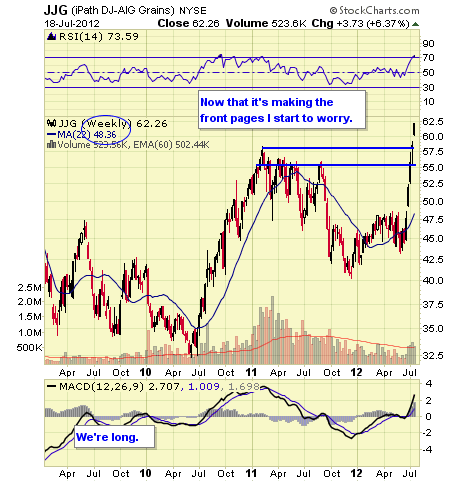 Continue to Overseas Sectors & ETFs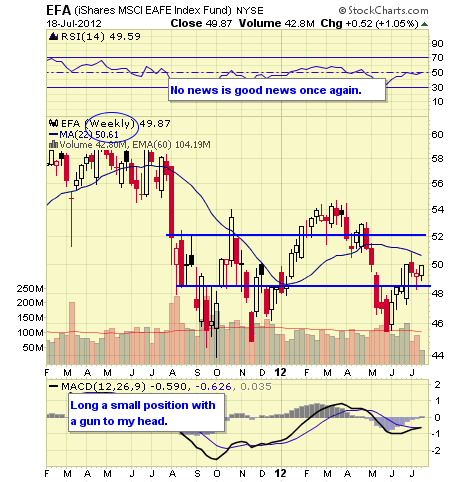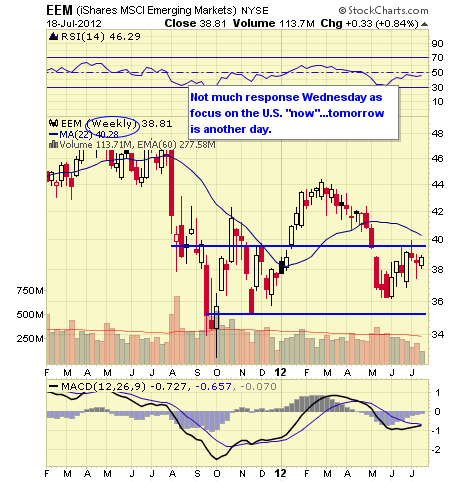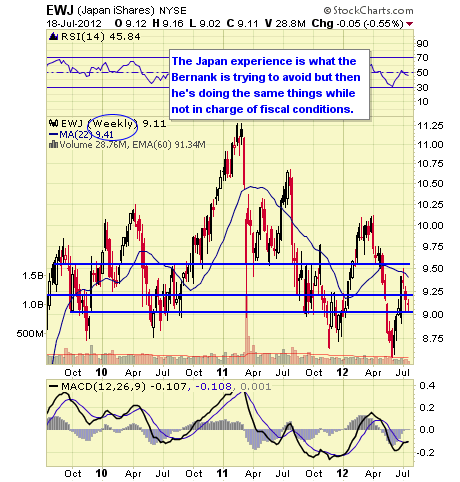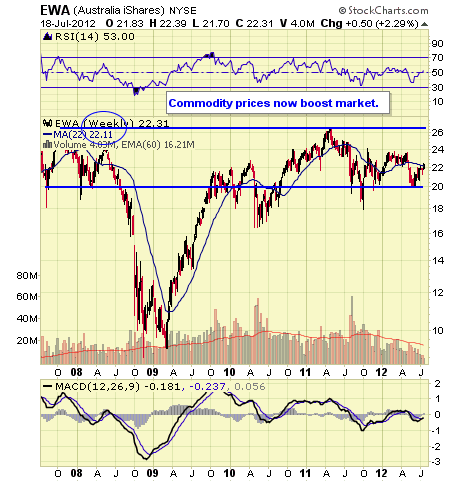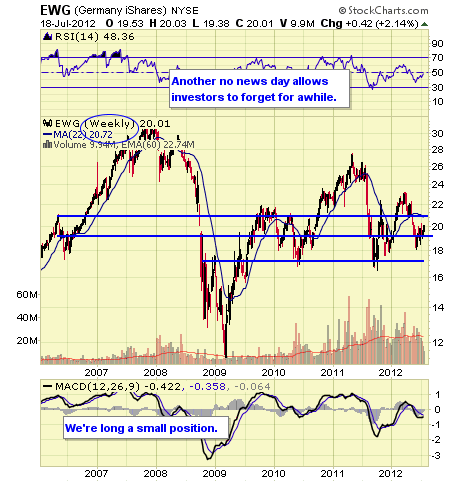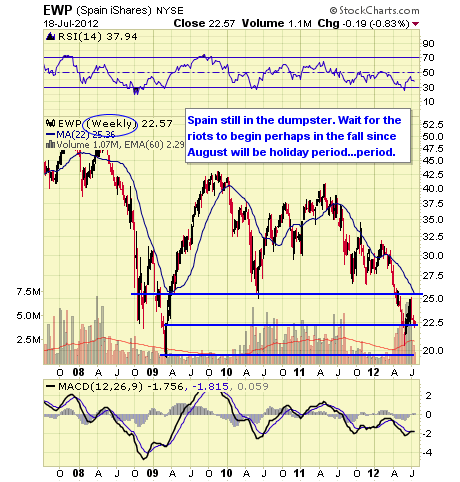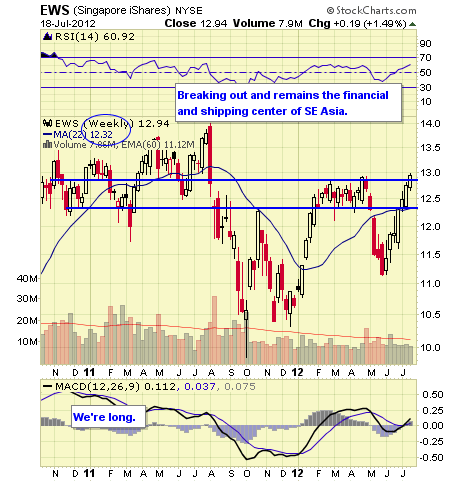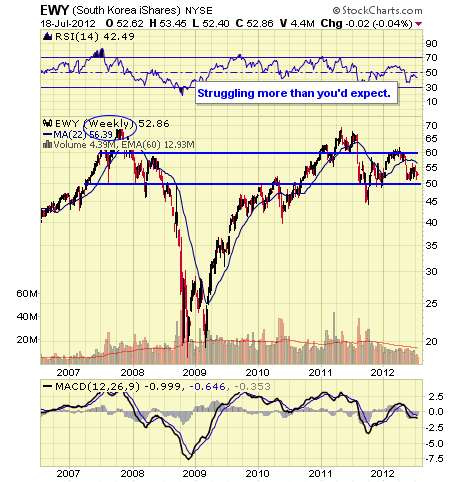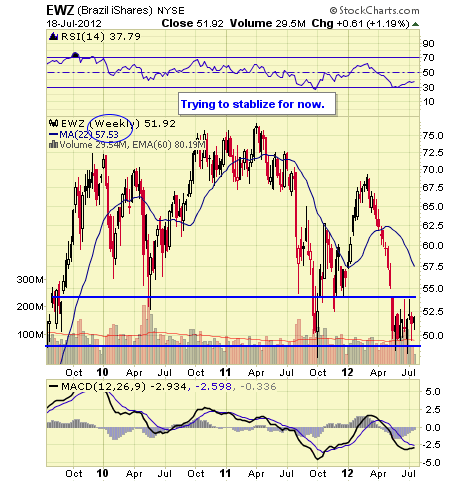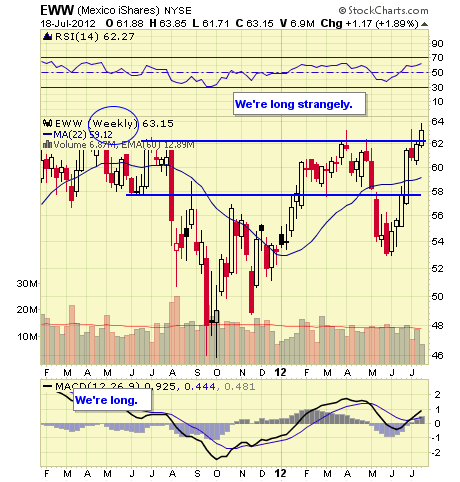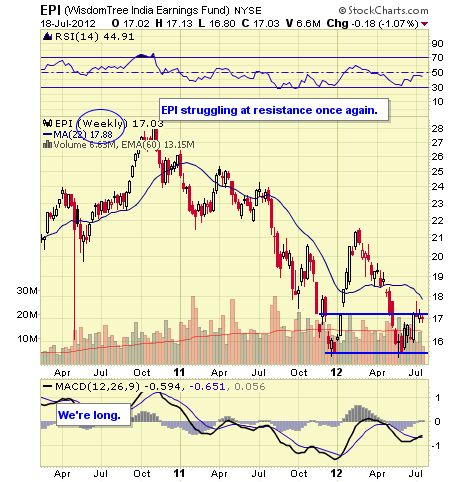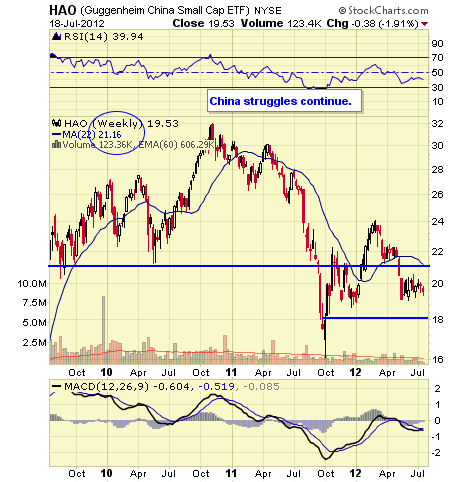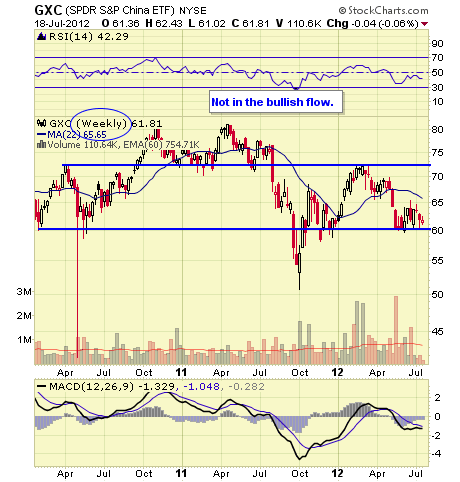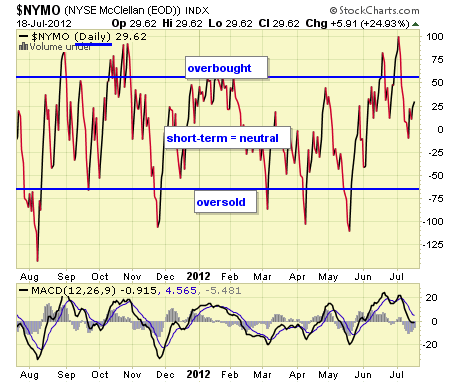 The NYMO is a market breadth indicator that is based on the difference between the number of advancing and declining issues on the NYSE. When readings are +60/-60 markets are extended short-term.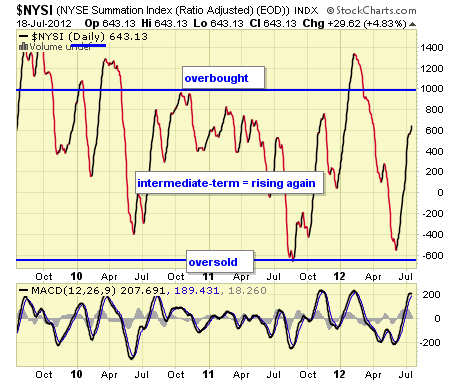 The McClellan Summation Index is a long-term version of the McClellan Oscillator. It is a market breadth indicator, and interpretation is similar to that of the McClellan Oscillator, except that it is more suited to major trends. I believe readings of +1000/-1000 reveal markets as much extended.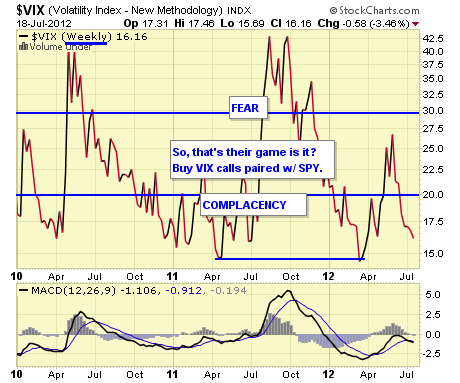 The VIX is a widely used measure of market risk and is often referred to as the "investor fear gauge". Our own interpretation is highlighted in the chart above. The VIX measures the level of put option activity over a 30-day period. Greater buying of put options (protection) causes the index to rise.
Thursday economic data includes Jobless Claims, Existing Home Sales, Philly Fed and Leading Indicators not to mention more earnings with Google (NASDAQ:GOOG), SanDisk (SNDK), United Healthcare (NYSE:UNH) and Union Pacific (NYSE:UNP) among others.
Disclosure: I have no positions in any stocks mentioned, and no plans to initiate any positions within the next 72 hours.
Disclaimer: The ETF Digest maintains active ETF trading portfolio and a wide selection of ETFs away from portfolios in an independent listing. Current "trading" positions in active portfolios if any are embedded within charts: Lazy & Hedged Lazy Portfolios maintain the follow positions: VT, MGV, BND, BSV, VGT, VWO, VNO, IAU, DJCI, DJP, VMBS, VIG, ILF, EWA, IEV, EWC, EWJ, EWG, & EWU.
The charts and comments are only the author's view of market activity and aren't recommendations to buy or sell any security. Market sectors and related ETFs are selected based on his opinion as to their importance in providing the viewer a comprehensive summary of market conditions for the featured period. Chart annotations aren't predictive of any future market action rather they only demonstrate the author's opinion as to a range of possibilities going forward. More detailed information, including actionable alerts, are available to subscribers at www.etfdigest.com.