In my last discussion, I made a few comments regarding short sellers in (ARNA). I was taken aback by the defense of short sellers because it completely missed the point and confused "reasoned argument" with "slander"
So it seems like a good time to have a reasoned discussion on what a good short argument looks like, and in the process pick apart the bullish argument for Interactive Brokers (IBKR) in a way which allows for discussion.
--
The author gives some quick background information and discusses, at a high level, the sources of revenue. He then goes into some of the events in the past few years, pointing to some events which would have affected trading volumes. At the end, the author uses a PE argument to assert that IBKR is cheap:
Trading on $14.72 or 11.7 times historic earnings, IB looks cheap. The recent slowdown is industry wide and could reverse sharply if co-ordinated[sic] central bank attempts to boost liquidity and growth take hold.
Because of the very nature of their revenue streams (their clients are predominantly retail investors), for IBKR to perform more retail investors would have to play in the capital markets. The market making business profits from customer trading, which would thrive with an active customer base and languish if customers stop trading. The electronic brokerage business is also flow-based, explicitly profiting from the volume.
The real argument made by the original author is that more central bank intervention would drive "retail" investors to return to the capital markets. I find that assumption to be misguided at best and deceptive at worst. Let's delve deeper:
Money managers are expressing consternation over retail participation. As discussed in a Traders Magazine cover story: (emphasis is mine)
On Wall Street, risk is suddenly a four-letter word. Retail investors can't stomach it. Pension plan sponsors are allocating away from it.

That's bad news for stocks. Volume has been dropping almost nonstop for three years and shows no signs of improvement. The situation is worse than it was following the crash of 2000. It's worse than it was after the crash of 1987. Fearful of the future and still wincing from 2008, investors are moving funds into bonds, commodities, cash, private equity, hedge funds and even foreign securities-anything but U.S. stocks.

"Our bread and butter is the retail investor," Scott Wren, a senior equity strategist at Wells Fargo Advisors, one of the country's four largest retail brokerages, told Bloomberg Radio recently. "They're not jumping into the market. They're not chasing it. Those who have been around for a little bit have been probably burned twice here in the last 10 years or so. They're definitely gun-shy. They're not believers. I'm not sure what it's going to take to get them back in the market."
Even money managers aren't sure what will increase participation. I have my own suspicions, namely that most people are convinced the game is rigged against them. Market Manipulation and other forces run counter to rationality.
But let's look at some numbers. The Investment Company Institute keeps track of Fund Flows. Every month since April 2011 has seen significant outflows. The following chart shows the scale of the effect.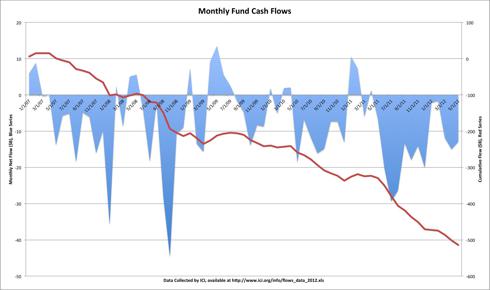 Since 2007, 514B dollars have been pulled out of funds, and there's very little reason to believe it's coming back. There are various reasons for this (millions of unemployed people raiding 401K accounts to float themselves, ...) but the numbers clearly show people are not participating (even though the S&P reached multi-year highs this year).
So even though we saw multiple rounds of quantitative easing, we didn't see a miraculous and sustainable return of retail investors to the markets. There's little reason to believe even more action would catalyze an influx of "retail" investors, many of which have been slaughtered as of late. Couple that with scandals (of which there have been many, including "Muppet"-gate and various manipulation accusations and insider trading), and we are forced to ask "what person would be so crazy to participate in the capital markets?". If even tangible items such as gold are manipulated, why would the even more abstract equities markets be the natural investment sink for retail participants?
Long story short: outside of an acquisition or a pivot, the only way IBKR would be a good long investment is if you believe that there will be a sudden influx of retail investment. And, for numerous circumstantial and quantitative reasons, I highly doubt it will happen anytime soon. Even the recent Facebook IPO, seen as the potential harbinger of the return of the retail investor, demonstrated that retail is avoiding the markets.
--
Now, why do I consider this a proper short argument? I laid out the essence of the author's argument as an articulation point between the facts of the company and my personal arguments:
The real argument made by the original author is that more central bank intervention would drive "retail" investors to return to the capital markets.
Once the kernel is extricated from the rest of the text, then we can analyze the particular idea. I didn't have to make a slanderous argument about the company, and I didn't have to over-represent my authority on the matter.
--
Recommendation: Even though IBKR has already fallen quite a bit (10% down YTD) I think it will take a much larger societal change for retail to return, and IBKR is a solid short candidate.
Disclosure: I have no positions in any stocks mentioned, and no plans to initiate any positions within the next 72 hours.