After the close on Wednesday, Mellanox Technologies, Ltd. (MLNX) reported quarterly numbers that sent the stock soaring as much as 50% after hours. A very incredible and unheard of move for a stock with a $2.7B market cap. A move typically only reserved for FDA approvals on biotech stocks or buyouts.
Mellanox is a leading supplier of end-to-end interconnect solutions for servers and storage systems. The company claims to have benefited from growth in the HPC, Web 2.0, storage, database, cloud, Big Data, and financial services market. Basically every part of tech that is hot except maybe that last one.
Results & Guidance
Interestingly the company only reported a slight revenue beat of $5M on a $128M analyst estimate. More importantly though the company reported a nearly doubling of adjusted earnings per share to $0.99 from only $0.51 in Q112. In addition, the earnings grew 267% over last years $0.27. With gross margins only slightly up, the main gains came from limited operating expense growth compared to revenue growth.
The guidance probably was the most shocking with the new estimate for Q3 being $150M+ compared to analysts at $105M. Even the high end analyst only had estimated $120M. Why were analysts so wrong?
Q3 gross margins are expected in the 70-71% range and operating expenses will increase 6-8% sequentially. Basically revenue will grow twice as fast as expenses suggesting another huge jump in earnings. Don't even bother checking the previous estimates of analysts.
Second Quarter 2012 Highlights
Revenues were a record $133.5 million
GAAP gross margins were 68.8 percent
Non-GAAP gross margins were 70.5 percent
GAAP operating income was a record $32.0 million
Non-GAAP operating income was a record $42.7 million
GAAP net income was a record $32.1 million
Non-GAAP net income was a record $42.9 million
GAAP net income per diluted share was a record $0.74
Non-GAAP net income per diluted share was a record $0.99
A record $59.2 million in cash was provided by operating activities
$327.8 million in total cash and investments at June 30, 2012, an increase of $60.2 million from March 31, 2012
Growth Reasons
It is expected that the biggest reasons for the growth were the Romley launch by Intel (INTC) and the growth by Oracle (ORCL) of Exadata and Exalogic systems. The latter owns roughly 10% of Mellanox. Hewlett Packard (HPQ) was a 30% customer and IBM (IBM) accounted for 19% of revenue.
The company is seeing the InfiniBand increasingly the technology of choice and is seeing healthy growth in the HPC and Web 2.O markets.
Competition
As the only provider in the 40Gb line with a complete end-to-end solution, the company has a sizeable technology lead. As an example mentioned on the conference call, Intel isn't expected to compete until the 100Gb technology materializes in the 2014-15 time frame.
Taxes
Worth noting is that the company only paid $100K in income taxes on $32M in GAAP income and $42.9M in Non-GAAP income. The company expects the operating profits at 32% will eventually drop to the mid 20% range with income taxes in the mid double digits the rest of 2012.
Conclusion
The company mentions visibility is only 90 days, but Mellanox appears to be working in a hot sector with huge demand from all of the right sectors.
Updated analyst estimates will be interesting as the new baseline of $1 per quarter places the earnings estimates for 2012 over $4. The tax implication will be interesting in the future and unfortunately the company doesn't provide normalized earnings. If one assumes $5 in earnings for 2013, the company would be trading at 20x that estimate based on the after hours stock price around $100.
Investors buying now have already missed a huge run when looking at the below chart, but the upside might be larger if this company keeps performing like it has the last 6 months.
9 Month Chart - Mellanox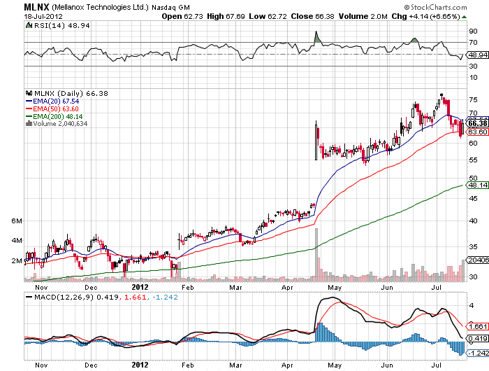 Disclosure: I have no positions in any stocks mentioned, and no plans to initiate any positions within the next 72 hours.
Additional disclosure: Please consult your financial advisor before making any investment decisions.