In early February 2012, in our article entitled Whiting USA Trust Would Be Nice At Half Its Price, we laid out an argument for (WHX) falling by at least half. We pointed out that distributions from royalty trusts should be viewed as partial return of capital and partial dividend and that when the trust terminates some time in 2015, WHX would be worth $0. Moreover, the distributions between February 2012 and summer 2015 were highly unlikely to total up to the WHX's then current unit price of $17.90. We included a detailed model with sensitivities to oil and natural gas prices to back up this claim. The market yawned at our thoughts and we took a little flak for writing the piece but we were not short at the time or since, and were just expressing our thoughts after being asked why we no longer owned the name. Others have since come to the same conclusion about WHX, that the numbers just didn't add up.
But where did we put some of those yield seeking dollars? We put them to work in Whiting's second trust, the Whiting USA Trust II (WHZ), which has a similar low cost structure but is oilier and should be around for nearly a decade.
Key points:
This one is oilier that WLL's other trust at ~ 77% oil vs closer to 60% for the WHX
WHZ's reserves and production are broken out as follows: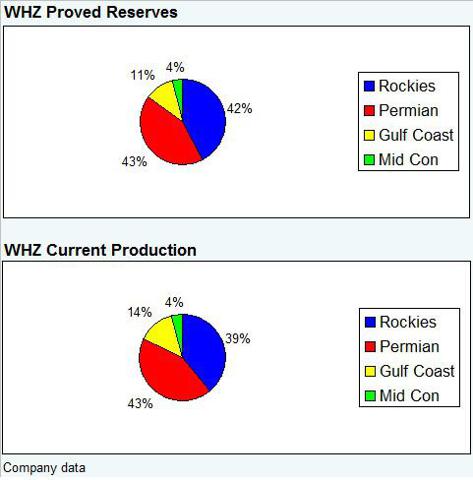 The trust will self terminate on or about 2021 when the gross reserves tied to it are exhausted. Reserves tied to the trust are 11.79 MMBOE net with total reserves associated with properties of over 18 mm BOE which provides assurance that the trust won't prematurely run out of hydrocarbons. Like with WHX, part of the distributions each quarter are like a return of principal and at the trust's termination, the units will have $0 value.
Here's a look at the historical production and costs ...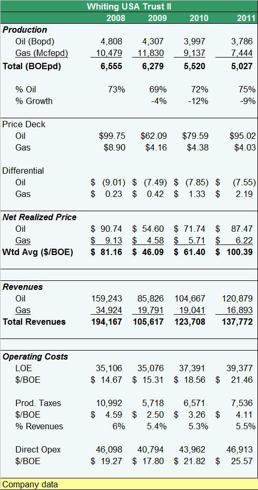 ... And here's my projection of 2012 to 2015.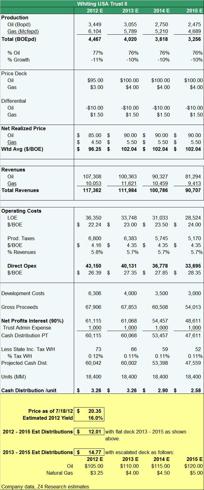 In a nutshell on fairly conservative price, production and costs estimates we get a 2012 yield of 16%. Most of the model is self explanatory but a few notes are in order:
Production. Whiting estimates the WHZ decline rate at ~ 8% per year. In the model below I have assumed a little harsher course for production of 10% per year as they are applying less development capital in the future and while I'm sure their 8% assumed decline takes this into account I say why not err on the side of conservatism.
Pricing. Oil prices for the projection are based on my price deck which and typically the trust's realized price has been between $7 and $8 below WTI. Looking ahead I used a $10 differential. For natural gas, the trust has enjoyed stronger than NYMEX gas pricing due to high liquids content. Again, I haircut recent premiums of over $2 per Mcf to err on the side of conservatism. I used an un-escalated price deck beyond 2012 to show the impact of declining production on the distribution but at the bottom of the model please see my expected long term deck and the higher distributions this would provide.
Costs. I've slowly ramped LOE to reflect lower volumes over time. The rest of the cost structure is expected to remain fairly static.
Disclosure: I am long WHZ.