In recent years America has unfortunately garnered a reputation of eating unhealthy fast food, and accepting the societal shift towards obesity. But Whole Foods Market (WFM), via its 328 grocery stores is rapidly changing that image. Whole Foods prides itself on organic locally grown produce, premium meats and overall high quality products.
Now let's take a more detailed look at the business.
Exceptional Growth
Whole Foods feeds off a new breed of young Americans who pride themselves on eating healthy, and maintaining an active lifestyle. Growth has been phenomenal in recent years and is showing no signs of slowing. In each of the past 4 quarters Whole Foods has seen comparable same store sales growth of over 8% year over year (yoy).
In fact, Whole Foods even has plans to accelerate growth throughout 2013, at least. See the chart below from Whole Food's latest investor presentation.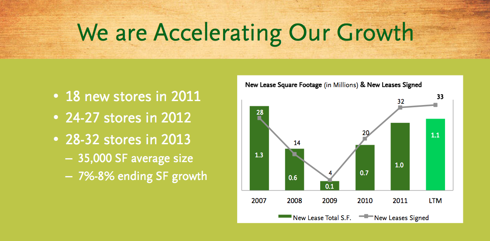 In the long term Whole Foods has stated the potential for up to 1,000 US locations. Even if they are able to open 27 stores in 2012, and 32 in 2013 (high end projections) that would only leave them with around 385 stores.
International expansion has gone phenomenally so far (although in its infancy) with 7 stores in Canada and 6 in the UK. Whole Foods is planning to open 4 more stores in Canada this year, and 3 more in the UK. Although the US market is no where near saturated for Whole Foods, international prospects are even brighter.
The demand for organic foods and higher quality produce continues to increase. Especially among baby boomers, millennials, and overweight Americans looking to get active.
Balance Sheet and Dividends
Whole Foods generated over $410 million in cash in Q1 2012 (FY Q2) which they are using to invest in new stores, repurchase stock and pay dividends.
With almost no debt (under $20 million as of the most recent quarter) and cash flooding in Whole Foods has significant opportunities to continue to deliver shareholder value through increasing dividends.
Whole Foods started paying dividends again at the end of 2011, and has since increased the quarterly payout from $0.10 per share to $0.14. That means its current payout ratio is under 23% based on projected FY 2012 earnings. Whole Foods could easily double its dividend in the next year without any problems. Although its yield is a meager 0.60%, its potential for growth is what makes it so exciting.
Valuation
This is the only catch with Whole Foods. There is no doubt that this is an exceptional growth company with a very bright future. Thus shares command a very high premium. Whole Foods currently trades at about $94 per share despite FY 2012 projected earnings of just $2.47. That's a P/E of 38, well above the S&P's P/E of 11.
In the short term Whole Foods valuation presents a lot more downside than upside. For example, competitors Safeway (NYSE:SWY) and Kroger (NYSE:KR) trade at just 8x and 9x 2012 (projected) earnings. If Whole Foods were to fall to a P/E of 20 (still more than double its competitors) shares would be at $49.4, almost 50% lower than where they trade today.
But, from a bull's perspective if Whole Foods can successfully execute its US growth plans and expand internationally, future earnings will rise significantly faster than its competitors.
Conclusion
The demographic Whole Foods caters to is clearly growing. But because of such a high valuation I'm staying away from shares at current prices. I will be waiting for any pullback where I can enter shares at a cheaper and more attractive valuation.
Disclosure: I have no positions in any stocks mentioned, and no plans to initiate any positions within the next 72 hours.