Just three months ago I said it looked like Patterson-UTI (NASDAQ:PTEN) was poised to profit from an eventual rise in oil prices. I liked the fact that its free cash flow yield was much higher than those of its peers Helmerich & Payne (NYSE:HP) and Grey Wolf (GW). I also said the momentum is clearly with HP, and I wouldn't blame anyone for wanting to let that winner ride.
Since that time, all three stocks have posted solid gains, and the ranking has largely met my expectations: 57.6% gains for Helmerich and Patterson, and a "mere" 43.7% for Grey Wolf. Meanwhile, the S&P 500 has risen just 4.3%.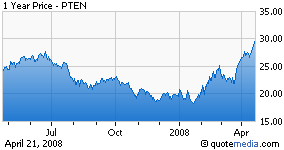 With more than 53% outperformance in three months, and a stock price that is way out in front of its 50 day moving average, I think it's time to take profits on Patterson. The recent relative performance now means its free cash flow yield is less than that of Grey Wolf. While there is a possible catch-up play in Grey Wolf, my inclination is to stay on the sidelines for now.
Disclosure: At time of publication, William Trent has no financial position in the companies mentioned.
Author was long UNITED STS OIL FD LP UNITS (NYSEARCA:USO) as of press time.