Part of the appeal of small capitalization stocks (such as Central European Distribution and ID Systems below) and mid capitalization biotechnology stocks (such as Arena Pharmaceuticals below) is that they have the potential for outsized returns. However, these types of investments face challenges and must be considered in the broader context of a stock portfolio. The investments below face unique challenges and opportunities that may make them compelling choices for that small share of an equity portfolio that seeks outsized returns and accepts higher risk.
Central European Distribution Corporation (NASDAQ:CEDC): This New Jersey based Eastern European spirits maker and distributor has all of the hallmarks of a fallen angel opportunity: a share price of 40 just 2 years ago, a turbulent past couple of years, and being forced to restate earnings and experiencing massive losses related to mark-to-market pricing of prior acquisitions. However, major infusions of capital have held the company together of late and if the company is able to turn things around, the assets they hold in a rapidly growing and heavy per-capita alcohol consumption region of the world (Eastern Europe) are substantial. A recent announcement that the embattled CEO is leaving and giving way to largest shareholder Roustam Tariko gave a brief spike in the share price, but much more work is required to get the company on solid footing.

What's needed: Additional rounds of financing, buyout, attraction of another major investor, bondholder equity conversions.
What leads to bankruptcy: No more access to financing, bondholder revolt, continued charge-offs and losses.
Arena Pharmaceuticals (NASDAQ:ARNA): The past five years have been dramatic for the development-stage pharmaceutical company and its investors, which has seen its share price vacillate between $2 and $14 per share, as shown below. Arena's stock has soared since early May on approval by the FDA of its weight-loss drug Lorcaserin and then again on June 27, when its anti-obesity drug Belviq was approved by the FDA.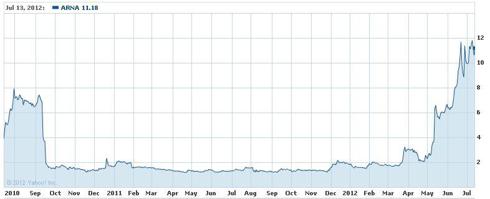 What's needed: ARNA must continue to pass through FDA trials on its key drugs, and it must continue to develop additional drugs into later stages from its pipeline. The secular trend toward large pharmaceutical firms utilizing early stage bio-technology firms as their early stage development partners will likely continue to benefit ARNA, and there will be stiff competition for weight-loss drugs that may entice large firms to paying handsomely for marketing and distribution rights. ARNA must continue to execute and gain approvals to support their market capitalization of $2 billion.
What leads the company to bankruptcy: ARNA has a very limited roster of approved drugs, and they face additional challenges in terms of acceptance in the marketplace. It is a highly competitive space, and while ARNA has first-mover advantage by being the first pharmaceutical firm to gain acceptance of a weight-loss drug in over a decade, competitor Vivius is seeking approval for a competing drug and more competition may be on the way. Historically, weight-loss drugs have had a checkered history of creating major side effects, which is a major concern for investors. ARNA is not in a financial position to be able to cushion the blow of any future lawsuits if patients experience major side effects once the drug is used widely.
ID Systems (NASDAQ:IDSY): ID Systems, Inc. designs and manufactures radio frequency identification (RFID) systems for large firms with distribution fleets. Although IDSY has proven technology, its reliance upon relatively few customers, principally Wal-Mart (NYSE:WMT), has kept the firm from seeing significant increases in revenue and share prices. IDSY has been working to expand their customer base and holds significant promise if they are able to attract additional customers, because contracts in this space are large and would be transformative for a small capitalization company like IDSY.

What's needed: IDSY must continue to expand revenue at a rapid clip, which has grown significantly on both a year-over-year and quarter-over-quarter basis. The company nearly quadrupled revenue from $10 million in FY 2009 to $39 million in FY 2011. While there have been strong gains in operational efficiencies, the company must start to capitalize on revenue growth by gaining profitability, which investors will expect on a quarterly basis by the end of the current FY, 2012. Increasing the customer base is vitally important because there are significant scale economies in IDSY's business, as the product development expense is relatively low as additional customers are added. Broader industry trends could prove positive for IDSY as well. There is strong secular growth in the industry, which is utilizing technology to transform the way in which distribution systems are operated.
What leads the company to bankruptcy: Because IDSY is so focused on one customer, they are susceptible to the possibility of rapid revenue losses if Wal-Mart chose to contract with a competing vendor. This vulnerability has been a major reason why the share price of ISDY has been range-bound since 2009. The company also faces risks associated with slowing revenue. Missed revenue targets and a lack of profitability in the near future would likely lead to significant declines from present levels.
Disclosure: I have no positions in any stocks mentioned, and no plans to initiate any positions within the next 72 hours.