By: Brendan Gilmartin
Overview
McDonald's (MCD) is scheduled to report 2Q 2012 earnings before the bell on Monday, July 23. The results are typically released at 7:58 a.m. EST. A Dow component, McDonald's has the potential to influence the broader market gauges, including the index futures.

Outliers & Strategy
Key measures:
Earnings Per Share: The consensus is for EPS to come in at $1.38 (Source: Yahoo! Finance) - the high end of the projected range ($1.33 - $1.40). Note that earnings have topped estimates by an average margin of 3% over the previous four quarters. Since the breakout in the share price in late 2009 en route to the recent record high above $100 earlier this year), McDonald's has not missed consensus estimates, implying a shortfall could have profound negative consequences.
Revenues: Revenues are seen rising a mere 0.6% Y/Y to $6.95 bln, with some estimates running above $7.2 bln.
Global Comparable Sales: Seen posting low to mid-single digit comps. U.S. Comps expected at ~1.0% on tough comps.
Back in June, McDonald's disclosed indicated foreign currency translation is estimated to negatively impact second quarter earnings per share by $0.07-$0.09.
Recent News
07/12: Janney Montgomery reportedly believes McDonald's same store sales will come in above the high end of Street estimates, according to a post on StreetInsider.com. The firm also maintained a Buy rating and $105 price target. Shares rose ~2.7%.
06/22: Goldman Sachs downgraded McDonald's to a Hold rating and cut the price target from $100 to $92, in favor of other names in the restaurant sector, according to a report on Benzinga.com. The downgrade was also based on slower U.S. store sales.
06/08: McDonald's announced global comparable sales growth of 3.3% in May, below estimates for a 5.0% increase, blaming an increasingly challenging global economic environment. The company also warned that austerity measures in Europe and increased general and administrative expenses will significantly pressure second quarter results.
06/08: After McDonald's posted weak May sales on June 8, Deutsche Bank came out in defense of the stock, according to a report on Barron's Online. The firm reportedly believes McDonald's will benefit from rent and royalty payments from its franchise base, while the company tends to manage well through periods of challenging economic conditions. DB has a $100 target.
05/24: McDonald's declared a quarterly cash dividend of $0.70 per share. The dividend yield is now above 3.0%.
Technical Review
After dipping to an 8-month low last month (near $86.00) in reaction to a weak May sales report, McDonald's shares are up more than 7%. The upward-sloping MACD and RSI, coupled with the 20-Day SMA crossing above the 50-Day SMA reflect the improving momentum ahead of the 2Q earnings release. Should the results surprise to the upside, the shares have room to run up toward the 200-Day SMA near $94.00, followed by $96.00. Conversely, previous resistance at $91.00 now becomes support, followed by $89.00. (Chart courtesy of StockCharts.com)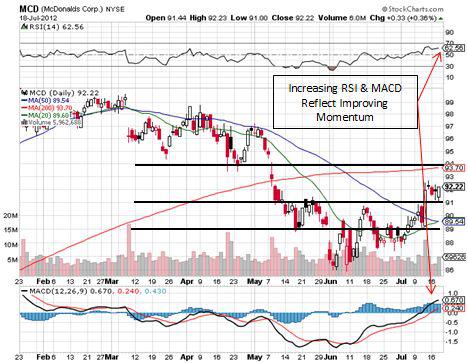 Summary
McDonald's shares are rallying ahead of the 2Q earnings release on 7/23, due in part to reports that US and Global comparable store sales are poised to top estimates, an attractive 3% dividend payout, stable earnings resulting from a strong franchise base, Olympics exposure, and the company's ability to function through challenging economic periods. Despite the recently improved sentiment, the shares succumbed to an 8-month low last month following a disappointing sales report for May, along with the stronger Dollar (seen cutting earnings by $0.07 - $0.09), competition, the increasingly challenging global economic backdrop, and rising costs. With that said, McDonald's could be vulnerable to an earnings miss - a rarity over the past several years.
DISCLAIMER: By using this report, you acknowledge that Selerity, Inc. is in no way liable for losses or gains arising out of commentary, analysis, and or data in this report. Your investment decisions and recommendations are made entirely at your discretion. Selerity does not own securities in companies that they write about, is not an investment adviser, and the content contained herein is not an endorsement to buy or sell any securities. No content published as part of this report constitutes a recommendation that any particular investment, security, portfolio of securities, transaction or investment strategy is suitable for any specific person.
Disclosure: I have no positions in any stocks mentioned, and no plans to initiate any positions within the next 72 hours.