Molycorp (MCP) has been undoubtedly one of the most disappointing growth stocks of the past year. Shares have declined about 60% in the past 12 months, and now sit at a 52 week low of $19.50 per share. Despite a horrific chart, and very little momentum, I believe Molycorp presents an excellent long term investment opportunity at current prices.
For a moment, let's forget the charts and the stigma surrounding Molycorp's broken growth stock image. What are we left with? A basic materials company that has continued to establish itself in a booming field, despite numerous macro headwinds.
Below is an excellent chart of the global rare earth picture, published a few days ago by the Resource Investor.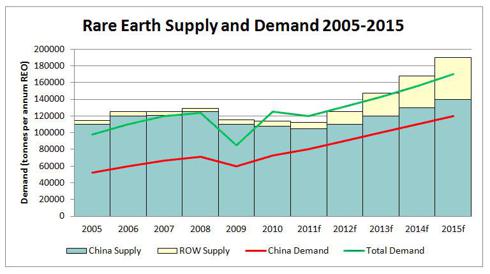 Ten years ago China was consuming 25% of global rare earth output, now that number has skyrocketed to 65%. The Resource Investor is projecting Chinese consumption to keep growing above 10% annually, which would mean that China would become a rare earth importer by 2014 or 2015. This is huge news for Molycorp who in the past has seen China as a huge roadblock to maintaining high rare earth prices, and not over inflating supply. If China does shift from being an exporter of rare earths to becoming an importer, prices could spike.
Molycorp has positioned itself phenomenally to take advantage of increasing Chinese demand, which now seems almost inevitable. As you can see in the chart below (from Molycorp's 2012 investor presentation) Molycorp's output is set to increase over 500% from the beginning of 2012 to mid-2013.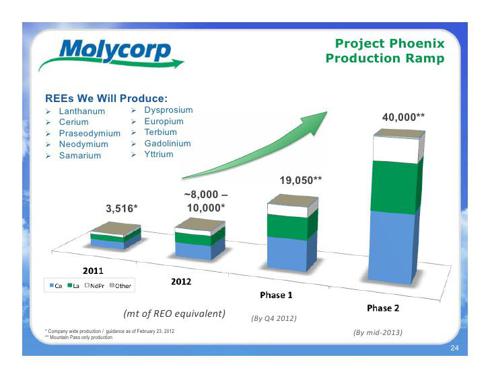 The recent drop in Molycorp shares can be attributed to stalling rare earth prices, which had been soaring in previous years. The global economic slowdown we've seen in 2012 has no doubt had a big effect on this. But these headwinds seem temporary. The demand for RE's comes from products such as hybrid cars, flourescent lamps and cell phones, which aren't going anywhere.
As these technologies become more prevalent, and countries like China continue to see increasing demand for rare earths, the future looks bright for Molycorp.
In 2011 Molycorp's output was 3,516 metric tons, and it was able to post revenue of $397 million and EPS of $1.70. Total output for 2013 is shaping up to be 20,000-30,000 metric tons (40,000 annually by the end of 2013). That's a 10 fold production increase in under 2 years.
But, the story gets better. The majority of Molycorp's rare earth production will result in the output of Lanthanum and Cerium. These are some of the most coveted rare earths on the market. Each Toyota (TM) Prius has over 10 lbs of Lanthanum. Rising demand for hybrid cars seems all but assured as the use of electricity (to power cars) and more efficient technologies come into play.
Risks
Even with increasing production, the x factor here is a global recession. 2012 was a much worse than anticipated year for rare earth prices due to lower demand. If a Europe disaster unfolds and China feels the effects (and as a result lowers rare earth demand) prices could continue to slide. Although Molycorp still has a cushion of safety with gross margins above 30%, that cushion is getting smaller.
Molycorp's acquisition of Neo Materials will prove to be a very strategic move, that is if rare earth prices reverse their downward trend. If not, it will prove to be a massive investment into a business with declining margins. If this scenario unfolds EPS estimates for Molycorp will fall (as they did in 2011), and its valuation will not be as attractive.
Conclusion
With Molycorp leading the field in rare earth production, and poised to directly benefit from China becoming a net importer, shares present a good risk/reward balance at $19.50 per share. Analysts are currently forecasting 2013 EPS of $3.11 per share (assuming stabilized rare earth prices), which means Molycorp is trading at just 6.3x forward earnings. This presents a very solid entry point for investors looking to gain long term exposure to the rare earth market.
Although there is significant risk in this play because of macro issues that may drive rare earth prices even lower in the next year or two, the long term picture is still intact for Molycorp. Estimates are much lower than they were a year ago, and rough patch in the rare earth market seems to have been priced into shares.
Disclosure: I have no positions in any stocks mentioned, and no plans to initiate any positions within the next 72 hours.