Last week, the Wall Street Journal had a piece about the IPO of State-owned Telecom Safaricom. Normally, an IPO of any Kenyan company - especially on a local exchange - would simply fly under the radar of international observers. However, there are important lessons that can be learned here, and I'd be remiss if I passed up this opportunity.
The situation is best summed up as mass hysteria.
Taxi drivers, kiosk owners, and street vendors have been queuing up at banks in downtown Nairobi to subscribe to shares...Some who can barely support families have applied for bank loans to raise enough funds for shares
That's right - people are literally mortgaging themselves to the brink of collapse to buy shares in this hot IPO. Why are they doing this? Jane Kerobu, a 35-year old single mother with five children, whom she supports by selling cabbage, potatoes, and sukuma, with no bank or brokerage accounts to-date, explains:
This is my first time to buy shares, but when I saw them, I thought it'd be a good time.
Another Kenyan, butcher Peter Ndirangu agrees:
When the price rises, I'll sell.
Sound familiar?
"Uneducated" Kenyans, whom we in the U.S. (and elsewhere) might describe as impoverished laymen/women (accurately or not), are exhibiting the same irrational expectations about increasing asset prices as "educated" Western investors and home buyers. Whether it is housing speculators in Miami, or street merchants in Nairobi, people the World-over are drinking the Kool-aid, so-to-speak, of the promise of striking it rich through 'investment' gains. Despite having the opportunity to learn from countless boom-bust cycles of the past, and unprecedented access to information, people still fall victim to the mob mentality which fuels asset bubbles.
I'm not a psychologist - armchair or otherwise - but it's an interesting observation about human nature, on our predisposition towards unbridled optimism, the wisdom of crowds and the tendency towards mob mentality.
For investors though, the lessons are clear: Think for yourself, and do your homework! Hysteria and mob mentality create opportunities from which to profit. Just ask John Paulson, who this year, earned a very large fortune by taking this simple advice. Granted, most of us don't have billions to work with, but the idea remains the same.
Take VMware (NYSE:VMW), which after its IPO in August, 2007, shot up at a mind-blowing pace to the point where the multiple on earnings was well over 200 - clearly unsustainable. Based on the accumulation of shares by institutional investors (and to a lesser extent, individuals), it didn't take much for the informed and diligent observer to hypothesize that the stock was overbought. I'm not a technician (and don't necessarily eschew that approach), but the Bollinger Bands overlaid on the chart below support this thesis.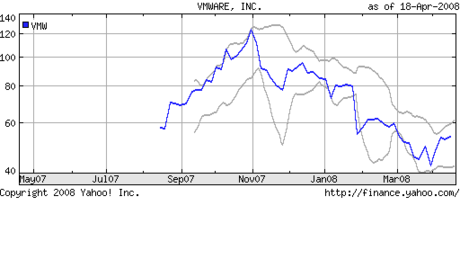 With a little leg work, and a bit of faith, the prudent trader would have gone short VMW going into Autumn, 2007. Of course, this piece would have been more prescient had it been written then but I think it is informative to analyze in hindsight, so that we learn from history instead of repeating it.
Currently, there seems to be increasing numbers of those who believe that the worst is over in the Financial markets, with regards to losses on credit instruments tied to mortgages and other structured products. However, I'm of the school of thought that this is not the case. Some things take time to work out, despite the Government's attempts to stop the hemorrage by simply throwing money at the problem.
From Bloomberg earlier this week:
Citigroup set aside about $1.8 billion to increase reserves for bad consumer loans, saying the housing market decline and rising unemployment were putting more borrowers behind on payments. Delinquencies rose on mortgages, unsecured personal loans, credit cards and auto loans.
I'm not going to make any specific predictions here (although that may be the topic of a future post), but a variety of data suggest that we're not yet in the clear. As I pointed out earlier, it seems human nature to want to believe that things are going to be good, or get better. Unfortunately, as we've seen over and over again that optimism comes back to haunt us.
I'm short the wisdom of crowds, and long reason.
Disclosure: none