By Brendan Gilmartin

Overview
Baidu, Inc. (NASDAQ:BIDU) is scheduled to report Q2 2012 earnings after the closing bell on Monday, July 23. The actual results are expected to come through at approximately 4:00 p.m. EST with a conference call slated to follow at 8:00 p.m. Baidu is China's largest search engine and offers an array of additional services, making it among the most trafficked local sites.

Outliers And Strategy
Key measures:
Non-GAAP Earnings Per Share (Q2 2012): The current consensus is $1.12, the midpoint of analyst forecasts ($1.05-$1.19). (Source: Yahoo! Finance)
Revenues (Q2 2012): Baidu previously said it sees Q2 2012 revenue in the range of $847.2 mln to $867.0 mn. The consensus is the low end of that range at $850.78 mn.
Revenues Guidance (Q3 2012): The current consensus is for revenue to grow 50.9% to $988.03 mn.
Baidu shares are currently trading at around 16.8x forward earnings, resulting in a FWD PEG ratio of just 0.58.

Recent News
07/11: HSBC initiated coverage on Baidu with an Overweight rating and a price target of $154, according to StreetInsider.com.
07/05: Baidu shares jumped to a two-week high after the Chinese central bank cut interest rates to boost growth. Bloomberg.com
06/21: Oppenheimer reiterated a Perform rating on Baidu, noting the shares are trading at an attractive valuation, according to a report on Barron's Online. Positive factors also include its leading market position for paid search in China, coupled with forecasts for improving domestic economic growth in the second half of the year. One of the concerns at this point is Baidu's strategy to monetize the use of mobile internet where its market share is much lower.
06/19: Goldman Sachs reiterated its Neutral rating on Baidu, suggesting that increasing use of mobile internet threatens its dominance in keyword search in China, according to a report on Barron's Online. The company points out that Baidu faces risk of increased competition from players in the mobile space. The company also noted that Baidu's push toward cloud storage services on mobile devices could soften the impact. The company cut its price target to $135.
06/12: According to a report on Benzinga.com, Mirae Asset cut its price target on Baidu.com to $180. The company indicated it was concerned about potentially negative consequences of a March price hike. During a recent trip, the company also discovered that increased competition is a threat to margins.
05/15: Baidu announced the release of a new smartphone, manufactured by Foxconn and released in cooperation with China Unicom, equipped with smart Cloud services and access to many of the Baidu platforms and applications.
Technical Review
Baidu shares are coming off oversold conditions, evidenced by the conspicuous "Hammer" candlestick on July 17. Since then, the shares have climbed around 11%, reclaiming the 20-Day SMA. Should the momentum continue, look for resistance at $115, followed by $125. Support is at the lower end of the wick for the aforementioned Hammer near $100 (52-week low). (Chart courtesy of StockCharts.com)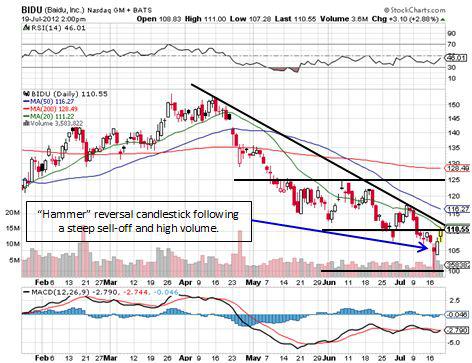 Summary
Baidu shares are off more than 25% from the from the late April highs, tracking the weaker economic data coming out of China, the impact of increased mobile internet use, and competition. After registering oversold technical readings, the shares are bouncing ahead of the Q2 earnings release, thanks to attractive valuation, a more focused and refined mobile strategy, forecasts for an improving macroeconomic backdrop in the second half of 2012, and its dominant position in paid search.
Disclosure: I have no positions in any stocks mentioned, and no plans to initiate any positions within the next 72 hours.
Disclaimer: By using this report, you acknowledge that Selerity, Inc. is in no way liable for losses or gains arising out of commentary, analysis, and or data in this report. Your investment decisions and recommendations are made entirely at your discretion. Selerity does not own securities in companies that they write about, is not an investment adviser, and the content contained herein is not an endorsement to buy or sell any securities. No content published as part of this report constitutes a recommendation that any particular investment, security, portfolio of securities, transaction or investment strategy is suitable for any specific person.