Argentina's national oil company, YPF S.A. (YPF) has allocated a dividend payment for the current year out of the 2011 final results. The new dividend will be at about 1/7th of the previous dividend policy.
Back in April, the Argentine government nationalized 51% of YPF, expropriating the shares held by Spanish oil company Repsol, S.A. (OTCQX:REPYY). The reason for the nationalization was to stock the Repsol policy of sending the majority of YPF profits out of the country as dividends. The high dividend payout policy also benefited U.S. investors holding the YPF ADR shares trading in the U.S.
During the first shareholder meeting of the new YPF the company approved a dividend payment of $66 million or 5.7 percent of 2011 profits. With about 394 million shares outstanding, the dividend works out to 17 cents per share, or 1.3% on the current ADR price of $12.45.
Recently I wrote about the price disparity between the U.S. ADR price of YPF, the Buenos Aires share price in pesos and the official exchange rate. Based on the official exchange rates, the ADR price trades at about a 50% discount to the BA price. In reality, you cannot get dollars for the official rate of 4.60 pesos per buck. As one commenter on my article noted: " in the NYSE, the YPF stock volume is bigger than the whole buenos aires stock exchange. So the fair price isn't the one of buenos aires, it's the one you see in the NYSE." (grammar corrections added).
Due to the disparity between official and prevalent exchange rates, if the official rate is used to pay the dividend in pesos to Argentine investors, the yield will be a little over 4%. For U.S. investors, there is some potential for gain if the gap between official and unofficial exchange rate narrows. But that is a very, very speculative gamble.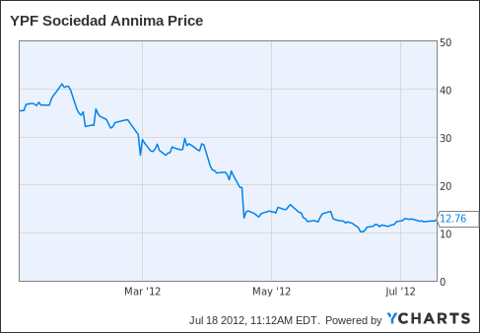 Disclosure: I have no positions in any stocks mentioned, and no plans to initiate any positions within the next 72 hours.