Back in May, this piece was published comparing the dividend growth prospects of Procter & Gamble (PG) and Johnson & Johnson (JNJ). This article looks at the dividend growth of one of PG's closest rivals, Colgate-Palmolive (CL), primarily comparing the two.
Let us take a look at the dividends basics of CL:
CL's current yield works out to 2.4%, easily lower than that of PG by a full percentage point
CL's payout ratio is a tad below 50% while PG's payout ratio is 69%. This probably explains CL's lower current yield, giving it higher leeway for future increases
CL's average dividend increase over the past 5 years has been 11.5%, while PG's is almost 10%
As in earlier exercises, let us take a look at the power of compounding for an investor who can set aside his/her money in CL for 10 years.
Assume you purchase 1,000 shares at the recent price level of $105 for a total initial investment of $105, 000.
The current yield works out to about 2.4% as shown in the table below
Even though not many companies have managed to increase their dividends by 10% continuously, let us assume CL does that, since its payout ratio is the lowest of its peers (And also since the PG article did the same).
Notice how the dividend payments and the yield on original cost goes higher by two and a half times in 10 years, leading to about $6000 in annual dividends for 1000 shares.
We have left out the DRIP part from this piece as some investors choose to reinvest the dividends and some do not. Some DRIP during bad times to accumulate more shares and opt out of DRIP when the price per share seems to be at a fair value.
However, in case the price dips, turning on the DRIP will be helpful in maximizing the returns when things turn around.
A key difference between PG in the article linked above and CL here is that, PG did not have any meaningful capital appreciation in the past 5 years. However, CL has risen about 60% between 2007 and 2012 - going from $65 to its current price of $105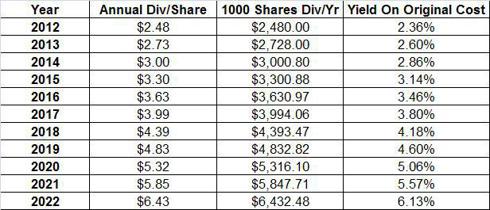 Conclusion: So, even if CL maintains its double digit dividend growth rate for 10 more years, its low payout might eventually make it lag PG in terms of yield to investors. In the article linked above, you could see PG's projected yield on original cost reached 9%.
Or do you think the higher expected growth rate for CL (about 9% vs PG's 7.5%) make it the better buy - combining dividends and capital appreciation? Voice your opinion in the comments section, please.
Disclosure: I have no positions in any stocks mentioned, and no plans to initiate any positions within the next 72 hours.