Amazon and other retailers
Amazon (AMZN) has been a major winner when it comes to the retail sector. Not only has the online giant been able to maintain its profitability and expand its operations, but it has also been successful in attracting customers away from its rivals due to several competitive advantages.
Amazon's Business Model:
The company's primary competitive advantages are the low prices that it is able to offer, a wide variety of products on offer ranging from digital media to grocery, and convenience of shopping from home or mobile devices with a "same day delivery" option. It also has a cost edge over brick and mortar retailers, since it does not have to manage physical stores.
The company has mobile shopping apps and has also ventured into making hardware, such as the Kindle tablets, and plans to start making smartphones. The purpose of these hardware products is primarily to support the sale of content that Amazon offers. This is one reason why margins are kept very low for hardware, and relatively high for content. The prices for Kindle tablets range from $79 to $379. Moving to making smartphones could prove to be a good move for the company due to the rising trend of using mobile devices for shopping (comparison shopping). An Amazon smartphone and new Kindle Fire devices could help in driving sales of digital content higher, as well as building customer loyalty further; the entire customer shopping experience (and usage too in case of music and eBooks) would then be managed through Amazon products. The smartphone would face tough competition from competitors like Apple's (AAPL) iPhone, which has raised the bar for customer expectations.
56% of AMZN's total revenue came from North America, while 44% came from international sales. Below is a breakdown of AMZN's sources of revenue from 2009 to 2011: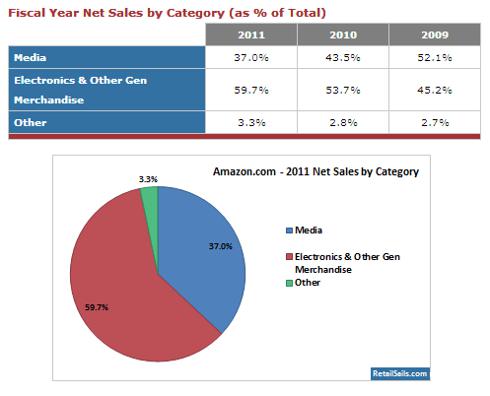 According to JPMorgan (JPM), e-commerce is roughly 9% of total U.S. retail sales; Amazon has a 14% share in U.S. e-commerce. According to Reuters, AMZN constitutes 20% of total U.S. retail sales through the internet. This means it has room to grow more.
Amazon vs. Wal-Mart:
Even Wal-Mart (WMT) is feeling the heat from Amazon. According to statistics, cited in a Businessweek article, 25% of WMT's customers had shopped online at Amazon.com five years ago, compared to 50% at present. This means that WMT's customers have become more tech savvy and enjoy the convenience of shopping online. Rising gas prices also work in favor of Amazon, because customers prefer to travel less to physical stores. Moreover, Amazon has made inroads into selling those products online (e.g. grocery) that were WMT's traditional forte.
Amazon's strength can be judged from revenue growth (YoY) in the last quarter, compared to that of WMT. While Amazon showed a YoY increase of 33.8% in net sales, WMT only managed an 8.6% increase.
WMT is also taking steps to improve its online sales by acquiring tech and social media companies, improving links between the inventory, store and the website, introducing pay with cash service for customers without credit cards, and mobile apps. At present, online sales constitute 2% of WMT's total U.S. sales.
Amazon vs. Consumer Electronics Retailers:
Online retail is picking up for the consumer electronics sector as well, with Amazon being the main beneficiary. At present, the order of companies in descending order, with respect to sales, is Best Buy (BBY), Wal-Mart, Amazon , Apple , Target (TGT) and Costco (COST). Last year, Amazon surpassed Apple to reach the 3rd position in consumer electronics retail. Best Buy, although still the leader, has been losing its market share. It lost a 1.2% market share, according to JPMorgan, last year, along with Wal-Mart, which lost 0.04%. The big winner was AMZN, with a market share increase of 2.76%, followed by AAPL's increase of 1.55%.
Best Buy has had to take several measures like restructuring, changing store formats to be able to compete with Amazon, and to stop "show rooming" (trying products at physical stores but purchasing them online).
For details on Best Buy, read our previous article.
Amazon vs. Netflix:
Amazon is one of the main reasons behind Netflix's (NFLX) woes. Pricing is the main issue here. Amazon's prime service is priced at $79/year, compared to $7.99/month for Netflix. The $79/year for Amazon not only includes unlimited streaming, but it also offers free 2-day shipping for a variety of products, in addition to borrowing a free Kindle book per month free of cost. Amazon also offers buying and renting of movies and TV-shows.
The competition for Netflix is not limited to the U.S. alone. NFLX's U.K. business segment is also suffering from competition from BSkyB, in terms of content rights, and from Amazon's LoveFilm, which is priced at £4.99 or $7.7/month (again lower than Netflix).
In order to get a competitive edge in the streaming business, Amazon Studio is also investing in developing its own original films and TV shows.
For more details of NFLX's issues, read our article.
Amazon is 19% cheaper than Wal-Mart for certain items, according to an article in Forbes. According to another article, the percentage difference is 12%. For our estimates, we are using 15%.
Valuation:
The stock price at present is $217. We are valuing Amazon based on a price-to-sales ratio (next twelve months, NTM ) estimate of 1.3x, based on Thomson Reuters estimates.

*Thomson Reuters projections for Revenues/450 million share outstanding.
Currently, the stock is trading at almost an average of the multiple of its peers, whose next twelve months P/S ratio estimates of Reuters are: WMT's 0.5x, BBY's 0.1x, NFLX's 1.1x and eBay's 3.5x. We recommend buying the stock because of Amazon's competitive advantages and growth opportunities based on our above valuation. However, we advise investors to be mindful of the cost of goods sold (especially shipping costs incurred) because it can drastically affect the narrow margins. We also think the price/sales ratio of Amazon should be closer to that of eBay. If Amazon is to trade at eBay's multiple there is more than 150% upside in the stock price.
Disclosure: I have no positions in any stocks mentioned, and no plans to initiate any positions within the next 72 hours.