Is Apple's (NASDAQ:AAPL) success a result of coincidence or brilliance? Has CEO Steve Jobs been dealt a lucky hand or is his success a function of careful analysis that showed him how history could repeat itself?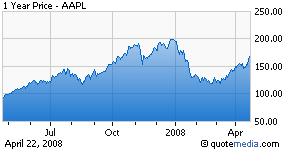 It is my opinion that Steve Jobs has carried around the blueprint for Apple's success since he took back the permanent CEO spot back in 2000. During his latest tenure at Apple he has completely transformed the company from a one trick pony into a four-tiered empire. Has anything this dramatic happened before?
I really wanted to find a company who had done what Apple is now doing. Historical analysis gives me convictional peace as I set time and price targets, but my search for comparable companies kept coming up empty. Sure there are examples like Tyra Banks going from supermodel to talk show host or Ronald Reagan going from acting to politics, but these reinvention stories don't help me come up with investable limits on Apple.
The real question is whether the Apple story is sustainable or just a fad. After hours and hours of frustrating research, I finally found the the perfect comparison: Disney (NYSE:DIS). The funny thing is, all I had to do was follow Steve Jobs' money trail to find it. He's their largest shareholder. The irony amazes me. Somehow Steve Jobs has been integrally involved in the two great turnaround stories of our lifetime. The similarities between the two help to explain the vision that Steve Jobs created for Apple.
A quick recap of Disney's history shows that after Walt Disney's death in 1966, and the completion of Disney World in 1971, the Disney brand began its steep decline. Conditions got so bad that on June 3rd, 1984, Disney stock closed at an adjusted price of .78 cents. The widespread disgust over this valuation led to hostile takeover threats and even the near distinction of the company. Disney was out of sync with the times, their animation division was near dead, and their growth was non existent - until October of 1984, when Michael Eisner came in as CEO and began the turnaround. He took them into new markets where they flourished. He created a brand called Touchstone films and television that allowed them to produce box office hits for the masses.
This innovation led to the relationship with Pixar in 1991 and the purchases of Miramax, ABC and ESPN. The first Disney store was opened on March 28, 1987 in Glendale, California. This evolved into an international chain of specialty stores selling exclusive Disney items, which helped to introduce a whole new generation to their library of animated classics, which in turn led to a renaissance in Disney toy sales. Eisner was also involved with resort expansion overseas and the development of California Adventure, Downtown Disney, new hotels, and the entertainment district.
How did these strategic moves affect stock price? Disney stock rose during 13 of the 14 years after Eisner took over, with average yearly returns of 30.7% and a high of 117% in 1986 (calculated per April yoy price from 1984-1998).
In May of 1985, Steve Jobs was relieved of his duties as head of the Mac division in the very company he had founded in 1976. Isn't it interesting that the Disney renovation of the 1980s happened just as Mr. Jobs left Apple? It is no coincidence that he used the Disney growth strategy as the blueprint for Apple's success, as he had plenty of free time to observe what they were doing. While he was away from the company, Apple suffered through a period of mismanagement and outdated product lines. When he returned in 1997, he began the process of implementing a Disney-like strategy. Just as Disney did with Touchstone, Apple did with the iPod. They opened up their brand to a new generation of users. This led to the development of iTunes music, movies, television shows, podcasts and games.
Apple also opened up their own international chain of retail stores - just like Disney did. They have formed partnerships with companies like Nike (NYSE:NKE), Microsoft (NASDAQ:MSFT) and Best Buy (NYSE:BBY) to better their offering - just like Disney did with Pixar. This experience obviously taught Steve the importance of working well with others, although Apple still retains exclusive rights to their operating system - just as Disney keeps their exclusive advantage.
It has been eight years since Steve Jobs took over the CEO position on a permanent basis. Since that time, Apple stock has been up 6 out of the 8 years, with average yearly returns of 25.3% and a high of 167% in 2005 (calculated per April yoy price from 2000-2008).
Just as Steve Jobs mirrored Apple after Disney, I too am going to use Disney stock performance as part of my Apple stock performance forecast. So far the correlation between innovation and performance is trending too close to be called a coincidence. There is no reason to believe that the Apple story going to end anytime soon; according to the Disney trend, they still have another 6 years of 25% yoy stock growth ahead of them. What one company can do, so can another. Mr. Jobs' position as Disney's largest shareholder is a stroke of fateful brilliance; after all, they taught him everything he knows.
Disclosure: Author holds a position in AAPL