The basic materials sector, including many companies operating in the chemicals and agricultural chemicals group, has been in consolidation mode since Q2 of last year, pulled back by softening demand in the U.S., the economic crisis in Europe, and a temporary slowdown in the vibrant economies of Asia. The industry is truly global with its manufacturing output used in a wide range of end markets including agriculture, consumer electronics, construction and manufacturing. While much of the manufacturing capacity is located in the U.S. and Western Europe, the key to revival lies in the resumption of more rapid growth in emerging markets, including most significantly China and India.
In this article, we analyze the investments of 25 of the world's largest or mega fund managers in the chemicals and agricultural chemicals group. These mega fund managers together account for almost 40% of the assets invested in the U.S. equity markets and manage between $100 billion and over $1 trillion each. Also, together, they are bullish on the group, adding a net $2.14 billion in Q1 to their $128.18 billion prior-quarter position in the group.
Within the group, mega fund managers are most bullish about Westlake Chemical (NYSE:WLK), which is a manufacturer of basic chemicals, polymers and fabricated plastic products for consumer and industrial markets worldwide. Mega funds together added a net 1.91 million shares (or $111 million) in Q1 to their 4.41 million share prior-quarter position in the company, and taken together mega funds held $366 million or 9.5% of the outstanding shares.
The top buyers were mutual fund powerhouse Fidelity Investments, with $555 billion in 13-F assets, that purchased 1.26 million shares. Other large mega fund purchasers included Goldman Sachs Group (0.33 million shares), with $836 billion in assets under management, and New York-based Bank of New York Mellon (0.26 million shares), with over $1.2 trillion in assets under management. Overall, institutional investors loaded up WLK in Q1, adding 1.9 million shares in Q1 to their 21.5 million share prior-quarter position.
WLK shares, like many of their peers in the chemicals group, have been in pullback and consolidation mode since Q2 of last year, now up 46% YTD and within striking range of its all-time highs. In its latest Q1 (March), WLK beat analyst revenues and earnings estimates ($1.31 vs. $1.26). Its shares currently trade at 14.9 current P/E on a TTM (trailing 12 months) basis and 2.1 P/B compared to averages of 13.4 and 7.3 for its peers in the plastics group, while earnings are projected to rise strongly from $3.87 in 2011 to $5.43 in 2013 at an annual growth rate of 18.5%. Perhaps in part due to its premium valuation, Wall Street analysts are not as sanguine about the company, with six of eight analysts that cover it rating it a hold, one other rating it an underperform, and only one rating it a buy, with a price target of $58, at par with current prices.
Other chemicals and agricultural chemicals that mega fund managers are bullish about include:
The following are chemicals and agricultural chemical companies that mega funds are bearish about (see the table below):
Potash Corporation of Saskatchewan, Inc. (NYSE:POT), the world's largest integrated fertilizer and related industrial and feed products company by capacity, in which mega funds together cut a net 8.11 million shares from their 207.19 million share prior-quarter position in the company;
Mosaic Inc. (NYSE:MOS), one of the world's leading producers and marketers of concentrated phosphate and potash crop nutrients for the global agriculture industry, in which mega funds together cut a net 6.14 million shares from their 93.49 million share prior-quarter position in the company; and
Agrium Inc. (NYSE:AGU), which manufactures nitrogen, potash, and phosphate-based fertilizers and other agricultural products for markets worldwide, and it is also involved in the retail supply of agricultural products and services in North and South America, in which mega funds together cut a net 0.76 million shares from their 25.28 million share prior-quarter position in the company.
Furthermore, the following are additional notable holdings of mega funds in the chemicals and agricultural chemicals group:
Huntsman Corp. (NYSE:HUN), which is engaged in the manufacture and sale of differentiated organic and inorganic chemical products worldwide for use in a variety of industrial and consumer applications, in which mega funds together hold 56.18 million or 23.5% of the outstanding shares; and
PPG Industries (NYSE:PPG), a manufacturer of coatings, glass and chemicals for the packaging, aerospace, architectural, automotive and other markets, in which mega funds together hold 52.67 million or 34.5% of the outstanding shares.
Table
Click to enlarge image.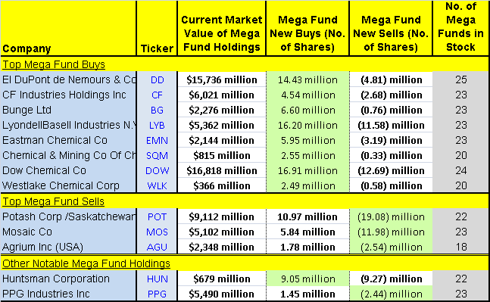 General Methodology and Background Information
The latest available institutional 13-F filings of the largest 25 mega hedge fund and mutual fund managers were analyzed to determine their capital allocation among different industry groupings, and to determine their favorite picks and pans in each group. These mega fund managers number less than one percent of all funds and yet they control almost half of the U.S. equity discretionary fund assets. The argument is that mega institutional investors have the resources and the access to information, knowledge and expertise to conduct extensive due diligence in informing their investment decisions. When mega Institutional Investors invest and maybe even converge on a specific investment idea, the idea deserves consideration for further investigation. The savvy investor may then leverage this information either as a starting point to conduct his own due diligence.
This article is part of a series on institutional holdings in various industry groups and sectors, and other articles in the series for this and prior quarters can be accessed from our author page.
Disclosure: I have no positions in any stocks mentioned, and no plans to initiate any positions within the next 72 hours.
Disclaimer: Material presented here is for informational purposes only. Nothing in this article should be taken as a solicitation to purchase or sell securities. Before buying or selling any stock you should do your own research and reach your own conclusion. Further, these are our 'opinions' and we may be wrong. We may have positions in securities mentioned in this article. You should take this into consideration before acting on any advice given in this article. If this makes you uncomfortable, then do not listen to our thoughts and opinions. The contents of this article do not take into consideration your individual investment objectives so consult with your own financial adviser before making an investment decision. Investing includes certain risks including loss of principal.