Origin Agritech (NASDAQ:SEED) specializes in four principal products: corn, rice, cotton and canola.
The company has about 100 total products, both licensed and proprietary, in the market. While Origin continues to increase its proprietary crop seed products in China, the majority of the company's revenues are from licensed seeds.
Origin's 12 sales offices are spread through the central, northern, and southern regions of China. The company provides branded products and technical service to farmers in 29 of China's 31 provinces.
The Chinese agricultural sector is primarily made up of small, family-oriented farms. Increasingly, corn is becoming an important crop in China because it has a number of uses, including as livestock feed and as a source of fuel in the form of ethanol. In addition, rice is an important human food crop, cotton is an important industrial crop and canola is used to produce cooking oil.
Investment Thesis
Origin has seen tremendous growth in their top-line with revenues increasing by about 37% in Q1 versus last year. The company has reduced their net loss from 17 centers per share in Q1 2007 to 9 cents per share in Q1 2008. In addition, company officials reported  at a recent conference call that they are expecting a profit in 2008.
Origin has also seen its pipeline grow from approximately 39 hybrid products last year to 97 this year. The company introduced the world's first genetically modified phytase corn, which helps farmers save feed costs and improves the environment; the company expects this to be the first genetically modified corn in China. Origin also continues to make progress in getting their products approved in various provinces which would further improve revenues.
In terms of the competitive landscape, the agriculture business in China is highly decentralized with many small regional players and foreign players like Monsanto are severely restricted. The GM industry in China has high barriers to entry and Origin seems to have the product development advantages in this area - their R&D spend increased by almost 130% from Q1 2007 to Q1 2008.
Technical Chart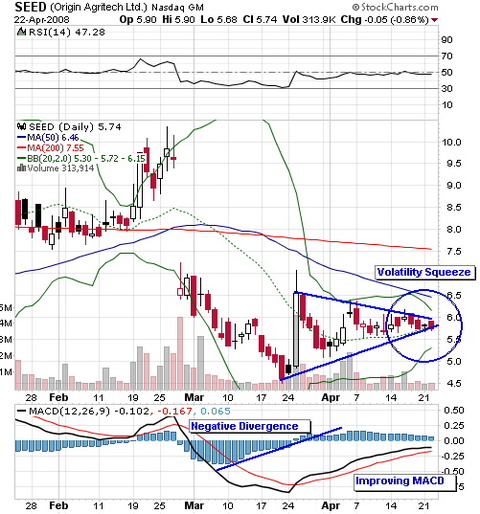 Besides having solid company fundamentals, the chart for this stock also looks promising. The increasing MACD shows a highly bullish signal. In addition, the reduction in width of the Bollinger bands and a decrease in stock volume set the stock up for a volitality squeeze. Furthermore, 21% of the float is comprised of short sellers, which sets the stock up for a short squeeze when the stock pops.
Many agriculture stocks have already seen tremendous growth in recent months. Origin Agritech is one of the few stocks yet to gain from this bull market. This company should not only be a short-term buy, consider keeping it for the long-run as well.
Disclosure: Author has a long position in SEED