Nokia (NYSE:NOK) released its second-quarter earnings and, fundamentally, the results are nothing to cheer about. Here are some items from the release (emphasis mine):
Nokia net sales in Q2 2012 were EUR 7.5 billion, up from EUR 7.4 billion in Q1 2012 but down 19% year over year.
Nokia ended Q2 with gross cash of EUR 9.4 billion and net cash of EUR 4.2 billion. Net cash was lower quarter on quarter (-14%), after EUR 742 million annual dividend payment to shareholders. Nokia Q2 net cash from operating activities of positive EUR 102 million, including receipt of EUR 400 million prepayments from existing IPR licenses.
Smart device volumes -39% year over year and 14% quarter over quarter, Smart device average selling price 7%-plus year over year and 6% quarter over quarter (author's note: average selling price, or ASP, will begin to increase due to Lumia sales).
Devices and Services operating margin was -9.1% vs. +7.3% a year ago and -3% in the first quarter.
Location and Commerce operating profit (-EUR 95 million) and operating margin (-34%) were stronger year over year and flat sequentially.
Nokia Siemens Networks operating loss (-EUR 227 million -- margin -6.8%) was weaker year over year but stronger sequentially.
On a year-over-year basis, the decline in Smart Devices net sales in the second quarter 2012 was primarily due to lower Symbian volumes, partially offset by sales of Nokia Lumia devices. In addition, Symbian ASPs decreased on a year-over-year basis. (Author's note: As Symbian becomes the OS of the lower end phones, volumes and ASPs will continue to fall.)
Nokia went working capital positive in Q2, generating EUR 505 million from working capital. (Author's note: This is a good turn of events, but as discussed later, it is not as favorable -- in terms of continuity -- as it seems).
Company Provided Outlook:
Nokia expects its non-IFRS Devices and Services operating margin in the third quarter 2012 to be similar to the second-quarter 2012 level of negative 9.1%, plus or minus four percentage points.
Nokia continues to target to reduce its Devices and Services non-IFRS operating expenses to an annualized run rate of approximately EUR 3.0 billion by the end of 2013.
Items from the earnings call:
Most importantly, we are seeing progress in our Lumia numbers. We sold 4 million Lumia devices in Q2, which is up from about 2 million in Q1, with growth driven by the expanded availability of the Lumia 900 and the Lumia 610 across markets.

Plus, we anticipate that Microsoft will launch a bold and aggressive marketing campaign for Windows 8, which we believe will have a halo effect for Lumia.

However, to prepare developers for the new Windows Phone platform, Microsoft announced the Windows Phone 8 platform in June. As a result, we anticipate some impact to our Lumia business in Q3, although Lumia activations have been flat to up in the weeks following the announcement of Windows Phone 8.

Looking at the working capital dynamics in more detail, our Devices & Services business contributed approximately EUR 470 million positive. Our NSN business contributed approximately EUR 135 million positive, and Location and Commerce contributed approximately EUR 100 million negative. Within Devices and Services, the working capital improvement was primarily due to the IPR prepayments of EUR 400 million. (Author's note: Keep in mind the company has stated that the annual IPR royalty income run-rate is approximately EUR 0.5 billion -- this means we will not see the same effect during 2H 2012).

In Q2, we recognized approximately EUR 220 million of allowances in Smart Devices related to excess component inventory, future purchase commitments and an inventory revaluation. (Author's note: This implies inventory is too high and won't be used, not a positive.)

At the end of Q2, NSN's contribution to Nokia's gross cash was approximately EUR 1.8 billion, and NSN's contribution to Nokia's net cash was approximately EUR 380 million. NSN's net cash increased approximately EUR 120 million sequentially even after paying out approximately EUR 225 million related to restructuring. (Author's note: NSN cannot be overlooked. The restructuring is having an effect and the JV is adding cash to the group.)
A look at Nokia's cash flow and cash position:
Click to enlarge images.

Sequentially, net cash and other liquid assets decreased by EUR 675 million in the second quarter 2012, primarily due to the payment of the annual dividend totaling EUR 742 million, Devices and Services operating losses, cash outflows related to restructuring and capital expenditures, partially offset by cash flows related to IPR (including a EUR 400 million receipt of pre-payments from existing IPR licenses), a positive contribution from Nokia Siemens Networks and the receipt of a USD 250 million (approximately EUR 196 million) quarterly platform support payment from Microsoft.
(Source: Release linked above.)
Many people use the Microsoft (NASDAQ:MSFT) platform payments as a basis for the Microsoft tie-up/takeover thesis, but it is important to realize the net cash flow is nearly flat. As the company states:
Over the life of the agreement, both the platform support payments and the minimum software royalty commitments are expected to measure in the billions of U.S. dollars. The total amount of the platform support payments is expected to slightly exceed the total amount of the minimum software royalty commitments.
(Source: Release linked above.)
The positive cash from operations and improvement in the rate of cash burn (when will they cut the dividend to reinforce the business?) will be favorably received by both the equity and bond markets as the cash burn is one of the biggest concerns in both markets. Any improvement in cash burn will give the company breathing room to get its house in order.
One sign that things are not going to change in the near future is the company's treatment of the deferred tax asset. In the second quarter of 2012, Nokia recognized EUR 800 million in valuation allowances related to its Finnish deferred tax assets in accordance with accounting standards. This points to the company's belief that taxable profits, against which deferred tax assets could be applied, may not materialize.
Bonds
The following is a current representation of the company's bonds:
NOKIA CORP 5.375% 05/15/2019 Ba1/BB+ (CUSIP: 654902AB1)
Current price: $77.52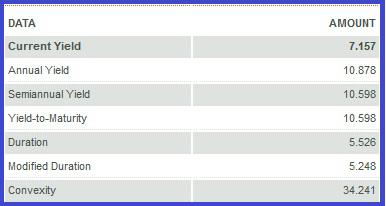 The price history:

The 2019s keep grinding lower, but should find some near-term support with the better cash burn profile.
NOKIA CORP 6.625% 05/15/2039 Ba1/BB+ (CUSIP: 654902AC9)
Current price: $74.00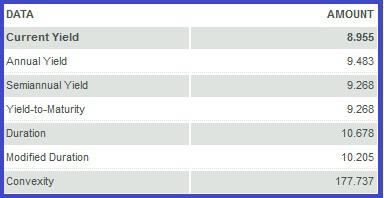 The price history:

Equity
Nokia's equity was up after hours as the company beat by a penny, but it has not found a floor until the earnings -- and this may be short lived: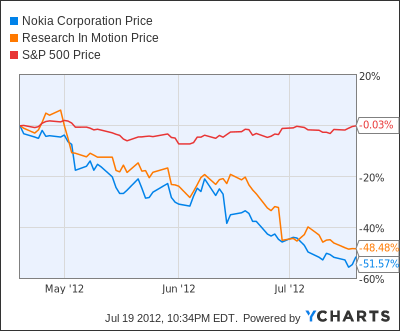 Bottom Line: While on the surface the earnings look decent, digging a little deeper and we see that many of the positives are one off in nature. For the bonds and the equity, the cash burn rate is paramount and it was decent in the second quarter, but again, I question the repeatability of the results. 2012 will continue to be difficult for the company as Symbian sets fall in price and volume and Lumia could see the "wait until 8 (Windows, that is)" falloff effect. The company continues to be focused on managing for cash and NSN has continued to add value to cash and to overall results, both of which are a positive and should help support bond prices. I continue to believe that the best way to position this company is through the 2019 debt (unfortunately, I don't have pricing for the EUR issues), as the yield is 10% and there is significant upside should the company get through their transition sooner than later.
Disclosure: I have no positions in any stocks mentioned, and no plans to initiate any positions within the next 72 hours.
Disclaimer: This article is for informational purposes only, it is not a recommendation to buy or sell any security and is strictly the opinion of Rubicon Associates LLC. Every investor is strongly encouraged to do their own research prior to investing.