Two weeks ago on July 5, Textainer Group Holdings (TGH) shares hit an all-time high of $39.35. My original investment in TGH was at $16.92 on January 13, 2010. The stock's run-up over the last twelve months (up 43.7% versus the S&P's 4.4% return), caused me to consider cashing out some or all of my profits. After research, I believe TGH remains a "buy" and recommend it based on revenue growth and dividend yield.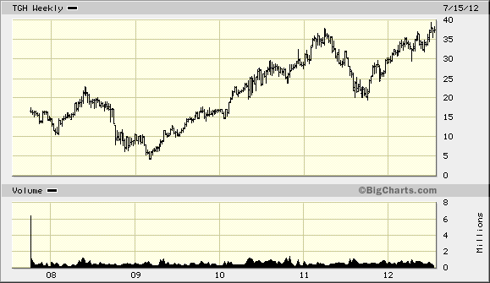 About TGH
TGH is the "world's largest lessor of intermodal containers based on fleet size." Many investors are wary of investing in the shipping space due to overcapacity, excess leverage, and poor pricing power among the shippers. The chart below of the Baltic Dry Index, which represents the cost of transporting goods by sea, shows the difficult environment for shippers. TGH and the other container lessors are the beneficiaries of this turmoil. The shipping companies have been increasingly unable to fund the long-term capital expense of buying containers, so they lease the containers from TGH and its competitors, such as CAI International Inc (CAP).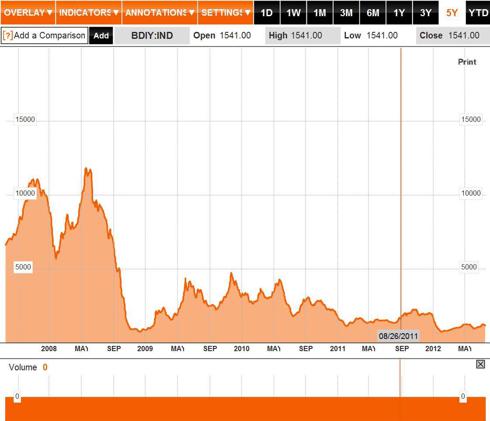 Revenue Growth
TGH's 1st Quarter 2012 revenue was $117.52 million, which was a 28.85% increase over 1st Quarter 2011. Strong revenue growth in Q1 2012 follows robust year-over-year growth in 2010 (27.17%) and 2011 (39.13%).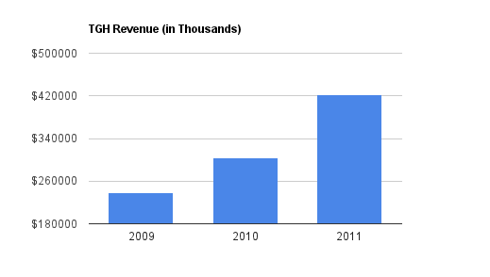 I expect TGH's top line growth to continue due to the following factors:
Shippers will increase reliance on leased shipping containers due to weakness in the Baltic Dry Index and poor access to credit markets.
TGH recently reported 2012 CAPEX commitments of $660 million through July. CAPEX for 2011 was $824 million. TGH uses its CAPEX budget to buy containers to lease or sale. TGH's investment in this area demonstrates favorable order flow from customers and its effort to meet market shortages. On that point, despite TGH's CAPEX expansion in 2011 (a staggering 213% increase over 2010), its fleet utilization was 98.3% for the year. The chart below shows fleet utilization for the trailing three years.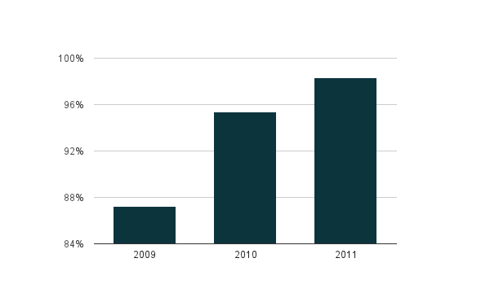 TGH's revenue growth has fed into EPS growth, as shown below.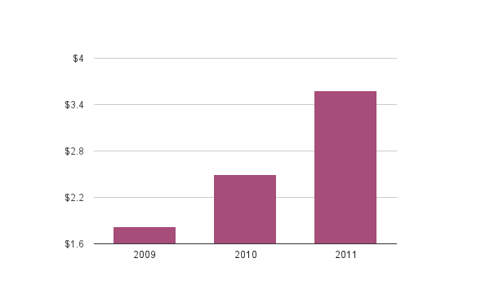 Dividend Yield
TGH's current dividend yield is 4.26%. TGH increased its dividend from .37/share to .40/share for Q1 2012. That increase marked the ninth consecutive quarter that the company raised its dividend. In the last two years TGH has raised its dividend rate by 67%.
According to Textainer, the Q1 2012 dividend represented 41% of adjusted net income. The company previously distributed 46% of adjusted net income in both 2010 and 2011. This shows that the dividend rate in not untenable and, instead, has more upside.
Conclusion
Immediately after TGH's initial public offering in 2007, its share price was highly correlative to the Dow Jones U.S. Marine Transportation Index (DJUSMT). Over the past three years, investors have decoupled TGH from the DJUSMT (see chart below) for many of the reasons discussed above.
TGH is no longer a hidden gem, but it still represents a rare stock that combines high growth and yield. Trading at only 9.3x earnings, I recommend TGH as a buy.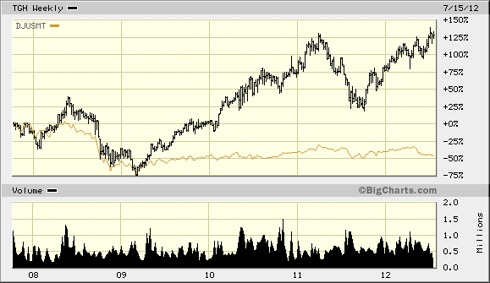 Disclosure: I am long TGH.