Spotting anomalies and/or extremes continues to provide a key catalyst when it comes to trading earnings.
On July 18th, I issued a series of tweets describing a potential bullish setup to trade on the earnings report for F5 Networks (NASDAQ:FFIV):
Today's 7.6% pre-earnings move for $FFIV is largest such move since April 2001. 7.3% move April, 2011 and post-earnings delivered 7.1% gain.

Correlations not strong, but positive for $FFIV pre vs post-earning. All things considered buying small # of shares. =gulp= #120trade

Hope to post summary tonight on $FFIV. Note this is a very risky trade. Plan accordingly. #120trade
FFIV spiked ahead of its earnings as technology stocks in general enjoyed a strong rally. It seemed that tech stocks that had recently taken a severe beating rallied the strongest. At the time, FFIV was down 28% from its 2012 high and down 26% from the post-earnings response to April's report. Such a sell-off suggested a buildup of a lot of negativity, especially given the Nasdaq Composite was only down 2.2% since FFIV reported April earnings.
Here is a distribution of FFIV's pre-earnings, one-day performance since 2000: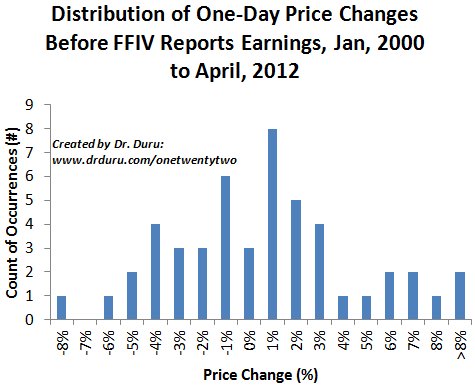 Source: Earnings dates from Briefing.com, stock price data from Yahoo!Finance.
(To interpret the graph, read the x-axis as the top of a 1% range of price changes. For example, "1%" represents a range from 0% to 1%, excluding 0%. The y-axis measures the amount of times FFIV has delivered a price change within the given range from January 2000 to April 2012. ">8%" means price changes above 8%.)
The two very extreme price changes were gains of 40% on April 19, 2001, and 13% on April 25, 2000. FFIV sold off heavily the day after earnings, giving back a good chunk of the extreme pre-earnings gains. More recently, when FFIV jumped 7.3% ahead of earnings on April 20, 2011, FFIV jumped another 7.1% after earnings. Given I apply a lot more weight to recent earnings reactions, I found enough evidence to motivate a deeper investigation into the history of FFIV's post-earnings responses.
I looked for correlations between historical price action and the post-earnings response. As implied above in the tweets, I did not find a smoking gun, but I also did not find evidence to dissuade me from the trade. Below are the charts for the standard set of relationships I examine. I only focus on data from 2007 under the assumption that recent earnings performances are much more relevant than later ones. (For those of you who have read previous earnings analyses, note that I added two charts that provided some insight for FFIV: by month correlations for the one-week average daily pre-earnings price change and the one-day pre-earnings price change to the post-earnings price response.)
Here is a summary of the most important conclusions from these charts:
There is a strong tendency for FFIV to close with a gain the day following earnings.
When FFIV delivers positive post-earnings performance, it tends to be large (above 5%).
The correlation between FFIV's price history -- whether the two-week or one-week average pre-daily pre-earnings price change, or the one-day pre-earnings price change -- is generally positive and tending to get stronger in recent periods. No correlations are particularly strong.
There are no consistent patterns to the correlations on a per-month basis. Two periods deliver the strongest correlations. In January, there is -0.7 correlation between the one-week average daily pre-earnings price change and the one-day post-earnings price change. In October, there is a 0.8 correlation between the one-day pre-earnings price change and the one-day post-earnings price change.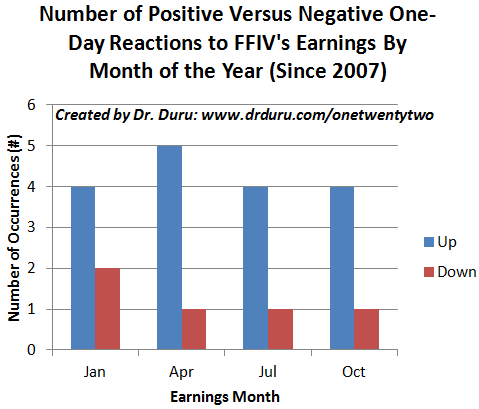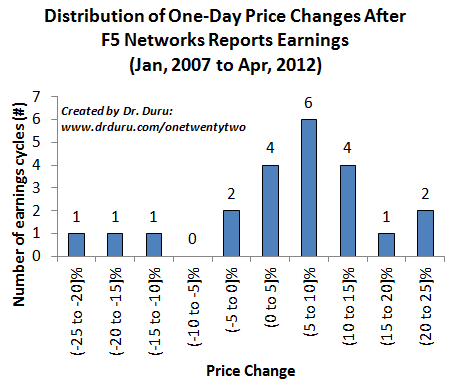 Click to enlarge images.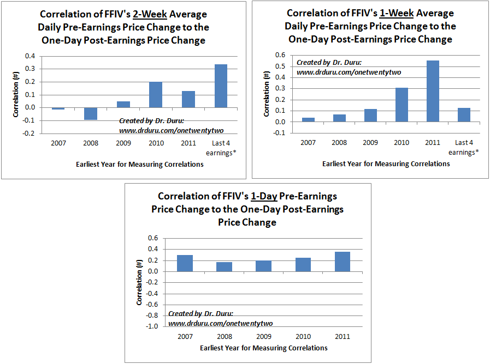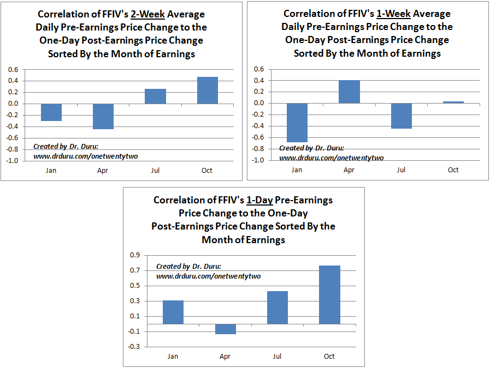 Going into earnings at the time I looked at the data, the one-week average daily pre-earnings price change was -0.6% and the two-week average daily pre-earnings price change was -0.3%. These data points gave me pause given the small positive correlation with these pre-earnings averages and post-earnings response. However, the dominance of positive post-earnings reactions combined with the performance from April 2011 convinced me this trade was worth a try from the bullish side. I did not purchase options because the premiums were too high given the downside risks. As an alternative, I purchased a small amount of shares with an assumption of potential downside to recent lows. I purchased my shares with FFIV up about 7.7% for the day. This was certainly not my typical "bargain" purchase! I probably would not have bothered if FFIV was not down significantly from recent highs.
After hours, FFIV delivered disappointing guidance for the current quarter of EPS of $1.16-$1.19 vs. Capital IQ consensus estimate of $1.24 and revenue of $360-$370 million vs. $384 million consensus estimate. In response, the stock sold off in after hours and erased almost all of the gains during regular trading hours. FFIV recovered most of those losses by the time the after-hours session ended. At the open the next day, FFIV took a dive once more but proceeded to rally into the close. As FFIV approached its 50-day moving average (DMA), I sold my shares and tweeted:
Ending $FFIV post-earnings trade as stock now approaches 50-DMA resistance. Overall outlook remains bullish so buy dips.
FFIV closed the day with a 4.2% gain, a little below the median positive gain. While I was relieved to end the trade with a gain, this did not compensate for the amount of risk in the trade.
Here is how the chart looks on FFIV for the year as of July 19 (at the time of writing, FFIV is pulling back sharply from the 50-DMA resistance). Note the strong pickup on volume pre- and post-earnings. This action suggests a short-term bottom for FFIV, but the overhead resistance of the 50- and 200-DMAs will not be easy to beat.
FFIV Surges off Its Recent Bottom Thanks to This Month's Earnings Report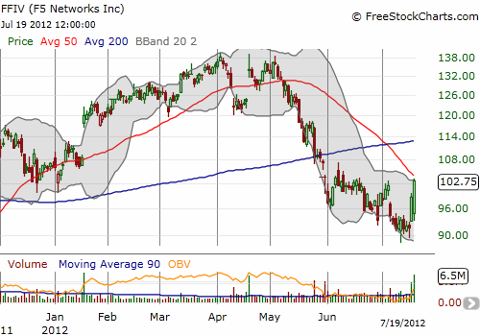 Source: FreeStockCharts.com.
Each earnings trade seems to provide its own unique lessons. Here, context was important in swaying me to overweight evidence that supported a bullish trade. The weak correlations allowed me to underweight those numbers in favor of FFIV's overall performance. Going forward, I still like buying FFIV on dips. For now, I am assuming FFIV has also printed a short-term bottom.
Disclosure: I have no positions in any stocks mentioned, but may initiate a long position in FFIV over the next 72 hours.