Knight Capital Group, Inc. (NITE) is once again distinguishing itself amongst extreme market volatility. Its share price recently broke out from its 2008 trading range and appears to be settling above a key level of resistance. Estimates for Knight continue to rise, with the current-year estimate gaining eight cents in just the last seven days and advancing to its current projection of $1.27 per share.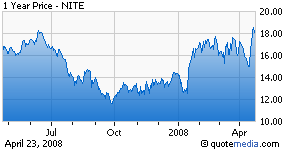 Knight Capital Group, Inc. provides various financial services in the United States. It operates in two segments, Asset Management and Global Markets. The Asset Management segment operates as an investment manager and also sponsors hedge funds. This segment primarily serves banks, insurance companies, funds-of-hedge funds, corporate and public pension plan sponsors, trusts, endowments, and private clients.
Knight reported respectable first quarter results on Apr 16. Net income climbed to $32.5 million, or 35 cents per share, compared to $31.9 million, or 31 cents, in the same period last year. Analysts were projecting earnings of 30 cents per share.
Revenue did slip slightly from last year, to $224.9 million, but still eclipsed analyst expectations of $209.2 million. Revenue for the global markets segment climbed to $218.8 million from $172.6 million.
On the same day, Knight also released some key data that reflects the growth it is experiencing in its trading volumes, noting that its average daily trade volume in March jumped 87 percent to $16.55 billion. Knight's average daily trades rose to 1.8 million from 1.1 million.
Over the last two quarters Knight has done a great job of surprising and beating analyst estimates, having done so by an average of 14.5 cents, or 53%.
In spite of the nice growth trajectory in share value and the company's ability to grow its daily trading volumes, which is a key revenue driver, Knight's stock is still attractively valued. Its P/E multiple is just 14X based upon the current-year projected earnings, which is a nice element of value in addition to the growth profile.
Within just the last week, after Knight reported its first quarter results, its share price has been advancing aggressively, moving from just over $15 to $18.50, a very solid short-term return of more than 20%. Also, shares appear to be settling above their 2008 trading range, which is an encouraging short-term development.