Terex Corporation (TEX) is scheduled to report its Q2 2012 results on July 25, 2012, after the bell. The street expects EPS and revenue of $0.50 and $2.02B, respectively.
In this article I will recap the historical results of the company, its latest EPS estimates vs. surprises, the latest news from TEX and the news from its closest competitors.
Recent EPS Actuals vs. Estimates
The company has met or beaten analysts' estimates in the last three quarters. In the last quarter it reported $0.29 EPS, beating analyst estimates of $0.22.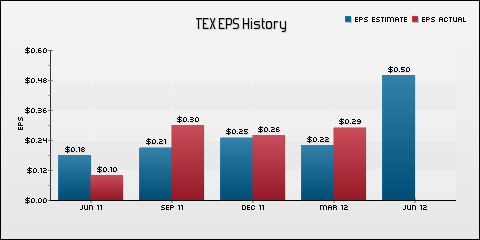 The consensus EPS estimate is $0.50 based on 16 analysts' estimates, up from $0.10 a year ago. Revenue estimates are $2.02B, up from $1.49B a year ago. The median target price by analysts for the stock is $28.00.
Average recommendation: Overweight
Source: Marketwatch
Analyst Upgrades and Downgrades
On June 24, 2012, Longbow downgraded the company from Buy to Neutral.
On February 21, 2012, RBC Capital Mkts reiterated Outperform rating for the company.
On February 17, 2012, UBS reiterated Neutral rating for the company.
On February 17, 2012, Barclays Capital reiterated Equal Weight rating for the company.
On February 9, 2012, BB&T Capital Mkts initiated Buy rating for the company.
On February 8, 2012, Longbow upgraded the company from Neutral to Buy.
On January 24, 2012, KeyBanc Capital Mkts upgraded the company from Hold to Buy.
Latest News
On May 4, 2012, Terex Corp. And Russian Machines announced that they have completed the formation of a joint venture company for the manufacture of construction and roadbuilding equipment in Russia.
On April 27, 2012, Terex Corp. announced that for fiscal 2012, it expects approximately $475-$525 million in operating profit and earnings per share (EPS) of $1.65-$1.85 per share (based on an average share count of approximately 116 million shares and excluding the impact of restructuring and unusual items) on sales of $7.5-$8.0 billion.
On April 3, 2012, PrimeTass reported that GAZ OAO (GAZ Group) is establishing a joint venture to produce road construction equipment with US equipment manufacturer Terex Corp.
On March 27, 2012, Terex Corp. announced that it has completed its previously announced financing, with total net proceeds to Terex of approximately $295 million. Details of the public offering are: $300 million aggregate principal amount of 6.50% Senior Unsecured Notes due 2020 at an issue price of 100%.
On March 22, 2012, Terex Corp. announced that it is seeking approximately $300 million in new financing. The Company intends to offer, subject to market and other conditions, $300 million in senior unsecured notes.
On March 21, 2012, Terex Corp. announced that it has partnered with China SINOMACH Heavy Industry Corporation (Sinomach) as its new strategic partner for Sichuan Changjiang Engineering Crane Co., Ltd (SCE).
On February 16, 2012, Terex Corp. announced that for fiscal 2012, it expects sales to increase of 15% to 23%, or be $7.5-$8 million, operating profit (EBIT) is expected to be in the range of $475-$525 million and EPS to be in the range of $1.65-$1.85 per share.
On January 30, 2012, Demag Cranes AG (Demag) as controlled Company and Terex Germany GmbH & Co. KG (Terex), an indirect wholly-owned subsidiary of Terex Corporation, Westport, USA, as controlling company entered into a domination and profit and loss transfer agreement.
Competitors
Caterpillar (CAT), CNH Global (CNH), Deere & Company (DE), and The Manitowoc Company (MTW) are considered major competitors for Terex Corporation and the table below provides the key metrics for these companies and the industry.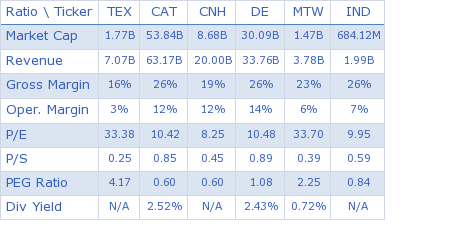 The chart below compares the stock price changes as a percentage for the selected companies and S&P 500 index for the last one year period.
TEX data by YCharts
Competitors' Latest Development
Technical Overview
The stock has a market capitalization of $1.77B and is currently trading at $15.30 with a 52 week range of $9.30 - $26.77. The stock's year-to-date performance has been 18.58%. It is currently trading below 20, 50 and 200 SMA.
Sources: Yahoo Finance, Google Finance, Marketwatch, Finviz, Reuters.
Disclosure: I have no positions in any stocks mentioned, and no plans to initiate any positions within the next 72 hours.