Introduction and Background
There has been a spate of recent articles and comments stating or implying that dividend growth stocks are in a bubble. David Jackson, the founder and CEO of Seeking Alpha, stated the following in a recent comment.
I haven't found any other asset class [beside dividend growth stocks] where there are similar causes or indicators of potential overvaluation risk, specifically:
1. macro factors (interest rates, demographics, and tax rates),
2. a significant preponderance of positive articles on SA, with relatively few "challenging" articles,
3. high and rising interest from novice investors. (Please note: I'm *not* saying that all dividend investors are novices; there are many deeply experienced and sophisticated dividend investors.) The last times we saw massive rises in novice investor interest ended badly: the housing bubble (when everyone seemed to be dealing in real estate) and the tech bubble (when barbers were recommending tech stocks). I'm not saying we've reached that point with dividend stocks, but if we do, it will be too late.
I do not wish to quote David out of context nor imply that he is stating that dividend growth stocks are in a bubble. I believe that his concern is that the majority of articles on dividend growth investing do not question or discuss valuation enough, and that therefore there is a risk that inexperienced investors, turning to dividend growth stocks in their search for yield, may be walking into an over-valuation trap. Please go to this article and the comment stream beneath it to see the full context for the particular comment that I quoted above.
Personally, I am neutral on the question of dividend growth stocks being in a bubble or not, as I evaluate stocks one at a time and do not pay much attention to the valuation of the asset class as a whole. Nevertheless, for those who are interested in the valuation of dividend growth stocks as a class, I thought that I would tackle the basic question about the valuation of the most commonly held dividend growth stocks: Are they in a bubble?
Methodology
For my list of stocks to examine, I am using an unscientific list of the most commonly held stocks by dividend growth investors. The list comes from two survey articles that I wrote this past spring and the responses that I received. (See "The Most Common Stocks for Dividend Growth Investors.") While unscientific, the list certainly represents 39 stocks that appear in many dividend growth portfolios. They should be adequate to answer the bubble question in a broad way.
Every value investor knows that there are multiple ways to value stocks. To list just a few, here are some of the more common ways:
Discounted cash flow analyses.
Valuation ratios.
F.A.S.T. Graphs, which utilize actual past and analysts' future estimates for earnings, multiplied by appropriate P/E multiples.
For this article, I decided to use Morningstar's star ratings, which are based on the first approach, discounted cash flows, backed up with a few examples from F.A.S.T Graphs.
Morningstar awards 1-5 stars for stocks based on each stock's current price compared to Morningstar's own fair value estimates for each stock, which are based on Morningstar's proprietary approach to the discounted cash flow method. Here is a description of Morningstar's rating from the glossary on their web site:
The Morningstar Rating for Stocks is calculated by comparing a stock's current market price with Morningstar's estimate of the stock's fair value….Under our system, 3-star stocks are those that should offer a "fair return," one that adequately compensates for the riskiness of the stock. Three-star stocks should offer investors a return that's roughly comparable to the stock's cost of equity. (The cost of equity is often called a "required return" because it represents the return an investor requires for taking on the risk of owning the stock.)

Five-star stocks, of course, should offer an investor a return that's well above the company's cost of equity. Conversely, low-rated stocks have significantly lower expected returns.
And this is from two 2008 articles further explaining refinements their rating system:
We…require a larger margin of safety for lower-quality (more uncertain) stocks to reach a 4- or 5-star rating, relative to higher-quality (less uncertain) stocks. So, a company with future cash flows that are hard to forecast accurately--such as a fashion retailer--would need to trade at a substantial discount to our fair value estimate to receive a high rating; a company with future cash flows that are relatively more certain--say, a diversified consumer-products company--would need to trade at a smaller discount to our fair value estimate to receive a high rating….Generally speaking, stocks trading at large discounts to our analysts' fair value estimates will receive higher (4 or 5) star ratings, and stocks trading at large premiums to their fair value estimates will receive lower (1 or 2) star ratings. Stocks that are trading very close to our analysts' fair value estimates will receive 3-star ratings.
So, a stock in a "bubble" would have a 1-star rating under the Morningstar system, possibly 2 stars at most. On the other hand, stocks with 4- or 5-star ratings would be considered to be undervalued. I have no opinion concerning the predictive value of Morningstar's ratings, and I don not know of any published studies on that issue. However, from what I have read about their rating system, it seems to be very well conceived. (I would not say the same about their famous fund rating system, but that is not under discussion here.)
I will supplement the Morningstar valuations by displaying a few F.A.S.T. Graphs, which are used by many Seeking Alpha readers as a valuation tool. At the end of the article, I will offer a few conclusions.
Stock

Ticker

Morningstar

Star Rating

(Stars)

Projected Yield

(%)

3M

MMM

4

2.51

Abbott Laboratories

ABT

4

3.01

AFLAC

AFL

4

2.93

Altria

MO

2

4.56

AT&T

T

2

4.93

Automatic Data Processing

ADP

3

2.73

Becton Dickinson

BDX

4

2.32

Chevron

CVX

4

3.03

Chubb

CB

3

2.23

Cincinnati Financial

CINF

3

4.28

Clorox

CLX

2

3.27

Coca-Cola

KO

2

2.53

Colgate-Palmolive

CL

2

2.23

Emerson Electric

EMR

4

3.29

Exelon

EXC

4

4.03

ExxonMobil

XOM

4

2.30

Hasbro

HAS

4

3.74

Intel

INTC

4

3.22

Johnson & Johnson

JNJ

4

3.34

Kimberly Clark

KMB

2

3.35

Leggett & Platt

LEG

NR

5.10

Lockheed Martin

LMT

2

4.24

McDonald's

MCD

4

2.92

Medtronic

MDT

4

2.53

Microsoft

MSFT

NR

2.48

Paychex

PAYX

4

3.88

PepsiCo

PEP

3

2.96

Pfizer

PFE

4

3.53

Phillip Morris

PM

3

3.44

Procter & Gamble

PG

3

3.35

Raytheon

RTN

2

3.27

Southern

SO

2

4.00

Sysco

SYY

4

3.68

Target

TGT

3

1.96

United Technologies

UTX

4

2.53

Verizon

VZ

2

4.49

Walgreen

WAG

3

2.60

Wal-Mart

WMT

2

2.13

Waste Management

WM

3

4.17
[Source: Morningstar.com, accessed July 19, 2012.]
As you can see, two of the stocks had no Morningstar rating when I accessed the site. I have never seen this before. Perhaps the ratings are being recomputed in light of recent information. Anyway, let's use F.A.S.T Graphs to evaluate those two, and then a few others too. On these graphs, the orange line represents fair value and the black line represents current price. So if the black line is above the orange line, the stock is considered to be overvalued. If it is below the orange line, the stock is considered to be undervalued.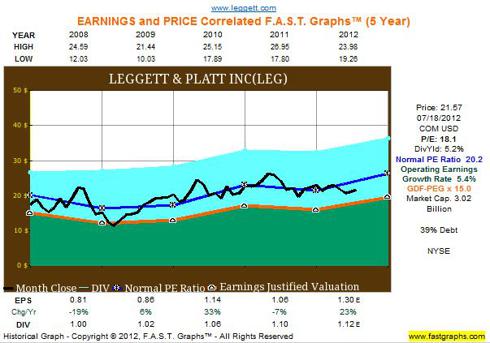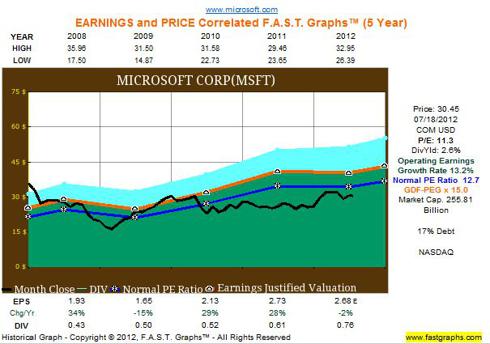 So from these graphs, we would say that Leggett & Platt is overvalued and that Microsoft is undervalued.
As a sanity check on the Morningstar ratings, let's display three F.A.S.T Graphs for other stocks that do have Morningstar ratings. I chose the following three stocks at random. (Actually, I chose them because I own them.)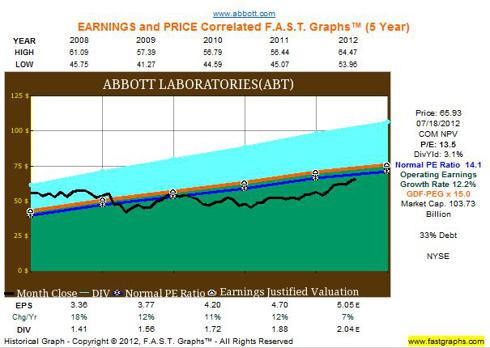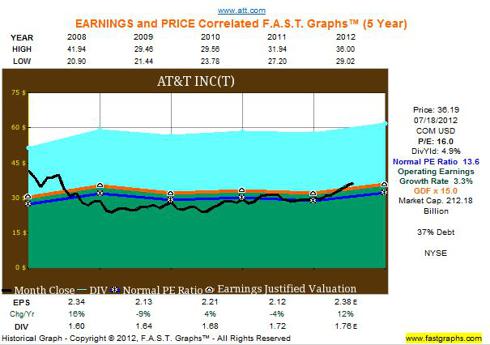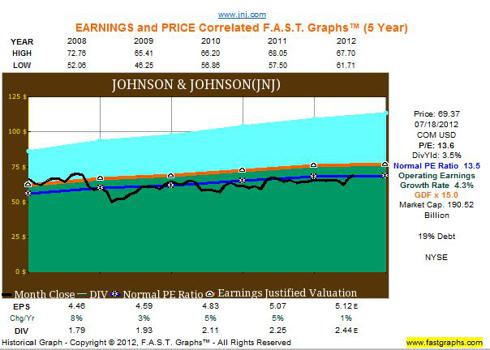 What we find is that the Morningstar ratings are in agreement with the F.A.S.T. Graphs.
Abbott has a 4-star rating, and the graph shows it as undervalued.
AT&T has a 2-star rating, and the graph shows it as overvalued.
Johnson & Johnson has a 4-star rating, and the graph shows it as undervalued.
Conclusions
Dividend growth stocks are not in a bubble. There are no 1-star rated stocks in this list. There are 11 2-star rated stocks, plus another stock that would be considered overvalued on the basis of its F.A.S.T Graph. That makes 12 out of 39 stocks overvalued.
There are 17 4-star rated stocks, plus another stock that appears to be undervalued on its F.A.S.T Graph. That makes 18 out of 39 stocks undervalued.
Overall, I would say that the asset class is fairly valued, with some stocks overvalued at this time and some stocks undervalued. There were no extreme 1-star ratings, which I would interpret as being bubble territory under the Morningstar system.
Why should we care about the general valuation of dividend growth stocks as a group? In one of his recent comments, David Jackson said the following:
For me, this [the valuation of dividend growth stocks] isn't just a theoretical issue. Right now, interest rates are at historic lows, there's an unprecedented demographic increase in the number of income-seeking retirees, and taxes on dividends are historically low. Dividend investing has become a new orthodoxy. This means that there's a clear risk that dividend stocks may become overvalued.

The goal of Seeking Alpha is to empower investors to make smart decisions by presenting them with varying opinions on investment issues. If Seeking Alpha readers pile into dividend stocks in 2012 and 2013 after reading articles that only discuss how great dividend growth investing is, and then find that their returns over the next 10 years are poor and that their dividend income in retirement is low because they bought stocks when they were expensive, I'd feel that we, and our contributors, had let our readers down.

For that reason, I think it's crucial that there's an open and ongoing debate about whether dividend stocks are becoming expensive. Valuation data at the asset class level is a helpful reference point in that debate.
I believe strongly in valuing dividend growth stocks before I buy them and monitoring valuations while I own them. I do this for several reasons. Chief among them are these:
When a stock is favorably valued, that means that its yield is probably at a relatively high level for that stock.
Although I have stated often that my primary focus in dividend growth investing is the income stream that my stocks generate, I am not blind to total return. Purchasing a stock at favorable valuation tilts the probabilities toward a greater likelihood of price growth over time.
There may be times that if a stock I own becomes radically overvalued, I may sell it to reap profits and reinvest them into a different stock that is both better valued and that also offers a better current dividend yield.
As I said earlier, I have no dog in the hunt on the question of whether dividend growth stocks are overvalued or at risk of becoming so. I personally value stocks one at a time, and I look for bargains. My experience is that bargains can usually be found no matter how the general market, or the asset class of dividend growth stocks, may be valued at the particular time.
That said, I offer this article to give a perspective on the current valuation of dividend growth stocks in a general sense. It is my modest contribution to the fair debate about dividend stocks' valuation that David Jackson has stated that he hopes Seeking Alpha will present.
Disclosure: I am long MMM, ABT, AFL, T, CVX, HAS, INTC, JNJ, KMB, MCD, PEP, PG.