Bond default rates among cities and state municipalities are on the rise, but municipal bond exchange traded funds remain relatively unfazed as investors continue to search for yield producing assets.
The iShares S&P National Municipal Bond Fund (MUB) is in positive territory for 2012. MUB has an expense ratio of 0.25% and a 3.11% yield.
San Bernardino, a city east of Los Angeles, is the third municipality in California to file for bankruptcy, reports Deborah Levine for MarketWatch.
While California may be on the default watch list, Nebraska has the largest muni bond default rates, with almost one-fifth of over 220 bankruptcies filed in the U.S. since 1981, reports Steven Church for Bloomberg. California has the second largest default rates, followed by Texas, Alabama and Oklahoma. The five states account for over half of all Chapter 9 bankruptcies.
With large cities in California filing for bankruptcies, more municipalities may feel more free in following suit.
"The stigma has probably been reduced when you get very sizeable cities like Stockton or San Bernardino to do it," Warren Buffett said on Bloomberg. "The very fact they do it makes it more likely."
However, Buffet noted that we are not about to witness hundreds of billions of dollars in defaults, similar to what notorious banking analyst Meredith Whitney predicted in 2010.
The Federal Reserve has reiterated its non-involvement in state and local governments in the likelihood of mass municipality defaults, as it is a Congressional matter, The Wall Street Journal reports.
"We have no expectation or intention to get involved in state and local finance," Bernanke said in testimony before the Senate Budget Committee. The states, he said later, "should not expect loans from the Fed."
Meanwhile, investors are still piling into municipal bond securities.
"There's still strong demand because there are more compelling reasons to jump into municipal bonds," James Barnes, senior fixed-income manager at National Penn Investors Trust Co, said in the MarketWatch article.
For the year-to-date, long California muni funds have returned 6.61%, and national long funds have gained 5.69%.
Some other muni bond ETFs include:
SPDR Barclays Capital Municipal Bond ETF (TFI): 0.23% expense ratio; 3.1% yield.
PowerShares Insured National Municipal Bond (PZA): 0.28% expense ratio; 4.29% yield.
Market Vectors High-Yield Municipal ETF (HYD): 0.35% expense ratio; 5.21% yield.
iShares S&P National Municipal Bond ETF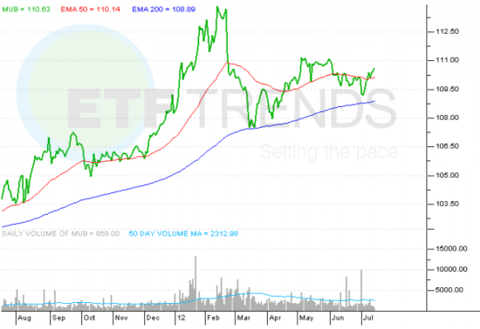 Max Chen contributed to this article.
Disclosure: Tom Lydon's clients own HYD.