U.S. Fiscal Cliff: Effective year-end 2012: 1) Bush and payroll tax cuts expire and 2) automatic spending cuts that were previously approved during debt ceiling deal will go in effect.
Potential Impact: A recession as a result of slashing $607 billion in the federal budget deficit and putting a knife to GDP growth. The CBO estimates a 4.0 percent decline in GDP growth while Fed Chairman Ben Bernanke estimates a 5.0 percent decline according to his recent testimony to Congress.
Congress is stuck between a rock and a hard place because extending the tax cuts and spending programs may help in the short-run but harm in the long-run due to higher debts to pay for them. Just look at the table below (four consecutive years of trillion-plus dollar deficits). The rampant spending has increased total U.S. federal debt outstanding to $15.9 trillion, a 72.1% increase since 2007. With that said, reforms such as the Simpson-Bowles plan are needed in order to ensure a sustainable path of economic growth and deficit reduction.
SUMMARY OF RECEIPTS, OUTLAYS, AND SURPLUSES OR DEFICITS (-): 1998-2013

(in millions of dollars)

Year

Total

Receipts

Outlays

Surplus or Deficit (-)

 

1998

1,721,728

1,652,458

+69,270

1999

1,827,452

1,701,842

+125,610

2000

2,025,191

1,788,950

+236,241

2001

1,991,082

1,862,846

+128,236

2002

1,853,136

2,010,894

-157,758

2003

1,782,314

2,159,899

-377,585

2004

1,880,114

2,292,841

-412,727

2005

2,153,611

2,471,957

-318,346

2006

2,406,869

2,655,050

-248,181

2007

2,567,985

2,728,686

-160,701

2008

2,523,991

2,982,544

-458,553

2009

2,104,989

3,517,677

-1,412,688

2010

2,162,724

3,456,213

-1,293,489

2011

2,303,466

3,603,061

-1,299,595

2012E

2,468,599

3,795,547

-1,326,948

2013E

2,901,956

3,803,364

-901,408
Source: Office of Management and Budget
European Debt Crisis: Deteriorating government finances in the euro periphery have lead weaker eurozone countries into a debt crisis. The crisis is caused by the design flaw of a monetary union (common currency) without a fiscal union (fiscal policy with common representation) in the eurozone. As a result, the periphery is having problems refinancing their debt at reasonable rates (see chart below). Without the ability to print money (monetize their debt), the periphery states are in dire need of assistance from stronger eurozone states such as Germany. Additionally, many European banks are major owners of European sovereign debt which further exacerbates the crisis.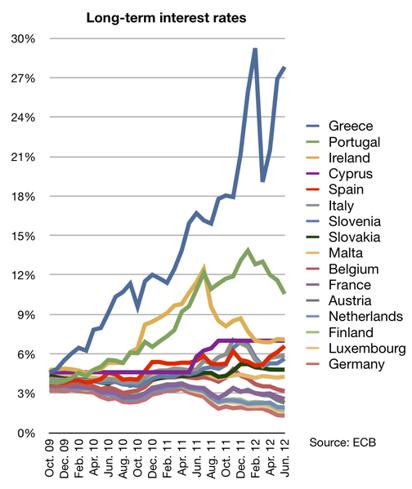 Note: A yield of 6% or more indicates that financial markets have serious doubts about credit-worthiness.
Potential Impact: According to European Commission economic forecasts, eurozone growth is projected to slowdown sharply as the spreading of sovereign-debt crisis to member states leads to waning consumer and business confidence, ongoing fiscal austerity, and a slowdown in global trade. The risks are noted to be tilted to the downside with the possibility of further negative dynamics of slower growth affecting sovereign debtors, which could in turn deteriorate bank balance sheets, thereby reducing their ability to support growth.
China Slowdown: China's rapid economic growth has decelerated steadily for the past eight quarters, the longest slowdown since the government began reporting such data in 1992. The previous record was six quarters. See chart below (click to enlarge):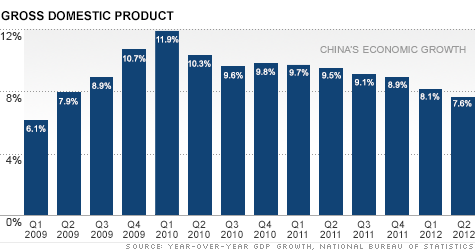 Potential Impact: The impact of lower Chinese demand could fall hardest on Asian economies that supply industrial components to China's vast manufacturing industry, as well as exporters of oil, iron ore and other commodities such as Australia and African nations. Chinese imports of steel, copper and oil have declined by volume over a year ago. Ultimately, a slowdown in China's economy is worrisome for the U.S. because it would contribute to the broader decline in demand around the world that could trigger a global recession.
Presently, the U.S. is growing (albeit slowly), but because of robust profits (doubling since 2009), large American companies as represented by the S&P 500 index has outperformed MSCI EAFE (European, Australasian, and Far Eastern), and FTSE China 25 (Chinese) companies over the past several years. (see chart below - click to enlarge)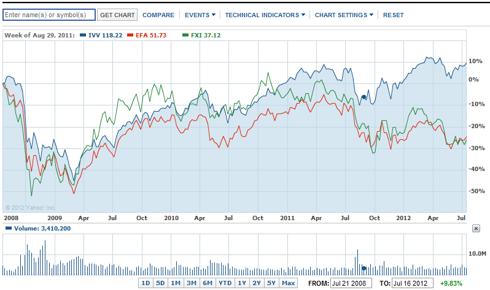 IVV or SPY - S&P 500 Index Fund (Top 3 holdings: AAPL, XOM, MSFT)
EFA - iShares MSCI EAFE Index Fund (Top 3 holdings: NSRGY, HBC, VOD)
FXI - iShares FTSE China 25 Index Fund (3 large holdings: CHL, CEO, BACHY)
Based on chart above, the U.S. stock market has decoupled from the European and Chinese markets, but has it gotten too far ahead of itself? From a valuation standpoint, IVV is selling for 18.83 times trailing earnings. In contrast, EFA and FXI are selling for 15.96 and 11.29 trailing P/E, respectively. The P/E ratio is a fundamental measure used to determine if an investment is valued appropriately. Not withstanding relative growth rates and other economic factors, a higher P/E generally indicates a stock to be more expensive. In the calculation of the fund's P/E, each holdings' P/E is the latest closing price divided by the latest 12 months' earnings per share. Negative earnings are excluded, extraordinary items are excluded, and P/E ratios over 60 are set to 60.
Conclusion
While it is very difficult, if not impossible, to truly predict the future of the markets, a very accommodative monetary policy (low interest rates, quantitative easings, operation twists, etc.) in context of slower growth in the world's three largest economies, will likely lead to subdued stock markets. In light of such an environment, investors might consider generating income by selling covered call options. Additionally, conservative investors might consider reducing portfolio holdings that are fully and/or richly valued.
Disclaimer: Please note the fact that a general recommendation made of a particular security, commodity, or investment area does not mean it is suitable for you or should be purchased by you. For example, we may already have purchased such securities at a lower cost and/or the position for you may represent too much concentration in one security or industry. Before deciding to invest you should carefully consider your investment objectives, level of experience, and risk appetite. The possibility exists that you could sustain a loss of some or all of your initial investment and therefore you should seek advice from an independent financial advisor if you have any doubts.
Disclosure: I am long EFA.
Additional disclosure: Also hold a partially covered call position in SPY.