Burger King (BKW) went public once more on June 20, which continues a long saga of fits and starts in the public markets for the company. When a private equity firm, 3G, took Burger King private just three years ago for $3.3 billion ($4 billion when including the assumption of debt), investors hammered the stock and sent it near historic lows.
Investors should note, however, that the new Burger King listing on June 20 is not a traditional IPO, as the shares are being listed by an investor in the United Kingdom, Justice Holdings, that purchased 29% of the shares outstanding for $1.4 billion. The impact of this type of listing is that fewer shares are made available than in the typical IPO process. Now that the company has been repackaged with a new stock market listing, the challenge to investors is whether there is value in the new shares of the revamped Burger King. Prior to the reorganization, Burger King had major problems in traction and menu offerings, which led it to lose significant market share to competitors McDonald's (NYSE:MCD) and, to a lesser extent, Wendy's (NYSE:WEN).
Burger King has long positioned itself nearly exclusively to young (18-24) males and to the dense urban market. This market focus on a particularly young and urban demographic prompted Burger King to create "shock marketing" campaigns, such as the "creepy king" advertisements, and led to a lack of healthy or fresh options on the menu on the product offering side. The pre-buyout Burger King was in marked discord with the rapid shift in fast food in the United States toward fresher and somewhat healthier offerings. This trend is well represented by the success and rapid revenue growth of Chipotle (NYSE:CMG), Starbucks (NASDAQ:SBUX), and Panera (NASDAQ:PNRA) in the Quick Service Restaurant (NYSE:QSR) space.
To address these changes in the industry, the private equity firms that participated in the purchase of Burger King conducted a major overhaul of the brand in terms of marketing, operations, and expansion strategies. The marketing shifted away from the "creepy king" and instead included cameo appearances by celebrities such as Steven Tyler of Aerosmith/Rock and Roll fame and David Beckham of English soccer fame. Whether that strategy will pan out is of vital concern to investors, and is a chief consideration as they decide whether or not to purchase Burger King shares. The company has also updated its menu to include fresh and healthier menu offerings, such as real fruit smoothies and an expanded line of salads.
The ticker symbol of the new Burger King, BKW, is symbolic of the shift in the company's expansion focus. Although Burger King derived two-thirds of its revenue from the United States and Canada prior to the private equity transaction, it has already made foreign expansion a key focus. For instance, Burger King has announced that it will open more than 1,000 stores in China over the next decade, a significant increase over the 63 stores present in that market today.
The early returns have been encouraging, however. Burger King grew EBIDTA from just $320 million in 2010, prior to the deal, to $503 million in 2011. With its shift to a publicly traded firm, Burger King investors will be able to gain more insight into the success of the company's turnaround on a quarterly basis, starting with its first quarterly earnings release as a public company on August 8, 2012. Since the public offering on June 20th, investors have clearly chosen to take a wait-and-see approach. The share price has shown little volatility in an otherwise volatile market, with a trading range of $15.00 to $15.80, and a recent price of $15.50.
(click image to enlarge)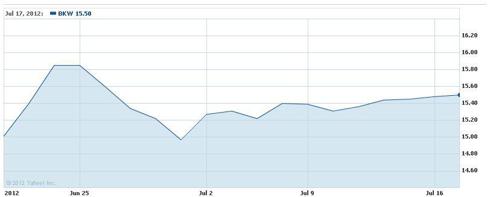 Burger King continues to face an upward battle to convince investors that it has finally solved its marketing and operational problems. Considering the company's checkered history and its challenges in dealing with a rapidly evolving industry in the United States and globally, investors would do well to hold off on making a commitment to the company for now.
Disclosure: I have no positions in any stocks mentioned, and no plans to initiate any positions within the next 72 hours.