When insiders buy shares on the open market, their companies are usually undervalued. Corporate insiders often have the inside track on their companies' prospects. Insiders probably wouldn't risk investing too much of their own money into their own companies unless they thought the stock might rise.
I screened for companies where at least one insider made an insider buy worth over $1 million for July 20th. Here are three stocks that I found:
1. JPMorgan Chase & Co. (JPM) is a leading global financial services firm with assets of $2.3 trillion and operations worldwide. The firm is a leader in investment banking, financial services for consumers and small businesses, commercial banking, financial transaction processing, asset management and private equity. A component of the Dow Jones Industrial Average, JPMorgan Chase & Co. serves millions of consumers in the United States and many of the world's most prominent corporate, institutional and government clients under its J.P. Morgan and Chase brands.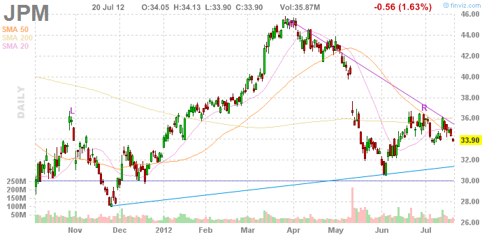 Insider buys
James Dimon purchased 500,000 shares on July 19th and currently holds 3,226,153 shares of the company. James Dimon is Chairman and Chief Executive Officer of the company.
My analysis
I believe the $32 level would be an ideal buy zone for the stock with the rising trend line if we do get the pullback to that level. The stock has a $76 price target from the Point&Figure chart.
2. Westport Innovations (WPRT) is a leading global supplier of proprietary solutions that allow engines to operate on clean-burning fuels such as compressed natural gas (CNG), liquefied natural gas (LNG), hydrogen, and renewable natural gas (NYSE:RNG) fuels such as landfill gas and help reduce greenhouse gas emissions (NYSE:GHG). Westport technology offers advanced LNG fueling systems with direct injection natural gas engine technology for heavy-duty vehicles such as highway trucks and off-road applications such as mining and rail. Cummins Westport, the company's joint venture with Cummins (CMI), designs, engineers and markets spark-ignited natural gas engines for North American transportation applications such as trucks and buses. The Westport LD division is one of the global leaders for natural gas and LPG fuel in passenger cars, light-duty trucks and industrial applications such as forklifts.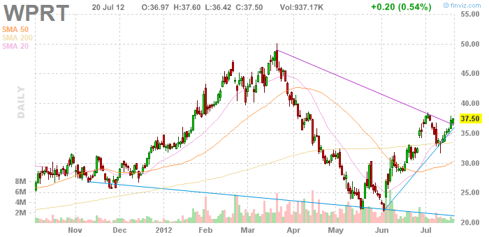 Insider buys
Kevin Douglas purchased 300,000 shares on July 18th and has purchased a total of 1.1 million shares during 2012. Kevin Douglas is an 10% owner of the company according to SEC filings.
My analysis
The stock looks ready to breakout through the $38 level. The stock has a $71 price target from the Point&Figure chart.
3. The Babcock & Wilcox Company (BWC) is a leader in advanced energy technology and services, primarily for the nuclear, fossil and renewable power markets as well as a premier advanced technology and mission critical defense contractor. B&W has locations worldwide and employs approximately 12,700 people, in addition to approximately 10,400 joint venture employees.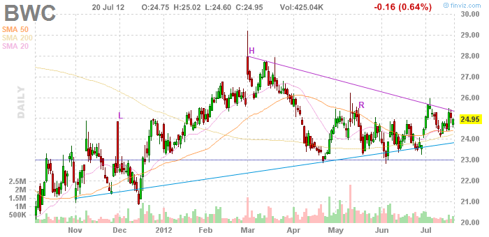 Insider buys
Mason Capital Management purchased 100,000 shares on July 18th and 373,752 shares on June 4th and currently holds 14,694,754 shares of the company.
My analysis
The stock is in a bullish looking consolidation pattern in my opinion. The stock has a $34.5 price target from the Point&Figure chart.
Disclosure: I have no positions in any stocks mentioned, but may initiate a long position in JPM over the next 72 hours.