Freeport-McMoRan Copper & Gold Inc. (FCX) released its earnings for 2Q2012 recently, which beat analyst expectations, but were below last year's results due to a macroeconomic depression and a tight copper market. However, its high dividend yield, cheap valuations, strong balance sheet position, and an increase in copper, gold and molybdenum production convinced us to reiterate our buy recommendation for the stock. Our target price is $39, while the stock is currently trading at $34.
Company Description:
FCX is the world's premier publicly-traded copper company. In addition, it is also the world's largest molybdenum producer and a significant gold producer. The following chart shows the breakdown of its FY2011 revenues with respect to various segments: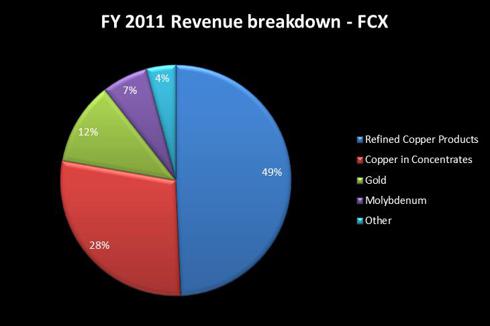 Review - Earnings Release:
FCX reported its 2Q2012 earnings yesterday, according to which its per-share income was 74c, which is a 48% YoY decline from $1.43 in 2Q2011. However, if we adjust these earnings against charges for environmental obligations and related litigations, the per-share earnings rise to 80c, beating analyst expectations of 75c per share.
The primary reason that the company attributed to the decline in its EPS is the tight conditions in the copper market, primarily driven by low copper demand (especially in Europe due to the ongoing crisis) and a decline in global inventories. However, it expects the U.S. copper demand to improve, as the recent trends in automotive and housing have been positive.
The following points, in the earnings call, substantiated our previous bullish thesis on the company:
Positive Factors:
Expected Improvement in Revenue and EPS
Freeport's revenue and EPS are expected to improve from 4Q2012 onwards amidst increasing copper, gold, and molybdenum production, an improvement in the demand for these metals, and a possible recovery of construction activity, as is indicated by a slight improvement in the Architecture Billings Index (ABI). In addition, especially in China, the expectations of monetary stimuli have increased amidst slowing economic growth, which is expected to bolster the demand for copper.
The company has traditionally been able to maintain high dividend yields, although there has been a recent dip in 2Q2012 to the current level of 3.3%. Nevertheless, its dividend yield is expected to improve in the upcoming quarters to almost 3.9%.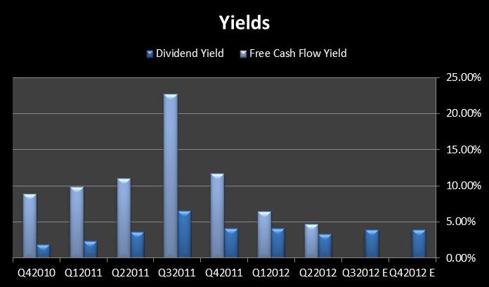 Focus on Increase in Copper Production
Copper continues to remain FCX's top priority and an increase in its production is a healthy sign. Although gold's production has reduced over time, the slight upsurge experienced as off late is a welcome trend.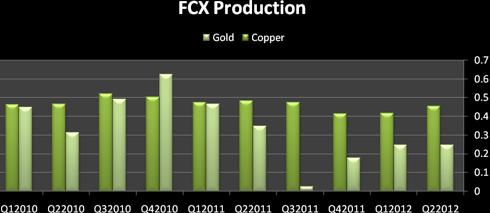 Market Performance:
The following graph shows how the price of copper and FCX's share price moved on a YTD basis, relative to the start of this year. As can be seen, FCX's share price has already dropped significantly, and we think that its current price is not reflecting the potential upside that the stock offers in terms of future growth.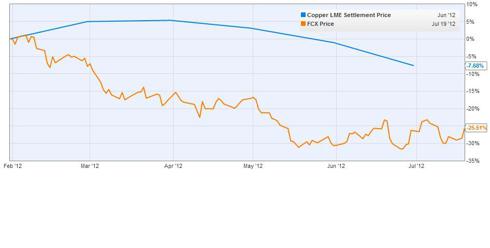 Valuation:
FCX is way cheaper than its peers, Newmont Mining Corp (NEM) and Southern Copper Corp. (SCCO), as its forward price-to-earnings ratio of 7x and EV/EBITDA of 5x are the lowest among the three.
| | | | |
| --- | --- | --- | --- |
|   | FCX | NEM | SCCO |
| Forward P/E (1 year) | 7.25 | 8.94 | 12.57 |
| PEG (5 year expected) | 1.92 | 0.15 | 1.45 |
| EV/EBITDA (TTM) | 4.62 | 5.55 | 6.9 |
| Dividend yield | 3.80% | 3.10% | 6.70% |
The stock is currently trading near $34, and is 15% lower than our target price of $39. Also, its dividend yield and long-term growth prospects enable us to reiterate a long position.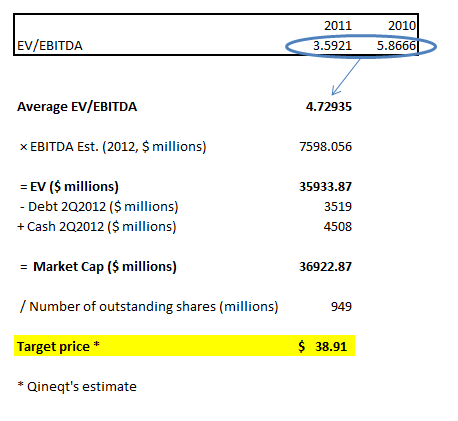 Disclosure: I have no positions in any stocks mentioned, and no plans to initiate any positions within the next 72 hours.