Hewlett-Packard (NYSE:HPQ) is one of the most respected companies in the world. The brand is synonymous with the innovation and quality. HP offers a diverse range of products to customers. It employees more than three hundred thousand people in different segments of the company. HP has been going through tough times recently. The company announced that it was going to spin off PC segment, and the PSG (Personal Systems Group) was also under strategic review. PSG contributes the biggest part of revenues for HP. This strategic review announcement caused a sizeable confusion in the market. The news rocked the boat; there was panic in the market and among the investors. The news had a negative impact on the stock price, and also created confusion among the employees.
After the change of CEO, the things started to clear. Meg Whitman, CEO of HP, announced that the company was not abandoning PCs business. There was a relief among the consumers, investors and employees. Mark Hurd, previous CEO, made a lot of acquisitions and expanded the company into different markets. These acquisitions were expensive; payments for goodwill were way over the top. The investors are more concerned how the company plans to utilize these acquisitions. Due to these concerns, the company lost near half of its market cap in the last year alone.
Stock Performance:
images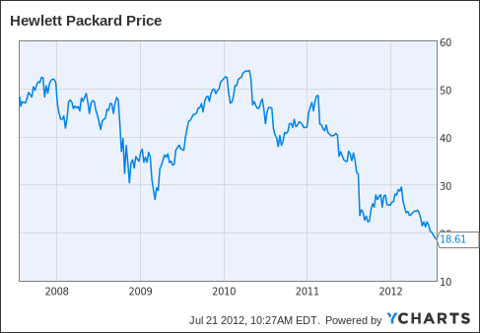 HP stock closed the last week at a price of $18.61. The stock lost 2% in the last week alone. HP stock has been in a decline since March of 2012. Average volume traded for the stock is 17.11 million shares. 52-week range for HPQ stock is $18.50 - $37.70. At the current price, the stock is trading near 52-week lows. HPQ has a market cap of $36.7 billion. Beta is slightly high at 1.4.
Ratio Analysis and Financial Performance:
HP has a trailing P/E ratio of 7.21, an EPS of $2.57 and dividend yield of 2.8%. Net profit margin for the second quarter of 2012 was 5.19%, slightly less than the last year. Operating profit margin for the first two quarters stood at 7.24%. HP has a return on assets of 5.03% and ROE of 15.88%. HP has an impressive price to sales ratio of .31. The company generated a net profit of over $5 billion in the last 12 months.
The biggest segment contributing to revenues is the personal systems group. Personal systems group includes notebooks, desktops and workstations. Services and imaging were the next key contributors to the revenues. Enterprise servers, storage and networking (ESSN) stood at the 4th place in terms of revenues. HP financial services, software and corporate investments contributed a relatively smaller amount towards the revenues.
Year on year change in the PSG segment profits was flat. There was an increase of 3% in commercial revenues; on the other hand, there was a decline of 4% in consumer revenues. Desktop sales went up by 5%, and workstations sales went down by 1%. There was a decline of 6% in sales for notebooks. Services and imaging revenue declined 1% and 10% respectively. There was a decline of 5% in revenues from the enterprise servers, storage and networking. Financial services revenue increased by 9%. Biggest increase was in the software section of 22%.
Competitor Analysis: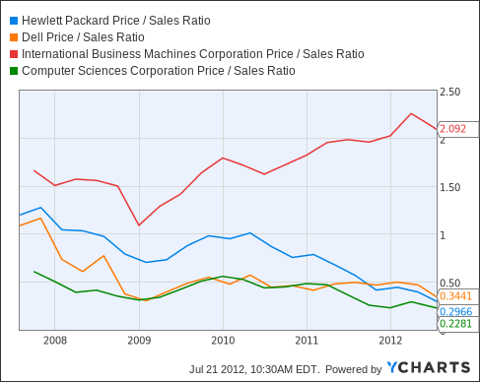 Price / Sales Ratio data by YCharts
HP claims to sell a complete package of hardware, software and services to its consumers. Its main rivals are IBM (NYSE:IBM), Dell (NASDAQ:DELL) and Computer Sciences (CSC). While its competitors also support attractive ratios, HP has a cheaper P/S ratio than all of its competitors. Its P/B ratio is also attractive. A forward P/E of just above 4 makes it a cheap buy at the moment. IBM, a Warren Buffett favorite, has a P/E ratio of 14.55, and a forward P/E ratio of 11.75. Current P/S ratio of 2.03 for IBM is significantly higher than P/S ratio of HP. Computer Sciences has a negative EPS at the moment, rendering its P/E meaningless. It has a forward P/E estimate of 8.8. P/E ratio for Dell is 6.93 and a forward P/E of 6.01. It has a P/S ratio of .34.
Summary:
HP has been through some rocky times during the past eighteen months. The company was lacking direction. Expensive acquisitions of the past and diminishing profit margins brought the company in hot water. Right now, company management looks focused, and the organization seems to have found the direction. HP relies heavily on the PSG. Although there is always the talk of PCs going out of fashion, there is still enormous demand for PCs. Tech specialists like to have PCs in their infrastructure. There is still need for improvement in PCs though; HP needs to make PCs more relevant to the needs of its customers. The company has over three hundred thousand brilliant employees and a loyal customer base around the world. It is a brand with a lot of diversity and innovation. The company is also shifting focus to the future. While the risks are inherent, HP could be the next successful turnaround story. The current stock price offers a compelling entry point to enjoy the potential rise of this giant.
Disclosure: I have no positions in any stocks mentioned, and no plans to initiate any positions within the next 72 hours.