One of the most important lessons that I have learned from Warren Buffett is that bonds should not automatically be associated with the words "risk-free" when incorporated as part of an income investing strategy. The perceived safety that comes with principal preservation (when bonds are held to maturity) and a predictable payout can lull investors into the belief that a steady and guaranteed payout implies "risk-free."
The problem is that bonds that pay 1-2% annually are anything but risk-free. If you have a personal inflation rate in the realm of 3-5% annually, you are locking yourself in to a loss of purchasing power. If you put $100,000 into bonds yielding 1.5% and your personal inflation rate is 4% annually, that $2,500 difference translates into a loss of purchasing power-although you see your $100,000 grow to $101,500 from 2012 to 2013, the higher inflation rate ensures that your $101,500 in 2013 cannot buy as many goods as $100,000 in 2012 (note: this analysis does not apply to emergency funds, where the need for easy and guaranteed liquidity may trump the pursuit of greater purchasing power).
A common misconception is that, even though these bonds may be losing purchasing power, they are automatically safer than blue-chip stocks. In some sense, this can be true. It's fair to assume that the risk of the Board of Directors for McDonalds (NYSE:MCD) deciding against paying out another $0.70 dividend is greater than the likelihood of a government default on its obligations. But while this may be true when you compare an individual blue-chip stock's dividend policy with that of the US government's commitment to bonds, it becomes less true as you expand from an individual stock to a basket of stocks.
The key to understanding how blue-chip stocks can conceivably be safer than bonds is to think of an entire blue chip stock portfolio. One one hand, you can buy a bond backed by the US government for 1.5%, which is guaranteed. Or you could create a blue-chip fund substitute. When I compare the safety of stocks to bonds, I'm envisioning the comprehensive power of a portfolio that looks like this: McDonalds, Coca-Cola (NYSE:KO), Exxon Mobil (NYSE:XOM), Colgate-Palmolive (NYSE:CL), Hershey (NYSE:HSY), Abbott Labs (NYSE:ABT), Pepsi (NYSE:PEP), The Southern Company (NYSE:SO), US Bancorp (NYSE:USB), Kraft (KFT), Johnson & Johnson (NYSE:JNJ), Philip Morris (NYSE:PM), Procter & Gamble (NYSE:PG), Kimberly-Clark (NYSE:KMB), Chevron (NYSE:CVX), AT&T (NYSE:T), Wells Fargo (NYSE:WFC), Nestle (OTCPK:NSRGY), Disney (NYSE:DIS), Walgreen (WAG), Unilever (NYSE:UL), Wal-Mart (NYSE:WMT), and Realty Income (NYSE:O).
image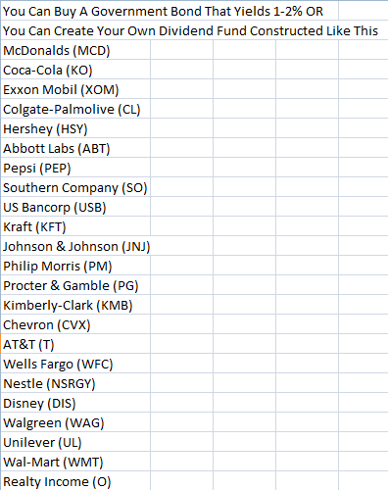 In my eyes, the dividend strength of this comprehensive portfolio is approximately equal to income from US bonds. And even if it is not, the trade-off is worth the risk: by whatever amount this blue chip portfolio may lack the safety of the US government, it is compensated by the fact that investors in this blue chip fund will receive an initial yield over 3% that has the likelihood of growing by a rate greater than inflation over time. US bonds that yield 1-2% can make no such promises.
If you compare the strength of one blue chip stock to that of the safety of a US bond, the US bond may seem to come with less risk (because the guaranteed purchasing power loss of 1-2% may not be as bad as dealing with the likelihood that Coca-Cola may cease to pay a dividend). But the equation shifts when you begin to think of a blue chip portfolio comprehensively. Imagine owning the thirty or so most dominant firms in the world, and then compare the initial dividend yield and income growth potential of those thirty stocks to that of the US government. A comprehensive blue chip portfolio can be safer than bonds because it does not seem to guarantee the loss of purchasing power that US government bonds present, and most of these firms have records of growing dividends by at least 7% annually, which offers investors the opportunity to double the rate of their income's growth relative to the inflation rate each year. If we define safety and risk in terms of maintaining or growing purchasing power, a blue-chip stock portfolio seems to have bonds beat.
Disclosure: I have no positions in any stocks mentioned, and no plans to initiate any positions within the next 72 hours.