Not that this may come as a surprise to anyone, but the euro may continue to fall. It's hard not to realize there is some trouble across the pond just by reading a few daily headlines. However, it is important to test fundamental and technical analyses to find if they support the thesis as well.
Continued turmoil in the eurozone has put significant downward pressure on the Euro. As spending cuts and tax hikes drag Europe along a path to nowhere, chances of any positive growth seem to be near zero. More recently, a dismal bond auction in Spain increases these concerns. Low demand and increasingly ineffective austerity programs have scared off most investors while the yield on Spain's 10-year bond climbed 6 points to 6.969%, dangerously closer to the unsustainable 7% level (source). The lack of confidence weakens the euro as investors sell and minimize their exposure. There are proponents of the European Central Bank (ECB) playing a bigger role in this resolve. Although the ECB's main task is to maintain eurozone price stability and purchasing power, a more stimulative and QE-like policy may need to be enacted to lower long-term interest rates for debt-laden countries. Investors seem to be pricing in an inflationary bond purchasing program into the EUR/USD sending it lower.
Technical factors also lead us to believe that the euro will continue to fall. By looking at an 18-month chart of the EUR/USD, we can see that the EUR/USD peaked in May 2011 just under 1.5000. Since that time, it has tumbled down into the range of 1.2200. There have been small upward retracements along the way but each has turned again downward pushing the EUR/USD lower.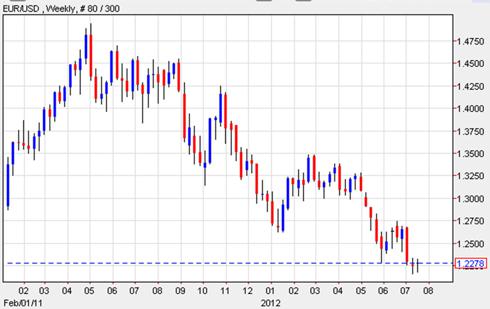 More recently, note the bear flag continuation pattern that has been forming since earlier this month in the chart below. The flag pole begins at about 1.2692 and reaches down to 1.2157. The "flag" has pushed upward to a line of resistance at 1.2341.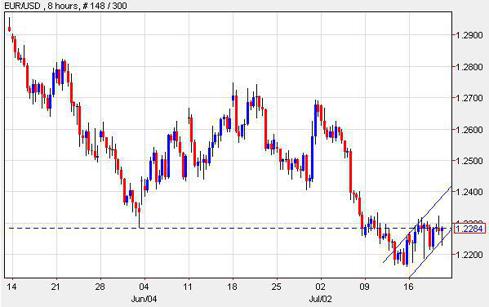 We should be on the lookout for the EUR/USD to break a support line at 1.2250 and continue its current downward trend. The upward "flag" may have developed because of recent and ambiguous statements made by Fed Chairman Bernanke regarding further monetary policy (see here). This action would weaken the dollar and push the currency pair higher. However, with no answer yet on another QE3 or "operation twist", sellers should reenter the market pushing the EUR/USD further downward.
Disclosure: I have no positions in any stocks mentioned, and no plans to initiate any positions within the next 72 hours.