Texas Instruments (NYSE:TXN) reports 2nd quarter, 2012 earnings after the bell on Monday, July 23rd, with analyst consensus looking for $0.41 in earnings per share (EPS) on $3.35 billion in revenues for expected year-over-year declines of -27% and -3%.
Since The Texan (as some like to call it) gives a mid-quarter update, we know that TXN guided to the midpoint of its revenue and EPS range initially given during the April report, so there hasn't been much of a change in analyst numbers since that point.
With TXN trading at $27 per share, the stock is being valued at 15(x) 2012's expected full year EPS of $1.74 and 12(x) 2013's expected full year EPS of $2.30.
There has been downward pressure to full year 2012 and 2013 EPS estimates.
Semi's (and TXN is part of the group) can be a tough group to trade, given their high degree of operating leverage (high fixed costs with the fab's and such) and volatile revenues, but most investors and analysts think that the group is closer to a bottom than a top.
Longer-term investors think TXN is worth in the mid to high $30's when the cycle turns, since gross margin expands, and EPS gets the benefit of operating leverage, but you play a waiting game until then.
Last quarter, TXN's gross margin was 49%. We like to buy closer to 45% and be a better seller as TXN's gross margin gets closer to 55%.
To buy TXN today you need a longer-term time horizon, and a belief that faster economic growth will drive a turn in the sector.
Technically, TXN is sitting near its 200-week moving average near $26 per share, ( a technical level its only taken out in the tech bear market in '01 and '02 and then again in '08 - '09), with low expectations coming into the report. Most semi companies have surprised to the upside and gotten a nice pop after reporting (and we are not saying TXN will do so Monday night) but a stop-limit below $26 would limit a trader's risk if you bought ahead of earnings.
Morningstar has a fair value on TXN of $38, while our own intrinsic value calculation is closer to $35. Not including the dividend, a run from $27 to $35 for TXN is a 30% return, which isn't too shabby, but longer-term investors must wait for the turn.
Click to enlarge: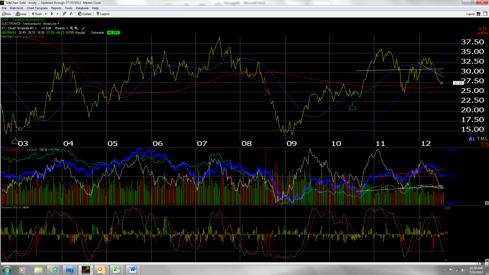 Disclosure: I have no positions in any stocks mentioned, but may initiate a long position in TXN over the next 72 hours.