UIL Holdings Corporation (UIL) is a New England utility operating in Connecticut and Massachusetts. It supplies electricity and natural gas to customers in these areas. From my days in New England, I can still remember the many homes that used heating oil as their heating fuel. This is still true today even though the price of natural gas is far lower with the plethora of new shale gas fields in the US. As of July 1, 2012, a typical price per therm (100,000 BTU) of residential natural gas was only $0.69, while the price of residential heating oil was $2.42 per therm.
Assuming equal efficiencies of the heating systems, heating oil is approximately 3.5 times more expensive a heat source for residential customers. Not many people will want to continue paying this much more for heat over the long term. Most will want to convert to natural gas, especially since natural gas is currently predicted to sell for much less in energy equivalent terms for many years to come in the U.S. Some will want to convert to natural gas for environmental reasons. NatGas is cleaner burning than heating oil.
UIL says that fully 35% of the potential heating customers along its current natural gas mains do not use natural gas. A small percentage use electricity. However, the great majority of the non-natural gas customers use heating oil. This means that there are many potential converts who can provide cheap and easy growth potential for UIL. As of May 2012, UIL had approximately 178,000 NatGas customers for Southern Connecticut Gas, approximately 160,000 NatGas customers for Connecticut Natural Gas, and approximately 36,000 customers for Berkshire Gas Company for a total of approximately 374,000 natural gas customers.
If this only represents 65% of the potential customers along its current gas main lines, an almost no cost expansion to 80% natural gas use by potential customers would yield approximately 460,000 customers (23% growth or perhaps more). UIL has only recently made strong headway on conversions. Only in recent years has the price differential of NatGas versus heating oil been so much in favor of NatGas.
On top of this, the recent American Community Survey shows that 48.9% of housing units in Connecticut currently use fuel oil as a heating source. This gives UIL huge further potential to expand within Connecticut to areas that are paying far too much for home heating. UIL will have to put in new mains in many of these cases, but it will be able to get customers to pay for them when it does so. In addition 14.9% of homes in Connecticut use electricity for home heating.
This too is more expensive than natural gas. A typical price for electricity is $0.06 per kilowatt hour. For electricity to be cost competitive, NatGas would have to cost approximately $1.77 per therm. The July 1, 2012, residential NatGas price I quoted above was only $0.69 per therm. This means electricity is approximately 2.5 times more expensive than natural gas. Given that there are many highly inefficient electrical heating systems, the actual price differential could be much more than this.
To put some specific numbers to the above. UIL converted 2,797 customers to NatGas through mid-April in 2012. This was a 29% increase over the same period in 2011.The FY2012 goal is to convert 10,200 customers to NatGas. This is a 50% increase over the 6800 conversions in 2010 and a 22% increase over the 8300 conversions in FY2011. The target is 30,000-35,000 conversions to NatGas for the period of 2011-2013. UIL estimates that each new residential customer will generate approximately $280-$315 of distribution net operating income annually.
UIL is also considering potential main expansions. For example, UIL may add 12,000 feet of new main around Woodbridge, CT. this would include schools, municipal facilities, a religious facility, and 80 residential homes with further future expansion possible. If you add in the possibilities of extra conversion customers and extra expansion customers, UIL should have a bright growth future.
UIL also has approximately 324,000 electricity customers for its United Illuminating Company. This provides distribution and transmission services throughout a service territory of 335 sq. miles. It includes a 50% interest in GenConn Energy LLC. UIL has the typical infrastructure build and replacement projects going in this segment. UIL is also participating in the New England East-West Solution (NEEWS). Plus it is keeping up with all of its necessary regulatory filings to ensure that the company makes the money it should.
UIL trades as a PE of 20.19 and an FPE of 16.19. It has a low Beta of 0.57, which is what you want in this troubled market. It is on the small side with a market cap of only $1.90B. However, it pays one of the highest dividends for a utility of 4.63%. Plus the average analysts' next five years EPS growth per annum estimate is +4.10%.
Given the potential for adding NatGas customers via switch over's from heating oil, this seems a likely underestimate. In fact the EPS growth estimate for this year is 7.70%; and for next year it is 10.00%. Both of these seem much more realistic estimates. They constitute high growth for a utility. The potential growth, the dividend, and the sound value (Price/Book = 1.68) make UIL a buy. UIL's statistics compare very favorably to other top utility companies.
If you are interested in a few of the other top utilities, you might look at Consolidated Edison (ED), Southern Company (SO), and Wisconsin Energy (WEC).
The two-year chart of UIL provides some technical direction for the trade.
Click to enlarge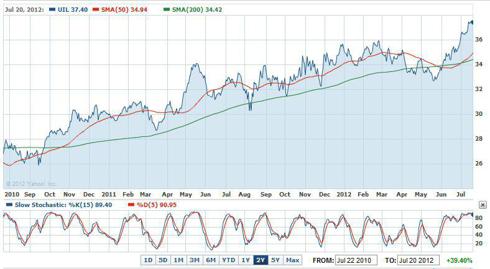 The slow stochastic sub chart shows that UIL is overbought. The main chart shows that UIL has been in an uptrend for the last two years. The price line is far above the 200-day SMA and the 50-day SMA. This may mean that a wary investor might wish to wait for a cycle down to the 50-day SMA or below to buy. On the other hand the recent movement upward of the 50-day SMA through the 200-day SMA is a buy signal. This might make one want to average in.
The overall US markets are near overbought territory. The fear of trouble in Europe was back in force at the end of last week with higher bond yields seen in both Spain and Italy. Sicily has applied for a bailout from Italy. Some are saying that Sicily is another Greece. The Italian government has given it a 400 million euro bailout. If the past is any indication, that is only the start.
Sicily faces a budget deficit of $7B euros this year alone, and it is in danger of default without sweeping cuts. On top of this, it is highly questionable how much Italy can afford to bailout anyone. For these reasons (and others), I think the overall US markets may be likely to retrace in the near term. Such a retracement might provide investors with a better entry point for a UIL trade.
NOTE: Some of the fundamental financial data above is from Yahoo Finance.
Good Luck Trading.
Disclosure: I have no positions in any stocks mentioned, but may initiate a long position in UIL over the next 72 hours.