The telecommunications equipment group, as represented by the iShares S&P North American Tech - Multimedia Network ETF (NYSEARCA:IGN) has underperformed the general market, off by almost 40% from the highs in Q1 of last year, and down 10% YTD to multi-year lows, compared to the almost 10% rise YTD in the S&P 500. While global macro-economic concerns persist, particularly in Europe, communications equipment infrastructure is widely expected to rebound sometime next year. In that scenario, many leading telecom equipment stocks should rally sharply off of their lows.
In this article, we analyze the investments of 25 of the world's largest or mega fund managers in the telecommunications equipment group. These mega fund managers together account for almost 40% of the assets invested in the U.S. equity markets and manage between $100 billion and over a trillion dollars each. Also, together, they are bullish on the group, adding a net $2.99 billion in Q1 to their $105.91 billion prior quarter position in the group.
The investing activities of these mega fund managers in the group in the prior quarter can be found here. The following are the telecom equipment companies that these mega fund managers are most bullish about (see Table):
Akamai Technologies Inc. (NASDAQ:AKAM): Akamai is a global provider of services that help enterprises and e-businesses improve the delivery of their content and applications over the Internet. Mega funds together added a net 10.52 million shares (or $318 million) in Q1 to their 62.94 million share prior quarter position in the company, and taken together mega funds held $2.22 billion or 41.0% of the outstanding shares.
The top buyers were T Rowe Price Associates, with $520 billion in assets under management, that purchased 7.30 million shares, and mutual fund powerhouse Fidelity Investments, with $555 billion in 13-F assets, that purchased 2.83 million shares. Overall, institutional investors added 0.7 million shares in Q1 to their 133.5 million share prior quarter position.
In its latest Q1 (March), AKAM beat analyst revenue and earnings estimates (41c v/s 38c), while also raising its revenue projections for Q2 ($322-330 million v/s $315 million). But it projected soft earnings for Q2 (36c-38c v/s 39c), raising fears of heightened competition in the space that may lead to lower margins (and earnings) going forward. Its shares trade at 16 forward P/E and 2.5 P/B compared to averages of 30.7 and 3.1 for its peers in the internet services group, while earnings are projected to rise at a 10.6% annual rate from $1.52 in 2011 to $1.86 in 2013.
The telecommunications equipment sector is constantly evolving, and while competitive threats abound, both with respect to traditional competitors as well as alternative disruptive technologies, the company is a leader in the rapidly growing CDN space, and has ample opportunities going forward in cloud computing and cyber security. As such, we believe that shares are attractively priced here, with most of the known negatives already priced in, and would buy them on a dip into the mid-$20's.
Other telecom equipment stocks that mega fund managers are bullish about include:
The following are telecom equipment companies that mega funds are bearish about (see Table):
Corning Inc. (NYSE:GLW), a manufacturer of glass substrates for LCDs, optical fiber and cables for communications and ceramic pollution control products, with Its LCDs used in high-performance displays for TVs and smart phones, in which mega funds together cut a net 65.97 million shares from their 542.30 million share prior quarter position in the company;
Swedish manufacturer of wireless and fixed-line telecom networks and handsets LM Ericsson (NASDAQ:ERIC), in which mega funds together cut a net 11.46 million shares from their 39.55 million share prior quarter position in the company; and
Alcatel-Lucent ADS (ALU), the French telecommunications giant, that is a leading provider of telecommunications equipment and services to fixed line, wireless and Internet service providers, in which mega funds together cut a net 46.59 million shares from their 132.24 million share prior quarter position in the company.
Furthermore, the following are additional notable holdings of mega funds in the telecom equipment group (see Table):
F5 Networks Inc. (NASDAQ:FFIV), a leading provider of integrated Internet traffic and content management solutions, in which mega funds together hold 33.51 million or 42.2% of the outstanding shares;
Ciena Corp. (NASDAQ:CIEN), that is a designer of Ethernet transport and switching systems used in network infrastructure by telecom and cable service providers, in which mega funds together hold 31.90 million or 32.3% of the outstanding shares;
Comverse Technology Inc. (NASDAQ:CMVT), that is a provider of computer and telecom systems and software for multimedia communications and information processing applications, used in a broad range of applications by fixed and wireless telephone network operators, government agencies, call centers, financial institutions and other public and commercial organizations worldwide, in which mega funds together hold 67.39 million or 30.8% of the outstanding shares; and
JDS Uniphase Corp. (JDSU), that is a provider of communications test and measurement solutions and optical products to telecommunications service providers, cable operators and network equipment manufacturers, in which mega funds together hold 97.02 million or 41.9% of the outstanding shares.
Table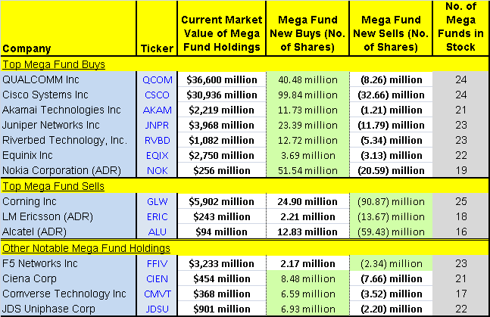 General Methodology and Background Information: The latest available institutional 13-F filings of the largest 25 mega hedge fund and mutual fund managers were analyzed to determine their capital allocation among different industry groupings, and to determine their favorite picks and pans in each group. These mega fund managers number less than one percent of all funds and yet they control almost half of the U.S. equity discretionary fund assets. The argument is that mega institutional investors have the resources and the access to information, knowledge and expertise to conduct extensive due diligence in informing their investment decisions. When mega Institutional Investors invest and maybe even converge on a specific investment idea, the idea deserves consideration for further investigation. The savvy investor may then leverage this information either as a starting point to conduct his own due diligence.
This article is part of a series on institutional holdings in various industry groups and sectors, and other articles in the series for this and prior quarters can be accessed from our author page.
Disclosure: I have no positions in any stocks mentioned, and no plans to initiate any positions within the next 72 hours.
Disclaimer: Material presented here is for informational purposes only. Nothing in this article should be taken as a solicitation to purchase or sell securities. Before buying or selling any stock you should do your own research and reach your own conclusion. Further, these are our 'opinions' and we may be wrong. We may have positions in securities mentioned in this article. You should take this into consideration before acting on any advice given in this article. If this makes you uncomfortable, then do not listen to our thoughts and opinions. The contents of this article do not take into consideration your individual investment objectives so consult with your own financial adviser before making an investment decision. Investing includes certain risks including loss of principal.