As most of you know, I generally always recommend "triple-net" REITs as a durable alternative for most SWAN (sleep well at night) investors. Although the specialty REIT sector is not considered a major "food group" (i.e. retail, office, industrial, residential), the free-standing category (or triple-net sector) has always provided investors with extraordinarily consistent returns.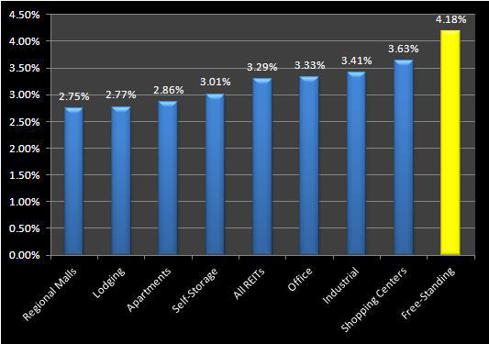 Triple-net REITs own properties leased primarily to single tenants in separate buildings who pay for all maintenance expenses, property taxes, and insurance. These leases tend to have longer durations (between 10 and 20 years) and most leases generally provide for fixed rental increases (either annually of every five years).
Because of the nature of the long-term rental structures, the triple-net REITs provide for a low-risk value proposition; however, the dividend yields on these shares have been significantly higher than those of typical equity REITs. Many REIT investors view triple-net REITs as tantamount to bond proxies as both asset classes bear a striking resemblance to the defensive safe-margin characteristics of principal preservation and sustainable income.
Essentially, the defensive fixed-income investor is seeking a "bond-like" investment in a real estate wrapper. While you can invest in Walgreen's (WAG) stock paying a dividend yield of around 3.2 percent, alternatively, you can acquire a triple-net leased Walgreen property (with more security than the stock) and achieve an unleveraged return of approximately 6.0 percent to 6.5 percent. Most Walgreen leases are 25 years (excluding options) with minimal to no management responsibilities - making this type of investment comparable to a bond.
Of course, unlike traditional customized real estate investing, REITs provide valuable diversification attributes and particularly the triple-net REITs. Accordingly, the triple-net REITs are made up of hundreds (and in some cases thousands) of separate single-tenant leases that allow investors to achieve broad income diversification. A lack of diversification produces real risk for property ownership investment strategies and as Ben Graham wrote (in The Intelligent Investor),
For most investors, diversification is the simplest and cheapest way to widen your margin of safety
Triple Net REITs
Great investing requires both generating returns and controlling risk and most investors today understand that recognizing risk is an absolute prerequisite for controlling it. The triple-net REIT sector is, in my opinion, one of the safest income alternatives around as the long-term leased properties provide a strong foundation for diversification and quantifiable risk control.
Accordingly, the consistency in triple-net leased properties creates consistency in REIT profits and this consistency and durability are attributes that make the free-standing specialty sector a competitively advantaged sector (compared with the other REIT sectors). Realty Income (O) and National Retail Properties (NNN) have enjoyed an exceptional track record for paying and increasing dividends as these two REITs are have collectively paid increased dividends for over forty years straight (for more information on dividend champions you can see David Fish's DRIP Investing Resource Center here).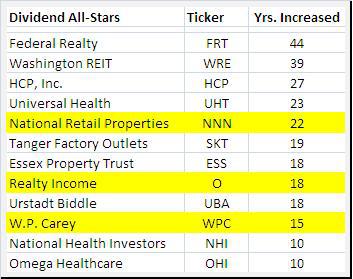 Other triple-net REITs include American Realty Capital Trust (ARCT-OLD) - a new publicly listed REIT that I wrote on a few months ago when the company listed - American Realty Capital Properties (ARCP) and Agree Realty (ADC) - a smaller Michigan-based REIT that I wrote on a while back. Also, W. P. Carey & Company (WPC) is close to merging its Corporate Property Associates 15 Inc. (CPA®: 15) non-traded REIT into W. P. Carey & Co., LLC during the third quarter and upon merging these two entities, the merged company will become a publicly-listed triple-net sector REIT (see recent article that I wrote on Carey here).
Lexington Realty Trust (LXP) and its predecessor companies have been in the business of investing in single-tenant net-lease properties since 1973. For more than three decades the company has been a market leader in net lease investing and providing shareholders with consistent growth and returns throughout any business cycle.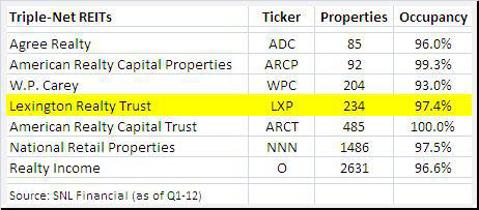 Lexington Realty Trust
Unlike many of the other triple-net REITs, Lexington Realty Trust invests in larger "big box" transactions. The Lexington property portfolio consists of around 227 properties with around 41.6 million square feet (average property size is 183,259 square feet). This nationwide portfolio is made up of highly desirable general use office, industrial, and retail facilities that are critical to tenants' operations and business plan execution strategies (source: LXP Spring 2012 Presentation).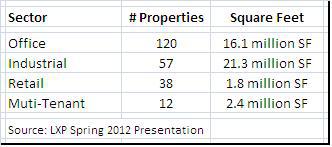 Many of the Lexington Trust assets are well located, predominantly within suburbs of major metropolitan areas. Accordingly, this broad geographic model is illustrated by the snapshot below (of the top concentration by state):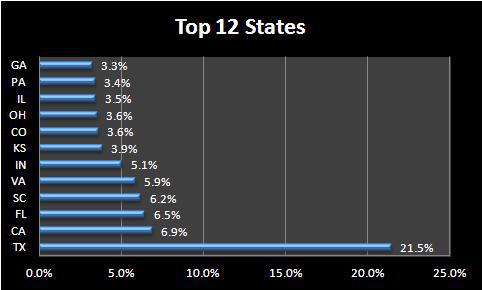 In addition, Dallas, Los Angeles, Memphis, and Houston are the top markets where Lexington Trust owns around 25 percent of its overall portfolio: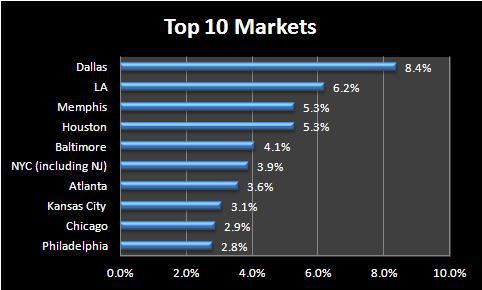 As a triple-net REIT, Lexington Trust provides sharper tenant-based differentiation that has resulted in greater competitive advantage. Because Lexington's operating expenses are paid by the tenants, the predictable cash flows have resulted in a soundly repeatable fixed-income model. The diversified portfolio of net-leased properties provide Lexington investors with predictable and steady source of dividends.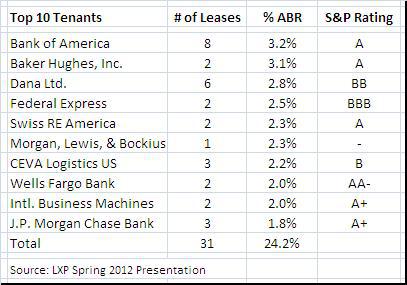 A large majority of Lexington's tenants have investment grade credit ratings and that has allowed the REIT to build its strategies on vivid and hardy forms of differentiation. Only 16 percent of Lexington's tenants are non-investment grade (based on revenue).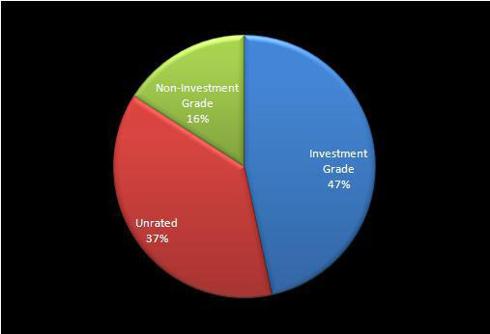 By reducing debt and selling non-core assets (reduced from 278 properties to 234 properties), Lexington has been focusing on refining its core "quality" instead of "quantity" value proposition. Here is a snapshot of Lexington's historical properties owned: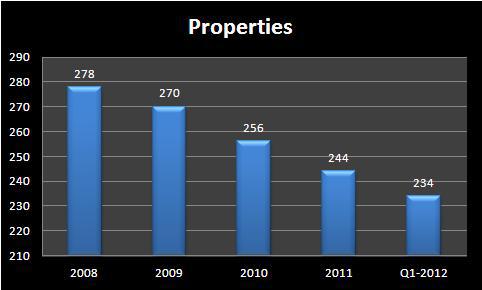 As a result of improved investment strategies (reducing debt, improved credit quality, non-core property dispositions), Lexington has done an exceptional job at growing its overall occupancy levels. Here is a snapshot of the REIT's historical occupancy levels (including first quarter 2012 results):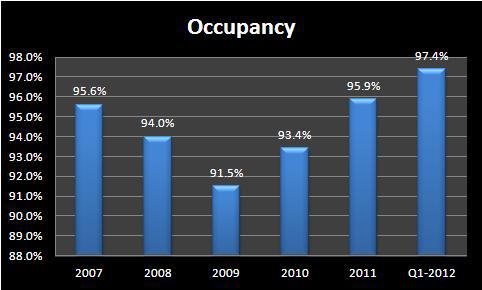 Lexington Scores with Organic Acquisitions
One way that Lexington builds accretive growth for shareholders is by providing funds to corporations seeking to raise capital through the sale of their real estate holdings (aka "sale-leaseback"), and to developers who are engaged in "build-to-suit" projects for corporate users. Lexington has developed an exceptional track record for originating high-quality yield-enhanced net-leased transactions.
By acquiring properties in the early stages of development (or by a direct sale-leaseback), Lexington is able to capture attractive higher yielding properties that result in substantially higher margin profits (and dividends). With average cap rates (pre-leveraged yields) of around 9.1 percent and annual rent increases (of around 2 percent), Lexington provides shareholders with a compelling investment proposition (here is a snapshot of several recent build-to-suit transactions announced by Lexington):

Relative to its peer group, Lexington trades at implied cap rates that are significantly higher than the others. This enhanced property-level valuation strategy provides Lexington investors with a higher margin of safety that results in a more defensive income alternative.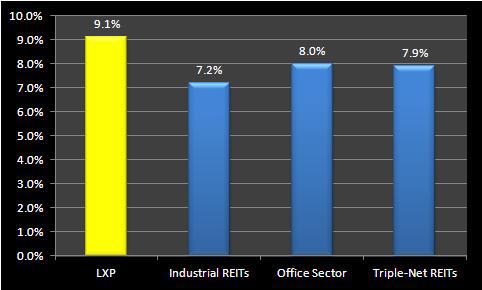 Lexington Plays Defense with Improved Balance Sheet
Of course sometimes the best offense is a good defense and Lexington has shown it can play both. Since 2008, Lexington has reduced its debt from $3.048 billion to $1.661 billion (a reduction of $1.387 billion). With around 37 percent mortgage debt, Lexington has made great progress with reducing its overall debt-based capitalization (snapshot below in $US billions).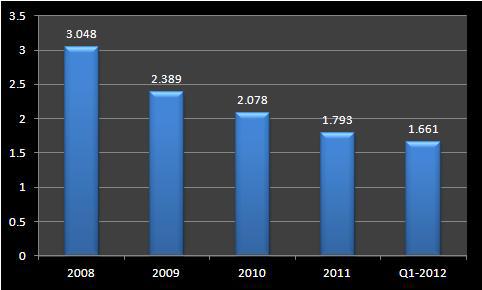 Lexington's debt consists of around $1.236 billion in mortgage debt. Here is a snapshot of the REIT's overall debt composition:

Recently Seeking Alpha contributor Dane Bowler wrote an article on Lexington Trust and he wrote:
Exploiting the low interest rates of the moment, Lexington underwent a Credit Facility Upgrade in which it replaced its old facility with one of lower rates. In the same press release (linked above), Lexington announced procurement of a $215mm term loan at a rate of LIBOR +2%-2.8% continuously adjusted based on leverage ratios. To further capitalize on low interest rates, Lexington secured a $55mm Long term Mortgage on the Transamerica tower in Baltimore at a fixed rate of 4.32%.

Access to cheap debt allowed Lexington to clean up some of its more expensive debt. This was done through redemption of its 8.05% Series B Preferred announced 4/30/12. During 1Q12, Lexington repurchased and retired 34,800 shares of its 6.50% Series C Cumulative Convertible Preferred Stock for $1.5 million, which was a $0.3 million discount to the liquidation preference. Although small, the $0.3mm savings directly and immediately contributed to common equity, while the reduction in dividend expenditures will make for longer-term gains.
As Bowler explained above, Lexington's capital structure has been improved and the flexibly-enhanced balance sheet should provide investors with improved income performance. Here is a snapshot of Lexington's capital composition: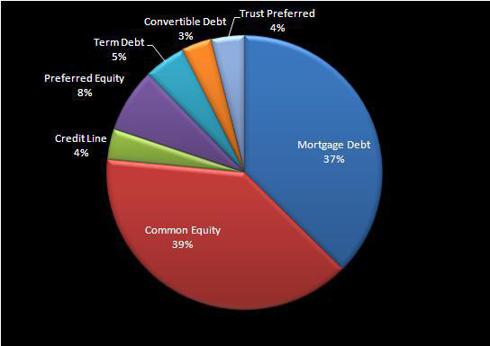 Lexington - Score Nothing But Net
Lexington has a conservative payout ratio relative to its peers and the REIT sector. By retaining cash flows reinvested (and reducing debt), Lexington has one of the lowest payout ratios - that will improve growth prospects over time. As evidenced below, Lexington has a payout ratio of 53.2 percent or around 50 percent less than its peer sector group.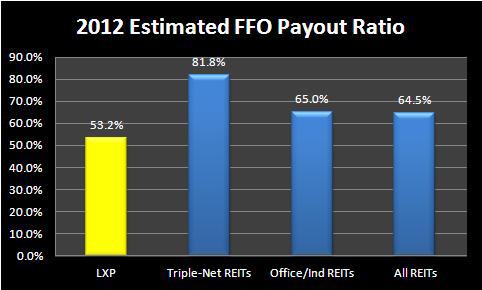 As of the first quarter (2012), Lexington's FFO payout ratio was 52.1 percent while the four others below averaged over 100 percent.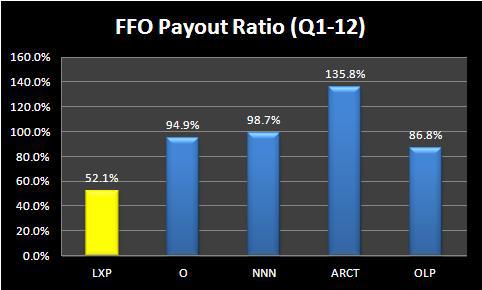 Accordingly, Lexington's FFO multiple of 8.6x is well below the peer sector REITs.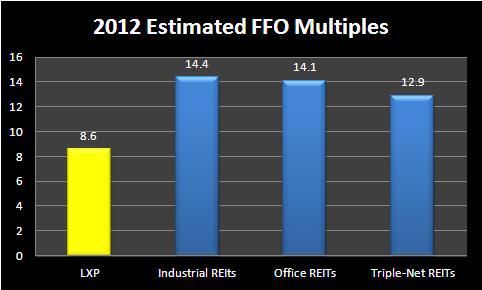 Lexington has a current dividend yield of 5.62 percent and the triple-net REIT has significant capacity for future dividend growth. Lexington has increased its dividend yield by 25 percent over the last two years and the risk-aligned alternative is a compelling equity alternative.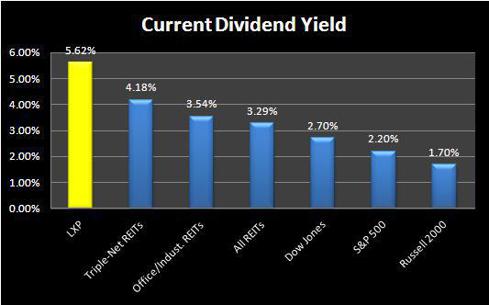 Compared with its peer group, Lexington is paying an above average yield (of 5.62 percent) and the deleveraged balance sheet strategies should result in improved valuation. In addition, the risk management practices (three decades of experience) should further enhance income growth by leveraging the organic acquisitions resulting in accretive income performance.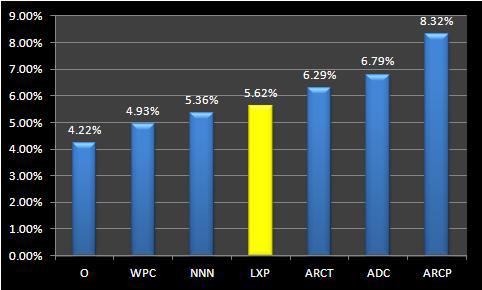 Lexington Trust has a current market capitalization of $1.384 billion and the current stock price is $8.89 (52 week high was $9.34). Lexington's high level of predictable income (high quality tenants, high occupancy levels, and long-term leases) provide investors with strong sources of differentiation that will result in repeatable sources of compounding income.
Lexington Realty Trust should continue to score "nothing but net" as the sharp shooting triple-net REIT continues to grow its dividend yield. As the chairman and cofounder of Oaktree Capital Management (and author), Howard Marks wrote (in The Most Important Thing):
When you boil it all down, it's the investor's job to intelligently bear risk for profit. Doing it well is what separates the best from the rest.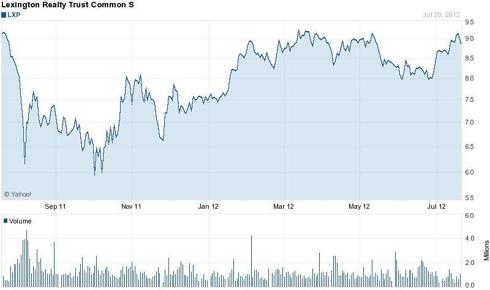 Source: SNL Financial, Yahoo Finance, and NAREIT.
Disclosure: I have no positions in any stocks mentioned, and no plans to initiate any positions within the next 72 hours.