Even with Friday's sharp pullback, the market managed to end the week in the plus column…the second winning week in a row, and the fifth in the last seven. Stocks are now up 7.6% since the early June low, though the odds favor a little more downside from the market before the bigger uptrend resumes.
We'll explain why below. But first, let's start with the broad brush strokes of economy.
Economic Calendar
A pretty busy week last week, with some hard hitting stuff in it. Unfortunately, not all the news was good news.
The week kicked off on the wrong foot Monday, with retail sales for June falling 0.5%, or off by 0.4% counting automobiles. We also learned on Monday that consumer inflation didn't budge last month. Oh, on a core basis (ex food and energy) the CPI was up 0.2%, but overall, inflation has become alarmingly weak.
Still, we did see a little encouragement on the economic front. Industrial production grew by 0.4% in June, and capacity utilization edged up from 78.7% to 78.9%. The numbers seem small, but by economic standards those are sizable moves. More important, both have been trending upward (even if tepidly) for months now. Given the strong correlation between those two economic data sets and the long-term market, buy-and-hold investors can breathe a little easier.
S&P 500 Index Monthly, With Indus. Productivity Index & Capacity Utilization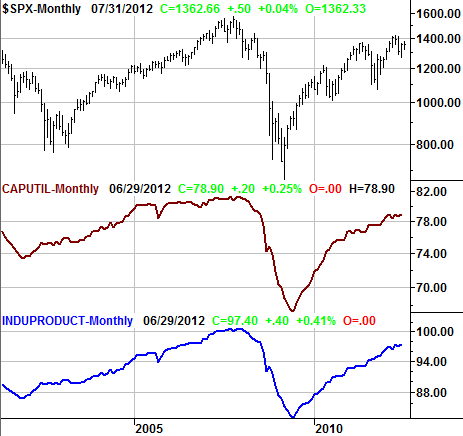 On the real estate front, housing starts jumped from 711K in May to 760K for June. Building permits, though, fell from May's 784K to 755K last month. In the bigger picture though, construction activity has been gradually getting better for a few months. Along those same lines, existing home sales fell to a pace of 4.37 million in June, down from the 4.62 million annual pace in May.
All things considered, it's a bit surprising that the market was able to even make the small gain it did last week.
Economic Calendar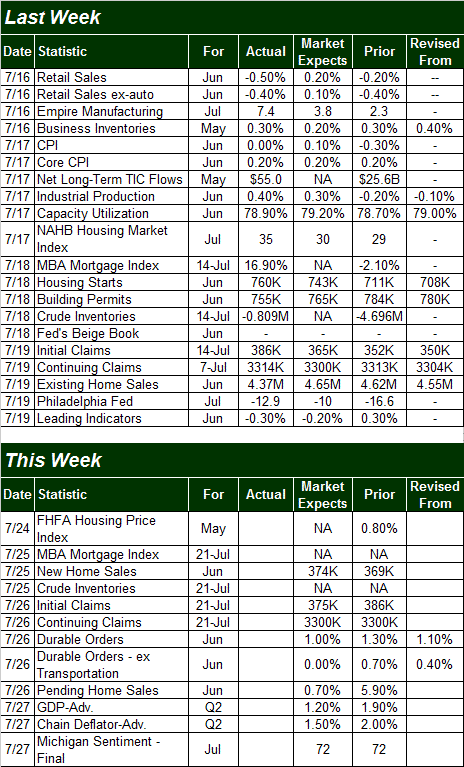 Stock Markets
You may recall last week we mentioned the S&P 500 (SPX) (NYSEARCA:SPY) was in a rally mode. We also mentioned, however, that the rally had yet to be tested. Moreover, we suggested that test would be at 1380, where the upper 50-day and 20-day Bollinger bands had converged. Care to guess where the S&P 500 peaked and then rolled over on Thursday, and continued to lower lows on Friday? Thursday's high was 1380.39, right at the upper 50-day Bollinger band.
Assuming the pattern repeats itself for a third time, the index is going to have to at least retest the 50-day moving average line (purple) at 1333 before hitting bottom. However, there's another possible floor that may come into play this time around - 1314, where the 200-day moving average line (green) and the lower 20-day Bollinger band have intercepted one another…. doubling up their support potency.
S&P 500 &VIX - Daily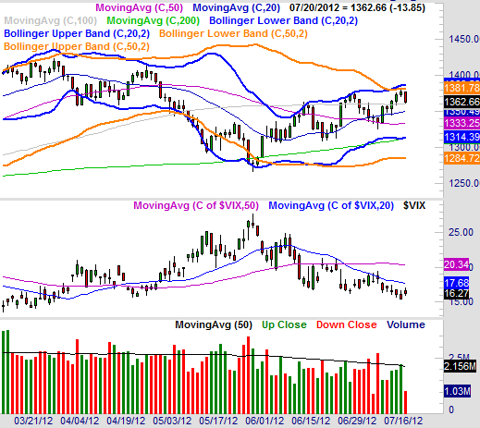 See anything else interesting about the daily chart? Volume is falling like a rock (even more so than the usual volume lull we see in the middle of summer). This at least partially explains the wishy-washy nature of the market right now… the indecisive and short-lived moves we've seen of late. As long as volume continues to fade, we are apt to keep seeing this back-and-forth motion, which also is seen by the CBOE Volatility Index (VIX) (NYSEARCA:VXX) dropping below 16 last week. On that note…
Though the dwindling volume is keeping things sleepy, it's not as if we're not seeing a bigger undertow. What's surprising is that the undertow is actually bearish even though the bigger trend is a bullish one.
Though traders rarely look at the broad market in this much detail, there is a clear pattern emerging from the market's volume of advancers versus the market's volume of decliners (NYSEARCA:DIA) (NASDAQ:QQQ) (NYSEARCA:IWM). More than that, there's a clear trend developing in the sheer number of advancing stocks compared to the number of declining stocks. We can use the NYSE's (New York Stock Exchange) data to make the point. The chart below visually makes that comparison.
The top portion of the chart simply plots the S&P 500.
The middle portion of the chart plots the number of shares that have made gains each day versus the number of NYSE-listed shares that have fallen. The day-to-day data is too erratic to use to highlight a trend, so to smooth out the data, we've added moving average lines of each data set. As you can see, the bearish volume trend line (red) just moved above the bullish volume trend line (green).
That kind of crossover was also the kind we saw back in mid-April, right before the market imploded [even though nobody was expecting it then]. And as you can see, those two trend lines have done a pretty good job of pointing out most of the market's major moves for months now. Needless to say, this should be a worry for the bulls.
S&P 500 vs. NYSE Advancer/Decliner vs. Up/Down Volume Trend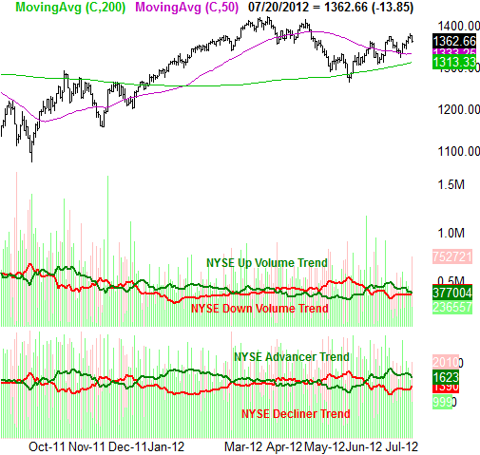 The bottom portion of the chart plots the bigger trend of the number of NYSE-listed stocks that are falling or rising on any given day. It tells the same basis story though; while the market may be rallying, participation - in terms of the number of stocks that are rising - is waning.
To be fair, not all bearish crosses of advancers and declines (or up and down volume) actually lead to market meltdowns. It sure bolsters the bearish argument though.
None of that changes our near-term target of 1333, and then our secondary target of 1314. None of that changes the current ceiling at 1380 either. It's just another odds-making tool right now.
Earnings
OK, with 30% of the S&P 500's companies having reported Q2's earnings, we've got a much better feel for how things are going to shape up. And as it turns out, the S&P 500 is still pretty much on pace to earn $25.20 for last quarter. That's still a little better than Q2-2011's bottom line, but nowhere near the original Q2-2012 forecast of $27.61 (from a year ago).
So far, 82 of the 120 large cap companies that have pasted Q2 earnings have beat estimates, 21 missed, and 17 met expectations. On a percentage basis that's 68.3%, 17.5%, and 14.1%, respectively. It's also a tad weaker than the norm, but then again, we're only about 1/3 of the way through earnings seasons.
As is stands right now, the S&P 500 is trading at a trailing P/E of 13.98
Disclosure: I have no positions in any stocks mentioned, and no plans to initiate any positions within the next 72 hours.