Shares of Morgan Stanley (MS) had a rough week, ending down 9%. The company published a dismal second quarter earnings report on Thursday highlighting that its current business model, which relies on short-term wholesale funding, is on the brink.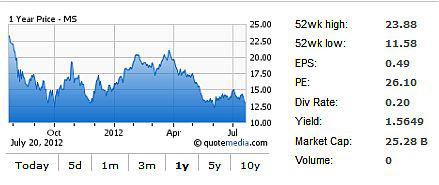 Second Quarter Results
Morgan Stanley reported a very weak set of numbers for its second quarter. Second quarter revenues fell 24% on the year to $7.0 billion. Revenues were favorably impacted by $350 million as a result of Morgan Stanley's DVA (debt valuation adjustment), driven by changes in the fair value of Morgan Stanley's debt. Including DVA, revenues were essentially unchanged compared to first quarter's revenue of $6.9 billion. Excluding the DVA, revenues fell from $8.9 billion in the first quarter of 2012 to $6.6 billion in the second quarter. Income from continuing operations came in at $563 million, or $0.28 per share. Excluding the DVA, earnings from continuing operations fell to a mere $312 million, or $0.16 per share.
James Gorman, CEO of Morgan Stanley commented,
Although global economic uncertainty remains a headwind, we are proactively positioning the firm for success. Our businesses showed resilience in key areas and we made progress against strategic goals.
Segmental Information
Institutional Securities
The institutional securities business reported revenues of $3.2 billion (including DVA) compared to $5.2 billion in the second quarter last year and $3.0 billion in the first quarter of this year. The unit reported pre-tax income of $508 million, or $158 million excluding DVA. This pre-tax income of $158 million compares to profits of $1.7 billion in the first quarter of 2012 and $1.2 billion for the second quarter of 2011.
The firm was hit hard by lower activity levels in capital markets with advisory revenues being cut into half to $263 million. Fixed income and underwriting revenues fell by a third to $621 million. Sales and trading revenues for fixed income and the commodities business fell 60% to $770 million.
Global Wealth Management Group
The wealth management group had a reasonable quarter. Revenues came in at $3.3 billion slightly down from the $3.4 billion reported in the first quarter of this year, and the second quarter of 2011. Pre-tax income rose to $393 million, up $6 million on the quarter and compares to $317 million last year. Asset management fees were up slightly to $1.9 billion as assets under management rose. Transactional revenues fell to $976 million compared to $1.2 billion last year on the back of lower client activity levels. The firm held $1.7 trillion in client assets at the end of the year.
Asset Management
Revenues for the asset management division fell to $456 million, down from $533 million in the first quarter of this year and $636 million in the second quarter of last year. Pre-tax income fell to a mere $43 million, down from $128 million in the first quarter of 2012. In the second quarter of 2011, the company reported gains of $168 million. Losses on principal investments in the Merchant Banking division are largely to blame for the lower results. Assets under management rose to $311 billion amidst strong net inflows of $13.1 billion.
Capital
Morgan Stanley reported a Tier 1 capital ratio under Basel I conventions of 17.1%. Its Tier 1 common ratio came in at 13.5%. The firm's tangible book value per share rose to $27.70. As a result of a long-term credit downgrade in June, Morgan Stanley was required to provide more collateral with exchanges, clearing houses and counterparties for a total of $6.3 billion. The firm currently has posted $2.9 billion of the required collateral.
As the cost of funding rises with long-term downgrades, the firm is shedding its asset base. Total assets fell 9% on the year to $753 billion, with risk-weighted assets down 10% to $317 billion. Based on its $55 billion in tangible common equity capital, the firm trades with a 12 times leverage ratio. However, Morgan Stanley's main issue is not the lack of capital, rather the short-term nature of its funding, leaving it vulnerable to liquidity shocks. What Morgan Stanley lacks is a stable funding base of retail deposits like major competitors Bank of America (BAC) and JP Morgan (JPM) have.
Valuation
Morgan Stanley reported $13.9 billion in revenues for the first six months of 2012, down 17% from the year before. Earnings from continuing operations fell from $2.9 billion to $1.1 billion. Net earnings came in at $446 million, or $0.23 per share. The firm is experiencing dismal profitability on its trading and investment banking activities amidst falling activity levels in capital markets. Although the firm is not really profitable at the moment, it does own a 51% stake in the profitable Morgan Stanley Smith Barney joint venture. Shares currently trade at a 54% discount to its tangible book value. Morgan Stanley currently pays a quarterly dividend of $0.05 for an annual dividend yield of 1.6%.
Investment Thesis
Morgan Stanley is the weakest among the large investment banks and it is still based on its outdated business model of obtaining wholesale funding. Perhaps most value could be created by focusing on the wealth management business, which has a strong franchise, instead of on trading and underwriting businesses. Morgan Stanley is currently actively trying to increase its 51% stake in Morgan Stanley Smith Barney. However, the firm and Citigroup (NYSE:C) can't agree on a valuation yet.
Year to date, shares trade with losses of 13% around $12 per share, a far cry from the $70 per share at which the firm traded in 2007. Morgan Stanley has sufficient capital. However, it can unlock value by selling non-core and possibly core trading assets. On Friday, reports hit the newswires implying that Morgan Stanley might sell a stake in its commodity business, which drags heavily on funding and capital requirements, to the Qatar Investment Authority.
If Morgan Stanley makes progress in selling trading businesses and it increases its stake in Morgan Stanley Smith Barney at attractive prices, this might be an interesting long-term entry point.
Disclosure: I have no positions in any stocks mentioned, and no plans to initiate any positions within the next 72 hours.