On Thursday, Johnson Controls (JCI) announced its earnings for the third quarter. Sales turned out to be $10.6 billion, 3% lower than analyst estimates of $10.9 billion. JCI believes that this is because of the lower than expected growth in emerging markets, and the high prices of core, which significantly damaged its Power Solution segment's income. In light of this announcement, sell-side analysts have revised their growth estimates for the next year's earnings from 25% to 5%.
Company's Description
JCI is the largest U.S. auto supplier; it designs and manufactures automotive interiors. Alongside, it provides heating, ventilation and air-conditioning (HVAC) facilities. Its third segment, Power Solutions, produces lead-acid and lithium-ion batteries.
Results
Auto parts
More than 50% of total sales come from this segment. The sales were the same as estimated for this quarter. Sales growth was observed to be positive everywhere, except Europe. The following table shows the geographical segmentation of revenue from this stream for the first quarter.

This shows the high dependency of the segment's sales on the European Auto Industry. However, European auto sales have been declining, as demand has been pulled back by the European debt crisis, which has negatively impacted French, Spanish and Italian auto sales.
European sales for this segment have declined as a result. However, the U.S. Auto Industry is on the rise, which has offset this damage. The following chart, which shows the monthly calculated Seasonally Adjusted Annualized Selling Rate (SAAR) for both Western Europe and the U.S., clarifies our stance.
Source: Qineqt
This quarter, sales were in the following proportion:

Income, however, did not meet expectations, because of the operational inefficiencies in Europe where production capacity was not fully utilized. However, the company has announced that it will lay off a chunk of its workforce.
Building Efficiency
The company makes 30% of its revenues from this segment, which relied a lot on the rising demand from Europe, and emerging economies like Asia and Latin America. Although Asian sales grew by 12%, the rise was offset by the reduced sales in debt-ridden Europe and slowly growing Brazil. U.S. sales rose because of unusual warm temperatures, as the demand for air-conditioning rose. Residential HVAC sales grew by an unforeseen 24%.
However, the income from this segment was above expectations, as the company's margins expanded. The margins improved by 1.63%, as the company implemented its cost-cutting and increasing market share plans.
Looking forward, U.S. and European construction activity is expected to improve in the long run. However, in the short run, in light of the stagnant Architectural Billing Index, construction activity is not expected to grow.
Power Solutions
This segment, although the smallest in business, is the most profitable. Lead batteries derive their demand from the demand of auto cars. As auto sales declined, so did the revenue from batteries. Demand for replacement batteries and new batteries declined in North America and Europe respectively. To add to these woes, the price of core, which is used in recycling lead, climbed to its all time high this quarter, which eroded margins. The hike in core's price came because of lower aftermarket sales of batteries, which meant that lesser batteries would be returned, causing an overall reduction in supply. The unexpected combination of low demand and high cost of raw materials proved to be extremely detrimental to the segment's sale and income. The following chart shows the trend:
The management is hopeful that the margins and sales will improve by 2013.
Bullish Trends
AGM battery sales may rise, as consumers increasingly look for fuel efficiency.
The Chinese government is actively planning to relax its monetary policy, which can eventually trigger growth in the economy. All of JCI's three segments will benefit as a result.
Bearish Trends
Europe's Auto Industry may decline at a much faster rate.
Commodity prices, including core prices, may keep rising.
Valuations
JCI has no debt-related issues. Given that the operating cash flow from operations is in north of $1bn, the company should have no problem in tackling with its debt. The debt maturity structure is as follows: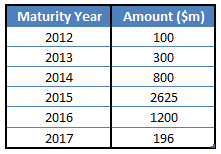 The company doesn't face any refinancing issues either.
The stock can be a good player in a scenario which sees the European Auto Industry revive. With an 18% 5-year annual earnings growth rate, the stock is expected to go up as the world economy picks up.
Currently, the stock is trading at 8x its forward earnings. Its depressed valuations can also be gauged by a Price/Sales ratio of 0.4x and a PEG ratio of 0.6. These low valuations can give an investor a good entry point. The stock also offers a relatively high ROE of 15%.
JCI is down 36% for the year vs. its competitor Magna International, Inc. (MGA) being down 22%.
Disclosure: I have no positions in any stocks mentioned, and no plans to initiate any positions within the next 72 hours.