By Jared Cummans
Gold takes the spotlight when it comes to precious metals investing, as it has made a name for itself as one of the most popular commodities in the world. As such, silver rarely gets the attention that it deserves, as gold overshadows its presence in the precious metals category. But the recent commodity environment has seen a downward trend developing in silver, as its price is sitting near lows not seen for almost a year. With prices depressed and demand for this metal still intact, we ask, is it time to buy silver?
Silver production and output has increased in recent months with the expectation of more supply on the way, guiding silver downwards. As such, investors and analysts have been trying to call a bottom and a healthy entry point for some time now. "According to HSBC's latest Silver Outlook report, silver prices are expected to move back above $30/oz by year end and remain relatively firm throughout 2013″ writes Geoff Candy. This short-term outlook may give a better view on silver's future for those looking to make a speculative play. That being said, silver is also sitting well off of its historical high, so an entry point may be approaching (if it is not already here) sometime in the next year or so. The following chart outlines silver prices over the past two years.
Click to enlarge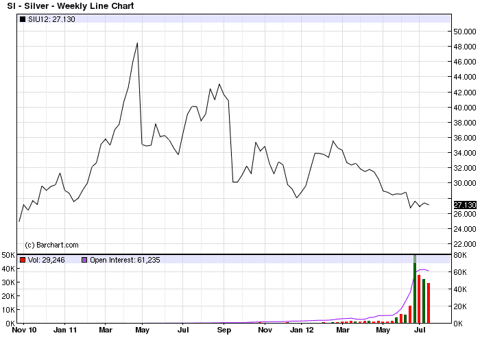 Ways to Play
For those looking to invest in silver, there are a number of options that will appeal to both traders and more traditional investors. From a trading standpoint, the March silver futures contract on the COMEX is trading with the highest volume of any near-term contract. Perhaps the most liquid option out there comes from the iShares Silver Trust (NYSEARCA:SLV) which measures physical bullion. The fund makes for a perfect trading option, as it has an ADV topping 19 million shares; however, given its physical nature, it can also be an integral part of a longer-term portfolio. Finally, for investors who want something of a leveraged play on the metal, Silver Wheaton (SLW) is a popular mining company that will usually offer a relatively high beta.
Disclosure: No positions at time of writing.
Disclaimer: Commodity HQ is not an investment advisor, and any content published by Commodity HQ does not constitute individual investment advice. The opinions offered herein are not personalized recommendations to buy, sell or hold securities or investment assets. Read the full disclaimer here.