Major international oil producer Nexen Inc. (NXY) announced it has agreed to a takeover by the China National Offshore Oil Company (NYSE:CEO) at $27.50 U.S. per share in cash.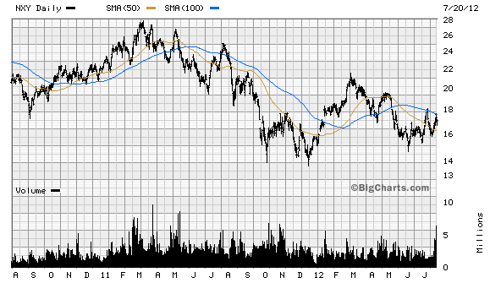 .
The deal price is a 61.2% premium to the close on the NYSE ($17.06 U.S.) on Friday. CNOOC is listed on the NYSE. The deal is worth about $28 CDN today.
This is going to be a "done deal" in my opinion. I predicted a Chinese company would buy Nexen back in April 2011.
We recommended selling Nexen and cutting losses in the $25 CDN area a year or so ago, so we do not own Nexen. But some may still hold it.
You can wait to cash in for the $27.50 U.S. There won't be a raise because the Nexen Board has recommended the price, and very few other players could mount a better bid. The partners expect the deal to close in the fourth quarter of 2012.
Or you can sell into the market at a discount and buy some more likely buyout candidates. We think stocks such as PetroBakken, Legend, NuVista, are cheap here and should be down today due to fears over European credit, providing trade opportunities.
CNOOC is already a partner with Nexen in the Gulf of Mexico and last year bought OPTI Canada, Nexen's partner at Long Lake, the problem-plagued oil sands upgrader operation.
Nexen recently reported good Q2 financial results, finally.
I foresee no successful nationalist-type opposition or federal regulatory disapproval to the deal even though it's a large takeover ($15 billion), the largest so far in the Canadian oil patch.
Nexen operates in many foreign countries (Nigeria, U.K., Gulf of Mexico) except for its Long Lake oil sands project and its natural gas assets. So it is not purely Canadian.
The federal government just approved the acquisition of Viterra, arguably a much more strategic asset in the west.
Canada is hot to sell more LNG and crude oil to the Chinese. How can it refuse investment in the same resource?
We like selected takeover-sized (the Nexen offer expands that range now) Canadian oil and gas production companies again.
Another international oil deal was announced today, with Talisman (NYSE:TLM) selling 49% of its U.K. North Sea assets to Sinopec, the other major government-controlled Chinese oil and petrochemical producer.
Ironically, Talisman was our sister pick with Nexen in the low $20s. Again, we cut the loss on Talisman, selling it about a year ago. It has declined due to the merciless drop in natural gas prices. It could be bottoming out and I plan to do more work on natural gas producers.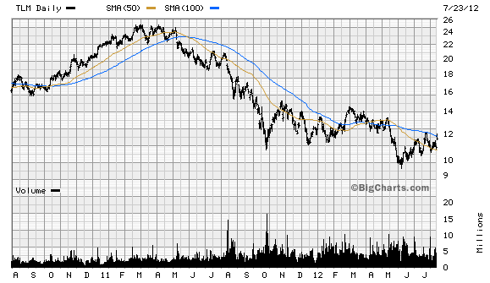 Energy M&A is alive in spite or even because of the recent downdraft in the oil price. However, acquisitions must be generally strategic in merit so not all oil and gas assets are created equally in Canada. We do think the Canadian Bakken play will be consolidated further and that governs some of our picks. I am wondering if U.S. natural gas prices are bottoming here, with storage levels stabilizing.
The deterioration in Spanish sovereign and bank credit is knocking down the market and WTI and Brent oil prices this morning, with new front month September WTI trading at $88.47, down $3.36. The Nexen/CNOOC and Talisman/Sinopec deals should give a boost to other likely oil stock takeover targets, although overall the market will be down.
We like Canadian Oil Sands (OTCQX:COSWF) at $20 CDN, the largest percentage owner of Syncrude at 36.74%, the granddaddy of Canadian oil sands projects. Imperial Oil (NYSEMKT:IMO) owns 25% and Suncor (NYSE:SU) owns 12%. Nexen owns a 7.23% piece of Syncrude, so now two major Chinese oil companies, CNOOC and Sinopec (9.03%), will be part owners. But we are not looking for a complete buyout of Syncrude, as the price would be prohibitive.
IMO reports Q2 earnings on Thursday and Canadian Oil Sands reports Q2 earnings on Friday.
Disclosure: I am long PBKEF.PK, OTC:NUVSF, OTCQX:COSWF.