By Brendan Gilmartin
Overview
Apple (AAPL) is scheduled to report 3Q 2012 earnings at about 4:30 p.m. EST on Tuesday, April 24, with a conference call to follow at 5:00 p.m. EST. Given Apple's weighting in the key indices, look for movement in the U.S. index futures and other broad gauges when it reports.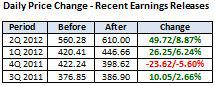 Outliers & Strategy
Aside from Apple shares and the index futures (S&P & NASDAQ E-minis re-open after the 4:30 EST release), PowerShares QQQ (QQQ) and related ETFs, along with other technology shares are impacted by the results.
Apple is expected to earn $10.35 per share in the 3Q 2012 period (range is $9.45 to $12.51) (Source: Yahoo! Finance), well above the $7.79 in the prior year period and the conservative outlook for "about" $8.68 per share provided in April.
Revenues are expected to come in at $37.23 billion, above the company outlook of "about" $34.0 billion.
More recently there has been talk that Apple could post weaker than expected iPhone sales (current estimate is for 30 mln shipments), due in part to consumers awaiting the release of the iPhone 5 device later this year.

Recent News
07/23: According to DigiTimes, Pagatron has begun production of the new iPhone at its Shanghai factory, citing industry sources.
07/20: Apple officially began selling the iPad in China. The device will be similar to models sold in the U.S.
07/20: Bernstein Research Analyst Toni Sacconaghi suggests Apple could miss the Street's 3Q estimates when it reports earnings on 7/24, according to a report on Barron's Online. The weaker macro backdrop in Europe and China, coupled with the iPhone transition are among the factors cited for the cautious outlook. Mr. Sacconaghi reportedly estimates EPS of $10.24 on revenue of $35.4 bln. He estimates Apple shipped 28.5 mln iPhones and 15.1 mln iPads.
07/19: Citing sources from the supply chain, DigiTimes reports Apple iPhone shipments are expected to come in between 20 and 25 million units for the 3Q period as production of a new version of the device begins in August 2012.
07/19: According to a post on Benzinga.com, Wedbush maintained an Outperform rating and $800 price target on Apple. The firm cited regional expansion, product upgrades, and new upcoming releases.
07/11: According to IDC, Apple MAC shipments declined by 1.1% in the 2Q to 1.83 million units.
07/11: UBS Investment Research initiated coverage on Apple with a Buy rating and a price target of $740, according to a post on Benzinga.com. The firm cites relatively low valuation, iPhone product transition, and upside in Asia as positive catalysts.
06/05: A report on Barron's Online showed Canaccord Genuity reduced its estimate for Apple iPhone 4S sales on weak channel checks and market share loss, due to the upcoming arrival of the iPhone 5. Think Equity also slashed expectations.

Technical Review
Apple shares recently bumped up against resistance near $620 - a key level to watch should 3Q earnings and guidance surprise to the upside. In the event of a disappointing release, look for downside risk toward the 50-Day SMA near $580, followed by $560. (Chart courtesy of StockCharts.com)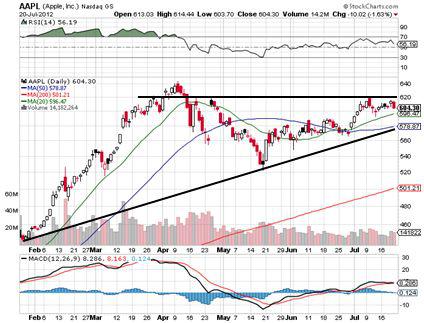 Summary
Apple shares have been hovering above the $600 mark ahead of 3Q earnings, despite an anticipated drop in iPhone 4S shipments amid consumer expectations for a newer model this fall. But with the shares trading at just 11.1x forward earnings and a Fwd PEG of just 0.7, valuation remains attractive, while macroeconomic concerns, including the slowdown in China and Europe appear priced in. Against this backdrop, much of the focus is likely to center on the outlook for 4Q 2012, given the anticipation surrounding the next iPhone release and the expansion of the iPad in China and other markets.
Disclosure: I have no positions in any stocks mentioned, and no plans to initiate any positions within the next 72 hours.
Disclaimer: By using this report, you acknowledge that Selerity, Inc. is in no way liable for losses or gains arising out of commentary, analysis, and or data in this report. Your investment decisions and recommendations are made entirely at your discretion. Selerity does not own securities in companies that they write about, is not an investment adviser, and the content contained herein is not an endorsement to buy or sell any securities. No content published as part of this report constitutes a recommendation that any particular investment, security, portfolio of securities, transaction or investment strategy is suitable for any specific person.